Comparison Chart: Dibea D18 vs. Dyson V8 Absolute
The Dyson produces one of the best vacuum cleaners in the industry, and we agree that the Dyson machines offer great cleaning performance especially on carpets. Even though there are no real competitors to the latest Dyson V10 and V11, the older models have some alternatives.
So here we have the Dibea D18 - the budget cordless vacuum cleaner that has something to offer. Is it as good as the Dyson? Can it replace the Dyson? Since both are great devices, we decided to observe both models and talk about it in details.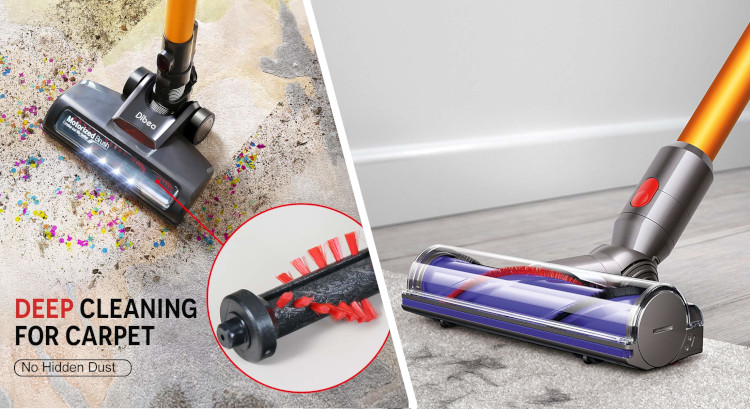 What the Dyson V8 Absolute and Dibea D18 have in common?
HEPA filter. Both vacuum cleaners are equipped with a HEPA filter that is safe for those who suffer from an allergy and asthma. The filter is washable, let it dry, and the vacuum is ready to work again.
Easy to transfer into a handheld. If you want to clean a sofa, your car, etc., the V8 and D18 are quickly transforming into a handheld machine. It provides quick cleanup if you need to do it in a few minutes. It makes the cordless cleaner's versatility and more useful than a traditional vacuum.
Many accessories in the box. Both the Dyson V8 Absolute and Dibea D18 have many accessories in the box that make the devices suitable for different kind of surfaces.
Wall-hanging design. The wall-hanging design stores and charges the machines, it is always ready to go. The Dyson's dock can also hold additional attachments.
Open the dustbin by one action. As many of the cordless vacuum cleaners, the Dyson and Dibea come with a dustbin that is easy to open by one simple action.
Each part of the main machine is washable. You can remove every part of the main machine and wash it with water.
Battery indicator lights. Both vacuums: the Dibea and Dyson are equipped with battery level indicators, so you always know when the cleaner needs to be recharged.
2 power settings. Two power settings allow adjusting suction power for different cleaning needs. In standard mode, the cleaner gives you less power, but the battery life is longer, the max mode drains the battery life faster though it provides stronger suction.

What are the main differences between the Dibea D18 and Dyson V8 Absolute?
Bare floor performance: both perform great on bare floor, yet the Dibea works a little bit longer.
The Dibea's suction power is not enough to clean thicker carpets; the Dyson provides deeper cleaning on carpets.
The Dibea D18 is $200 cheaper than the Dyson V8 Absolute.
Cleaning heads: the Dibea comes with one main brush for cleaning a surface, and it is not too stiff; the Dyson has two. One for bare floor cleaning and the other one has stiffer bristles for carpet cleaning.
The LED light in Dibea is helpful when cleaning in hard-to-reach places like under the coach.
Battery life: the Dibea works longer in max mode (25 in max mode, 45 in low); the Dyson performs about 25-30 minutes in low power mode with motorized floor tool attached, and 7 minutes in high power mode.
Detachable battery: the Dibea's battery pack is detachable and can be replaced; the Dyson's battery is built-in.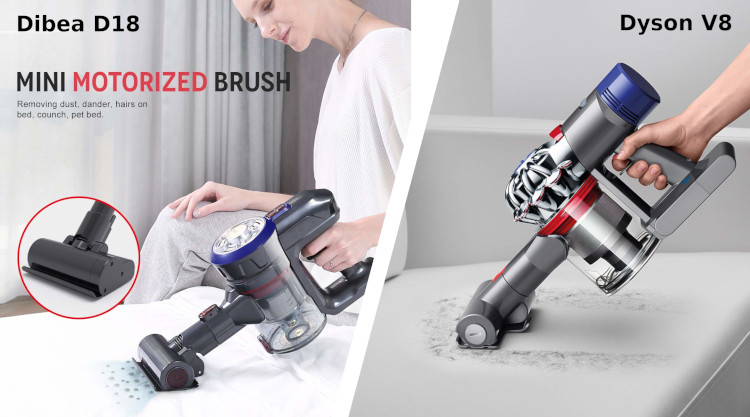 Reasons to buy the Dyson
Stronger suction power
A little bit less loud than the Dibea
2 cleaning heads one for bare flooring, the other one is for carpeted surface
Suitable for carpet cleaning
More extra cleaning tools in the box.
Reasons to buy the Dibea
Has LED lights
Longer battery life
The battery is detachable
Cheaper than the Dyson
Suitable for bare flooring.
---
Which one would be best for your home?
Let's not forget that the Dyson V8 Absolute and Dibea D18 are designed for different needs.
Get the Didea D18 if you:
Live in a house with no or occasional carpets
Want to buy a budget additional cordless vacuum for quick cleanups
Live in a small or average home
Don't want to spend more than $200
Have a pet
Or anyone in your family suffers from an allergy or asthma
The Dibea is a budget vacuum cleaner and is not able to provide deep cleaning on carpet flooring yet can vacuum thin carpets and does a superb job on hardwood floor. If your home is about bare flooring mostly, there is no need to pay extras for a more expensive vacuum cleaner. Also, the Dibea is excellent for spot cleaning and quick cleanups. Let's not forget that the Dibea D18 costs around $100 when the Dyson - $350. For sure, the Dyson has stronger suction, yet the Dibea has its own advantages. Thanks to the lights it becomes easier to clean some places where you can't see anything such as areas under a bed etc. It works great on bare floor, and you don't have extra power to pick up pet hair from your linoleum, tile, etc. The Dibea D18 is suitable for cleaning furniture with soft surfaces. If you need an additional lightweight vacuum cleaner for quick cleanups have a look at this vacuum. The price of about $100 (Gearbest) makes the Dibea great for homes with bare floors and pets. In case you have occasional carpets that are not sick - the Dibea would suit you.
Get the Dyson V8 Absolute if you:
Live in a small or average house
Want a powerful cordless vacuum
Live in a house covered with carpets mostly
Have a pet
Suffer from an allergy or asthma
Want a cleaner suitable for both bare and carpet flooring
Ready to spend extra
The Dyson V8 Absolute is better for carpet flooring. It has stronger suction power, a cleaning head that was designed for cleaning carpets and the other soft-roller for bare floor cleaning. The Dyson V8 Absolute is a winner when it comes to cleaning carpets. It has a brush with stiff bristles that works perfectly on carpeted flooring. The V8 Absolute performs excellently on both: bare floor and carpet and easily can replace your upright vacuum. We would not recommend getting the Dyson if you don't have any carpets, the Dibea will do the job excellently. Although, if you need extra power, have a pet that shed, your home is covered with medium and high-pile carpets - get the Dyson V8 Absolute. It would be an ideal vacuum cleaner to get.
---
If you feel like the Dyson V8 Absolute is too expensive or most likely will not satisfy you, go to the Dyson vacuum cleaner comparison chart where you might find a better model to buy.
Product name
Dibea D18
Dyson V8 Absolute
Photo

Best Offers
$119.99 Amazon
$99.99 GearBest
$417 Amazon
Brand name
Dibea
Dyson
Dustbin size
550

ml

530

ml

Battery life on low power mode
45

min

40

min

Battery life on max power mode

N/A

8

min

Charging time
240

min

300

min

Suction power
9000

Pa

N/A

Rated power
120

W

115

W

Cordless

N/A

yes

Cord Length

N/A

N/A

Battery capacity
2200

mAh

2800

mAh

Battery type
Li-ion
lithium ion
Detachable battery

N/A

no

Filter type
H10
HEPA
Washable filter

yes

yes

Floor types

Hardwood
Linoleum
Tile
Laminate
Thin Carpets

Hardwood
Linoleum
Laminate
Tile
Thin Carpets
Medium-Pile Carpets

Weight
4.85

lbs

5.75

lbs

Lenght
27.00

in

49.00

in

Nozzle width
8.30

in

9.90

in

Noise level
75

dB

72

dB

LED lights

yes

no

Wi-Fi support

N/A

no

Working modes
2-speed control
powerful, max
Accessories included

Metal Tube
Floor Brush
Long Handle Suction
Brush
Rack
Bag of Accessories
Charger
Main Machine
English User Manual

Soft Roller Cleaner Head
Direct-Drive Cleaner Head
Mini Motorized Tool
Mini Soft Dusting Brush
Combination Accessory Tool
Crevice Tool

Warranty
12

months

24

months

Other features

N/A

N/A
Dibea D18 YouTube Review
Dyson V8 Absolute YouTube Review
Latest Upright Vacuum Cleaners Comparisons
---
Related Products
Latest Reviews