Video made by Vacuum Wars
Dyson has released a new cordless vacuum, the biggest in the industry made specifically for big houses.
The Dyson V11 Outsize has some big upgrades:
Dustbin is 150% bigger (compared to the previous);
A 12.5 inches floor head that is 25% bigger;
3 power settings (low, medium, high);
20% more powerful than the previous version.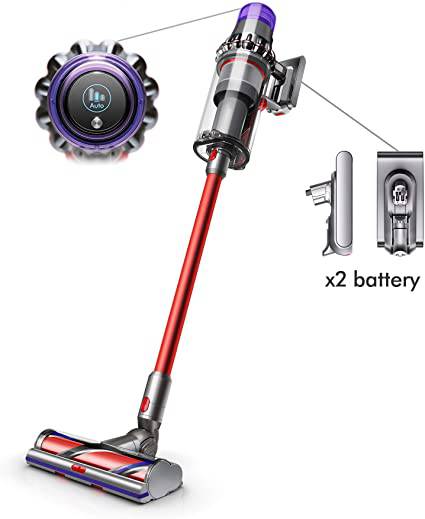 For big houses
The first Dyson with swappable batteries. The strongest cordless vacuum in the industry.
$799.99 on Amazon
The Outsize does not lack some limitations as well. The new wide head is not as agile as its predecessors in tight spaces.
Tests & Results
The Dyson V11 Outsize shows these numbers of suction:
High: 58 CFM
Medium: 32 CFM
Low: 26 CFM
It is the most powerful cordless vacuum in the industry. The original Dyson V11 has 49 CFM on high settings.
When testing its deep clean ability, the Outsize got a perfect 100% which means it is more than capable of cleaning high-pile carpets.
It also shows a great pick up ability when picking up the debris in the crevice pick up test.
The Dyson V11 Outsize does a good job on all surfaces
Pick Up Test
When testing the vacuum on hard floors and carpets, it was obvious that it can handle everything from ultra-fine to extra-large debris. If you open the adjustable gates the head will be able to catch everything. The larger head size means a larger air intake.
Swappable Batteries
One of the best upgrades with the V11 Outsize is the new detachable battery. It is removable with one simple click. The V11 Outsize has two in the box which means you get a double battery life number. You can track the estimated battery life on the LCD screen. The benefit of this is the efficiency you're getting the best possible clean.
V11 Outsize Smart Features
LCD screen
A sensor that boosts suction when senses carpets.
The display shows estimated battery life, current cleaning mode, warnings about blockages, demos on how to remove that blockage.
Is the Dyson V11 Outsize safe?
The vacuum has one of the best-sealed HEPA filtration systems that you only can find on high-end cordless vacuums. It does not leak as you vacuum keeping your air as clean as it was before starting vacuuming.
In the box:
attachments and extras
mini motorized tool
wall mount
two different charges for the two batteries.
What could be better?
The weight. Because of being the most powerful, it is also one of the heaviest sticks on the market.
Fairly loud especially on max power.
The price. It is pricey but worthy for those who live in a big house.
To conclude:
The Dyson V11 Outsize is the king of cordless vacuums with the best battery life numbers and most powerful motor in the industry.
---