Video made by Vacuum Wars
The Bissell CrossWave Cordless Max should not be confused with the Bissell Crosswave Cordless, which looks similar to the corded Crosswave without a cord while the Max has been redesigned. Read more about the most popular Bissell models in our comparison.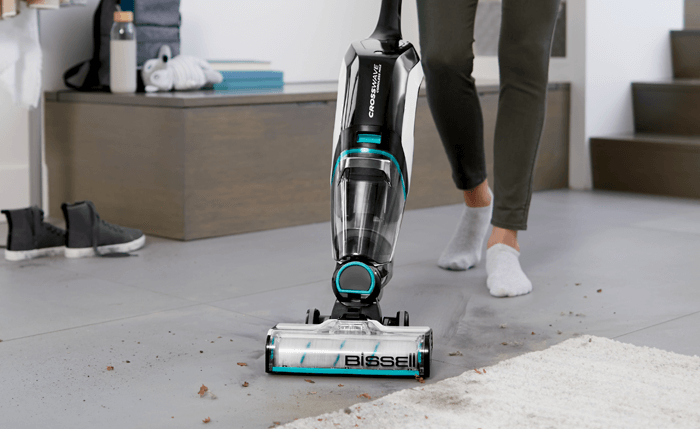 Bissell CrossWave Max vs. Pet Pro: what has changed?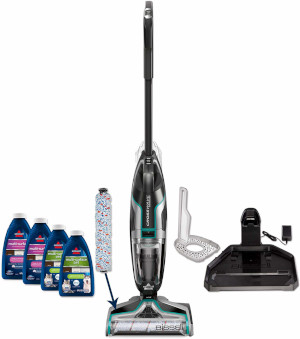 Cordless & capable of light vacuuming jobs
Suitable for average homes. The vacuum has a self-cleaning cycle to refresh the brushroll after the job. Connects with the app. Has a better cleaning roller for resisting pet hair tangling.
$365.24 on Amazon
The Max version has a new water tank design that is shorter and easier to fit under the sink. The older models are equipped with a tank that is tall. The Max has a thicker brush, which is better for resisting tangles. It has a new electronic system with a light-up display that shows battery life and floor type and has Wi-Fi, which means you the vacuum can be connected to a smartphone app. The battery is lighter and lasts longer than the older Crosswave or cordless.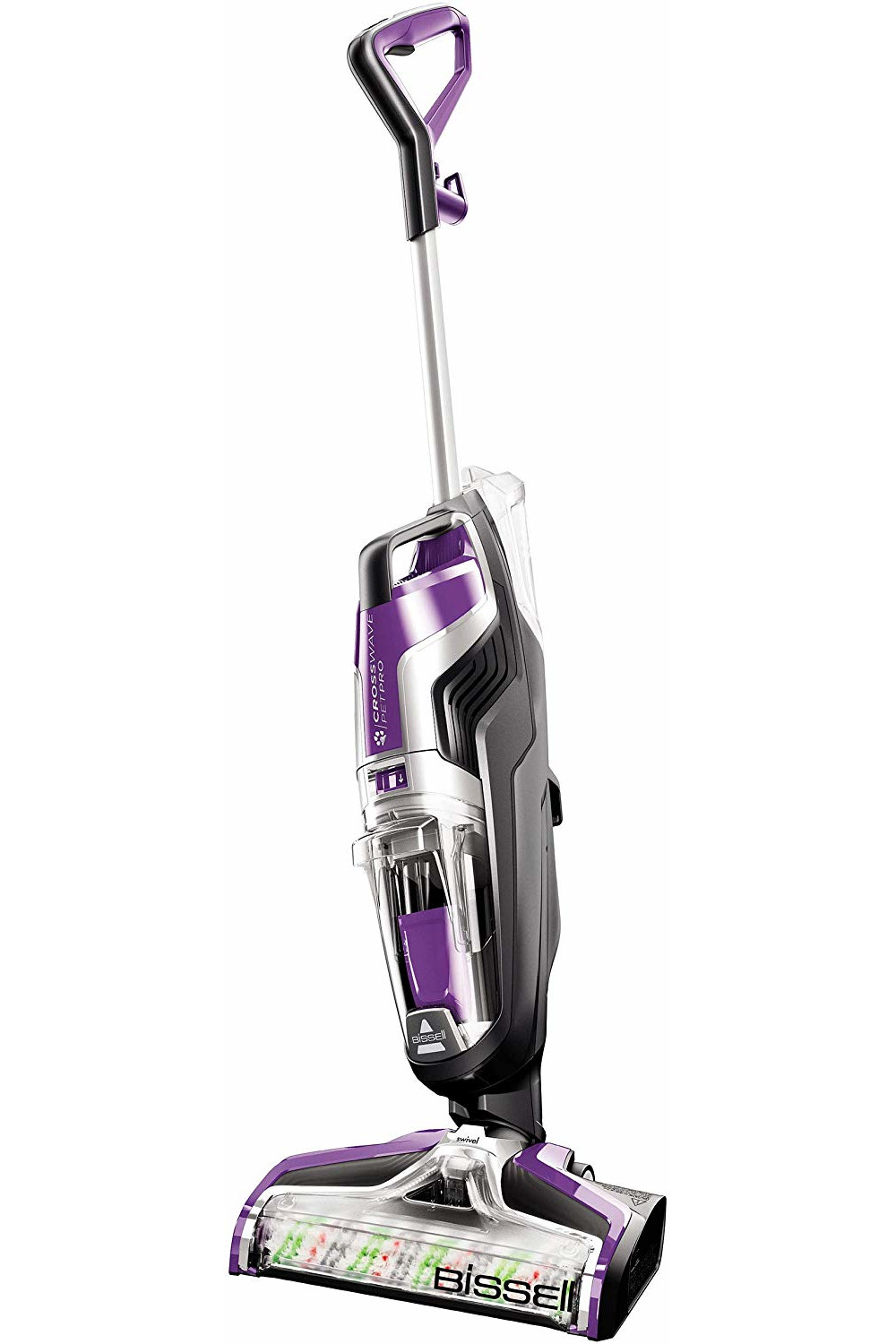 Corded & A bit more powerful
Does not need to recharge because of the cord. Comes with a pet hair strainer to separate pet hair and other large debris.
$275.99 on Amazon
Compared to the Bissell Pet Pro, the CrossWave Max:
Has no cord
Is equipped with a shorter bin which is easier to fill with water
Got a thicker brushroll, better for resisting tangles
Is Wi-Fi enabled and can be connected to the app
Is better at picking up larger debris
Has a bit less power but also is a lot quieter than the Pet Pro
Has a display.
Cleaning tests
Dry vacuum test. Its pickup ability is good, it is able to catch the debris on hard floors and carpet. The vacuum would not get deep into your carpets but is good for hard floor or low-pile carpets. The regular corded CrossWave is good with large debris but not as good as the Max version.
Wet cleaning: Wet Spills. For wet mopping, you should fill the water tank to the desired level with a water & solution mix. The trigger should be pressed periodically to keep the brush saturated with water. The Max vacuum does a great job of removing basic wet spills. The spills were large and messy, and also basic, and both cleaners removed them but the Max was a bit better at removing large messy spills.
The Bissell Cross Wave Cordless Max is better at larger debris pickup.
Wet cleaning: Dry Spills. To make dry spills 1 tablespoon of coke, grape juice, and v8 juice were left overnight. After testing both, it was clear that dry stains were removed in about 3.5 passes which is more or less average for this sort of cleaner. The stains were hard to remove though. The old Crosswave is a bit better with tough dry stains because of the cord and more suction.
---
Pros of the CrossWave Max:
Because of having less power, the Max version is quieter (6 dB difference). It might not sound much but it is noticeable.
The weight is about the same. At 11.5 lbs, they are easy to maneuver. Because of no cord, the Max version is more convenient to use.
31 minutes of battery life is another Pro. It will depend on how often you use the water spraying mechanism but still impressive. It should be more than enough for big homes with hard floors.
The cleanup mode is a major pro. When the vacuum is on the charger, you can press the self-cleaning button, the brush starts spinning around and cleans itself and this is pretty effective.
---
Cons:
If you clean anything bigger than regular stains, it will take some time to clean the vacuum itself. You will have to clean up all the components separately which can be a bit annoying.
Most cleaners that supposed to do light vacuuming and mopping are not too efficient if you mean to clean big messy spills. In this case, you have to clean up every component which means it takes time and energy so in a way it is better to remove spills with traditional means. Running a cycle or two helps a bit and this is why the Crosswave is better in a way. Might not be a con but something to consider. In the end, how often you happen to clean big nasty spills?
It works on rugs and the water spray can be used on rugs too but it is not a carpet or spot cleaner.
Another con is the price. CrossWaves have always been a bit expensive but the new Max is something to consider before spending a dollar.
---
To conclude: the Bissell CrossWave Max is good with dry, wet and even dried on stains. It has a decent battery life and is lightweight, easy to use. The cleaner is a good light-duty mop replacement. If you are okay with a thorough cleaning after messy jobs and overall maintenance after each use, the Max is for you.