At CES 2020, Tineco launched some new products including two wet & dry devices, the FLOOR ONE S3 and IFLOOR 3.
The IFLOOR 3 is an upgraded modification of the Tineco IFLOOR with longer battery life and stronger suction, bigger water tanks, etc.
The FLOOR ONE S3 looks like a new product that is equipped with the smart iLOOP sensor and overall feels like the Tineco PURE ONE S12 only mostly focused on wet dry performance.
So let's get straight into both models and see what is new about each to make it easier to distinguish them.
Keep in mind, none of these machines can be used on carpets. They were designed for dry wet cleaning and also able to catch some debris on the way but not capable to vacuum even low-pile carpets. For this purpose, have a look at the company's other models.
Tineco IFLOOR vs. IFLOOR 3 vs. IFLOOR ONE S3 Comparison Chart
| Specs / Model | IFLOOR | IFLOOR 3 | FLOOR ONE S3 |
| --- | --- | --- | --- |
| Battery capacity | 2,500 mAh | 3,000 mAh | 4,000 mAh |
| Battery life | 22 min | 25 min | 35 min |
| Rating power | 120 W | 220 W | 220 W |
| Suction power | 8.5 W | 15-30 W | 15-30 W |
| Charging time | ~4 h | ~4 h | ~4 h |
| Noise | 82 dB | 78 dB | 78 dB |
| Clean water tank size (CWT) | 550 ml | 600 ml | 600 ml |
| Dirty water tank size (DWT) | 400 ml | 550 ml | 550 ml |
| Self-cleaning mode | yes | yes | Auto Mode |
| Operation notifications | no | yes | yes |
| LED display | no | yes | yes |
| 3-in-1 cleaning tool | yes | yes | yes |
| Cleaning solution | yes | yes | yes |
| HEPA filter | no | yes | yes |
| iLOOP sensor (smart dirt detection) | no | no | yes |
| App integration | no | no | yes |
| Water flow & suction auto-adjust | no | no | yes |
| Voice assistant | no | no | yes |
| Extra brush roller | no | no | yes |
| Price | $144 | $299 | $399 |
Tineco IFLOOR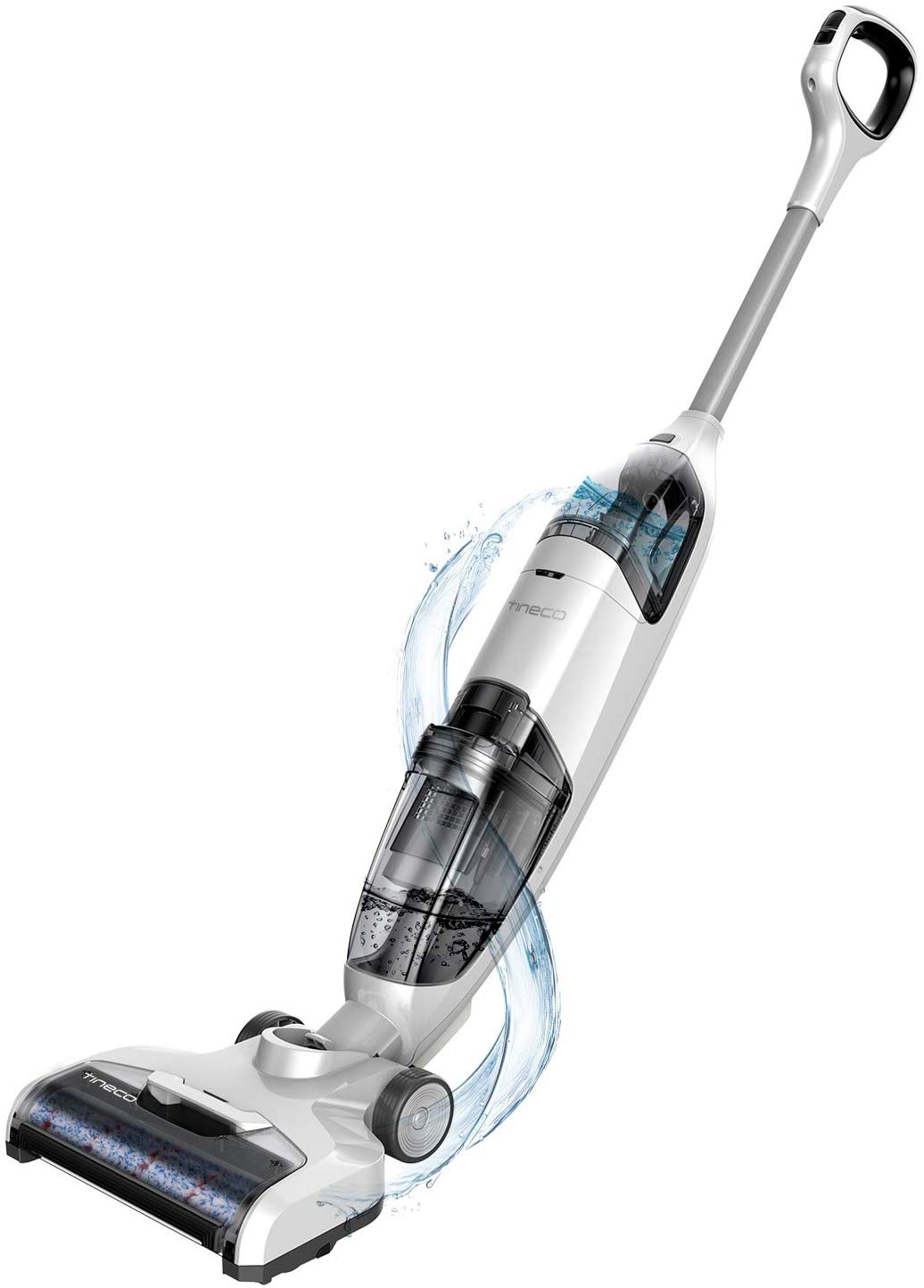 The cheapest
Does a great job on hard floors & can do light vacuuming on carpets
$144 on Amazon
The Tineco IFLOOR is the oldest and most budget model that has the smallest water tank yet performs great at removing stains and leaving floors clean and shiny. It does not have a HEPA filter so might not be safe for those who have allergy and asthma.
Tineco IFLOOR 3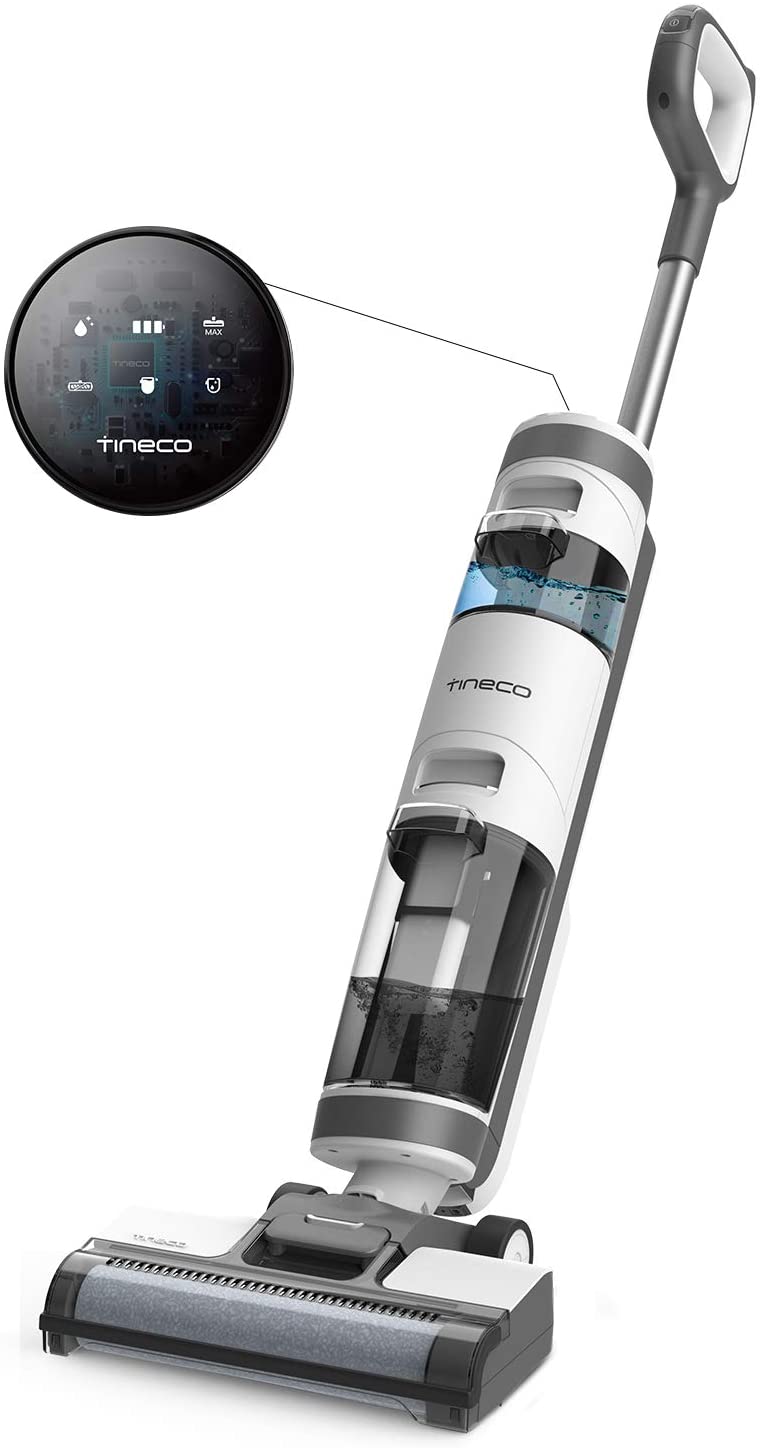 The first smart mopping cleaner
Has a display & is safe for those who have allergy because of the HEPA filter. Has stronger suction to do light vacuuming tasks.
$299 on Amazon
The new model has a bigger 3,000 mAh battery, which gives you 25 minutes of runtime compared to 22 minutes of battery life (previous generation). The newer model has stronger suction power delivering 220W compared to 120W the previous iFLOOR has.
The company also worked on noise optimization, nevertheless, the newer model has stronger suction, it makes less noise.
With longer battery life, the iFLOOR also got a bigger water tank size. There are two containers: for clean and dirty water so now it not only can cover a bigger area but also perform better.
One of the significant improvements over the iFLOOR would be an LED display. The screen shows battery level, alerts when the clean water tank is empty or dirty water tank is full, also when the roller is blocked. This option is very useful since you not always know when the water tank needs to be refilled while you are using the machine.
The IFLOOR 3 also includes a HEPA filter and is safe for allergy and asthma sufferers.
Self-cleaning function allows the brush roller to get cleaned by one simple click. The machine auto-cleans the brush roller and tubes with fresh water and detergent, leaving it clean and ready to use again. When you finishing cleaning, you don't have to wash the roller since it gets dirtier because of the way all wet dry rollers built. Just click the self-cleaning button and you are all set.
The IFLOOR 3's compact and convenient docking station stores and charges the device, and self-cleans as long as you put the device on it, leaving no mess or residue on floors.
IFLOOR 3 vs. IFLOOR: what has changed
Battery capacity has increased to 3,000 mAh compared to 2,500 mAh;
Battery life. Now you get 3 minutes more runtime;
Stronger power. The IFLOOR 3 has bigger rating power (220 W vs. 120 W) and stronger suction power (8.5 W vs. 15-30 W);
Bigger water tank size. Compared to 550 and 400 ml water tanks, the IFLOOR 3 has a 600 and 550 ml water tank capacity for clean and dirty water;
Included HEPA filter;
Quieter. Compared to the IFLOOR, the newer IFLOOR 3 is 4 dB quieter;
LED display. The IFLOOR 3 is equipped with a LED display that shows some additional information about the device;
Notification alert. You always know when the water tank needs to be refilled, etc.
---
Tineco IFLOOR ONE S3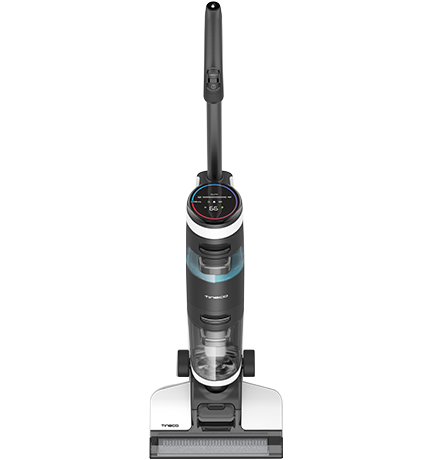 Has the longest battery life
Can be connected to the app & has a voice assistant.
$399 on Amazon
The newest and smartest among wet dry models, IFLOOR ONE S3 is equipped with a bigger size battery of 4,000 mAh and gives longer runtime (about 35 minutes).
This model is also equipped with a smart LED screen that shows battery level and alerts about performance issues that might happen. One of the coolest features of the IFLOOR ONE S3 is its ability to sense dirt and so the display turns red when detects some dirt. It is becoming blue when the floor is clean so now you can see how clean your floors are by only looking at the display.
What is the iLoop sensor? It worked similarly in the high-end machines Tineco PURE ONE S12 where it was capable of detecting dust. The IFLOOR ONE S3 works about the same way. When it detects dirt, it adjusts suction power and water flow to provide better mopping results. This is when smart becoming smarter. With that sensor, the ONE S3 is capable of removing even sticky messes better than the previous generations.
Compared to the IFLOOR 3, the newer models can be connected to the app. The Tineco app features real-time performance monitoring, maintenance reminders, tech support, troubleshooting and more. It also has a voice assistant which gives real-time updates as you clean, including performance status, power level, blockages, and other operational information.
The brushroll also has some updated. With the new system, that includes a built-in motor for better cleaning performance, and the precision blade that squeezes away dirty water to keep the brush clean.
Aside from the upgraded brushroll system, the IFLOOR ONE S3 also has a self-cleaning button that makes the roller clean in a few seconds.
Smarter and efficient. The new model has a smart sensor that adjusts suction and water flor when detects durt saving battery life so you don't have to run the machine on Max mode all the time. You get a longer battery life that is also more efficient.
The IFLOOR ONE S3 uses the same docking station as the IFLOOR 3 does. It self-cleans when you put the device on it so your floors are clean.
Also, with the newer model, you get an extra brush roll in the box.
IFLOOR 3 vs. IFLOOR 3S: what has been added
Bigger battery: 4,000 mAh vs. 3,000 mAh;
Longer runtime. Gives you 35 minutes of runtime compared to 25 minutes;
iLoop sensor detects dirt and adjusts suction and water flow;
Efficient cleaning with the smart sensor that saves battery life;
The smart auto self-cleaning mode keeps the cleaning brushroll clean by squeezing away dirty water;
Extra cleaning brushroll in the box;
App integration. Know everything about the cleaning cycle by just looking at your phone;
Voice assistant helps to know what's going on while you are cleaning.
---
To conclude
So far there is no information when any of these models will be available nor what the price would be.
It looks like the IFLOOR 3 is one of the longest-lasting wet dry machines on the market that is a bit more basic than the company's flagship IFLOOR ONE 3S. Both devices look cool, those who want a more advanced machine with Wi-Fi, app integration and smart detection and also that would be more suitable for bigger homes, we would suggest going with the IFLOOR ONE S3.
The IFLOOR 3 is better for small and some average homes.
---