Bissell produces many vacuum cleaners that make it easier to confuse which one would be good for you. We decided to clear out what is the difference between each model to help you make the right choice.
Bissell vacuum cleaners comparison chart
---
The BISSELL Adapt Ion XRT is equipped with a li-ion battery. 
With the two-way folding hale, the vacuum reaches some hard-to-reach places under furniture.
The dirt cup capacity is 450 ml which is more or less average for a cordless vacuum.
Its weight is 7.85 pounds. 
The Brushroll Switch adapts for cleaning across multiple surfaces, including from hard floors to low pile carpet, you can turn it on or off depending on the surface
The Adapt Ion XRT comes with special tools, including a crevice tool, upholstery tool dusting brush making it suitable for furniture cleaning.
The vacuum is suitable for low-pile carpeting and hard floors but would not be good as the main machine if you only have carpets. Ideal to keep your floors clean in between big vacuuming days.
Bissell Adapt XRT Pet vs. BISSELL Adapt Ion Pet: the difference
The XRT model has suction control 
Includes a dusting brush
---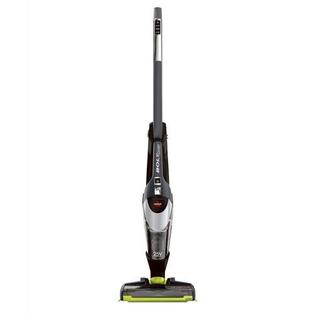 Because of the folding design, you can store it anywhere.
$299 on Amazon
The BISSELL BOLT ION XRT is another cordless vacuum in the family that can do both: vacuum and mopping. 
The 25.2 V Li-Ion battery gives you up to 40 minutes of cleaning. The dirt bin capacity is 400 ml which is average for this type of vacuum.
The folding design helps to reach some areas and makes storing easier
The folding design helps to reach some under-the-furniture places and also better for storing. You can remove the hand vacuum to clean other areas too. 
The vacuum includes Crevice Tool w/ Dusting Brush (for Hand Vac), 6-inch Wide Tool (for Hand Vac), Multi-Surface Brush Roll.
The cleaner is lightweight and easy to use tho is not designed for thick carpets but is okay to use on low-pile carpets (in dry vacuuming mode) and hard floors.
Compared to other models in the Bolt line, the ION XRT lasts longer, has a 2-year warranty and a Li-Ion battery.
---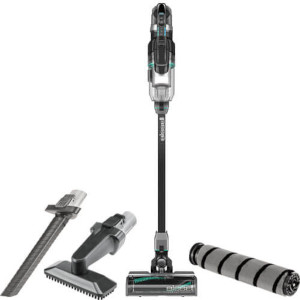 Best at hai-tangles resisting because of the new brushroll. Great pick up ability.
$160.5 on Amazon
ICON pet Cordless is designed for pets, it has a brushroll that reduces hair tangling and strong suction that is able to pick up per hair of the floor. The brushroll is one of the best in the industry and is ideal for long human hair too, it reduces tangles.
The filtration is sealed, not HEPA tho but is good and safe for most people
The cleaner has LED lights to track dirt and this feature is really important helping not to miss a spot while cleaning. With 55 minutes of vacuuming, the Bissell is suitable for average and bigger homes.
The unit is lightweight (7 lbs) and easy to carry around.
The convenient storing: you can hang the vacuum on the wall and it will be always ready-to-go.
The Bissell ICONpet does not have a lot of power to provide deep cleaning on thick carpets but has a great pickup ability on hard floors and low-pile carpets also reducing hair-tangling thanks to its new brushroll.
The Bissell ICONpet is also one of the best cordless vacuums of 2019/2020 in the middle price range.
---
The BISSELL Multi Reach Plus is equipped with a multi-surface brush so you don't have to switch it to a soft-roller to clean hard floor.
The battery life is considered short, only 20 minutes of cleaning making it not suitable for bigger homes. The multi-surface brushroll works well on hard floors and also low-pile carpets.
This model has a dirt cup capacity of 400 ml which is average but on a smaller side, considering short battery life, it should be enough to finish cleaning without having to empty it in the middle of the cycle.
The cleaner is lightweight, at only 5 lbs it is easy to carry around. 
The Multi Reach Plus has lots of attachments in the box: an extension wand, motorized brush roll, crevice tool, and soft dusting brush. The battery is removable and can be replaced at a reasonable price.
The vacuum has LED lights to track dirt. 
The Multi Reach Plus has a great pickup ability whether it is larger or ultra-fine debris, also great at cleaning surfaces but not good at deep cleaning tho it is one of the best in a budget vacuums category.
---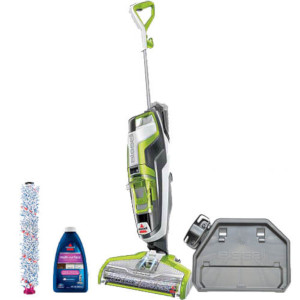 Can do light mopping on low-pile carpets and heavy jobs on hard floors.
$218.82 on Amazon
The BISSELL CrossWave 1785A has two separate containers for clean (28 oz/ 830 ml) and dirty water (14.5 oz/ 430 ml) and is not cordless, the cord length is 25 ft. 
This machine is similar to the Crosswave Pet Pro but does not include a cleaning solution and docking tray. It also does not has a strainer to separate big debris from a liquid.
The vacuum has a great pick up ability and is suitable for dry vacuuming on low-pile carpets
The vacuum includes a set of brushes: dual-action multi-surface brush, microfiber and nylon brush.
BISSELL CrossWave 1785A vs. BISSELL CrossWave Pet Pro:
Different brushroll design (the newest provide less pet hair tangles)
No strainer included
3 years warranty (Pet Pro) vs 2 years (1785A).
Other than that, the CrossWave 1785A is good at picking up debris, dry vacuuming, and wet mopping.
---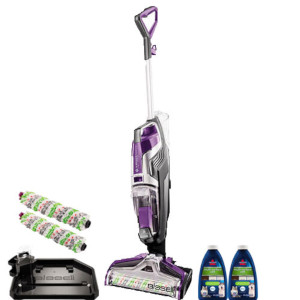 Is good at picking up debris as it does light vacuuming and is able to get rid of most stains. Includes two containers for clean and dirty water.
$275.99 on Amazon
The BISSELL CrossWave Pet Pro vacuum cleaner comes equipped with two soft rollers, a cleaning solution, and a Docking Tray. The vacuum has two containers: one for clean (28 oz/ 830 ml) and one for dirty water (14.5 oz/ 430 ml). It is a corded cleaner, the cord length is 25 ft.
The Corsswave Pet Pro can do light vacuuming and mopping jobs, it picks up larger debris as it mops.
Two-Tank Technology keeps the cleaning solution separate from the dirty water making it more convenient to use. The included PET Multi-Surface with Febreze Formula eliminates pet odors.
The Bissell has a pet hair strainer that separates pet hair and large debris from the water mix to keep your sink clean and hairless reducing clogging. When you finish cleaning, the special Rinse & Clean Out Storage Tray cleans the brushroll from dirt so you can use it the next time. 
Remember, the BISSELL CrossWave Pet Pro is not suitable for carpets, it does help to vacuum but mostly is designed for mopping.
---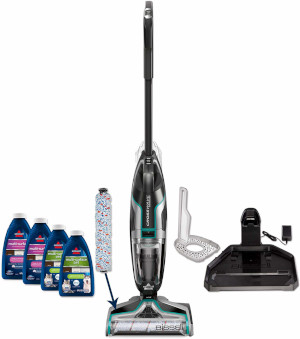 The new brushroll is self-cleaning so you don't have to clean it that often. One of the best Bissell cleaners that can either do vacuuming and mopping. It is cordless which means convenient use.
$365.24 on Amazon
The BISSELL CrossWave Max is one of the latest models from the manufacturer that does not have a cord. The 36V lithium-ion battery provides up to 30 minutes on one charge, which pretty much on the longer side in the cordless vacuum cleaners world. 
It also has two containers that are shorter than the previous models have and easier to fill with water.
The vacuum has a display that shows battery life and floor type
The Max version has WiFi and can be connected to the app to provide helpful alerts, maintenance tracking, and usage tips.
It comes with a 3-in-1 Docking Station which stores the vacuum, cleans the brushroll thanks to the self-cleaning cycle, and also charges the machine.
Cleaning performance
The self-cleaning cycle flushes out dirt, hair, and debris after each use so CrossWave Cordless Max is ready for the next use. Once you finish cleaning, press the button and the machine will start cleaning the brush roll and it is much better than any other wet cleaner does.
Updated brushroll and head design work better on corners, the roll is easier to clean and it is better at hair tangling.
The cleaner includes 2 Multi-Surface Trial Formulas, 2 Hard Floor Tough Mess + Odor Eliminator Trial Formulas, and 2 Multi-Surface Brush Rolls. The cleaning solutions help to remove odors and leaves your floors shiny and polished.
The Max version is good at picking up debris on carpets and hard floors. It is good for low-pile carpets, even better than many dedicated vacuums. You can even use the solution on rugs to freshen them up.
Check out how well the Bissell CrossWave Max performs with stains.
BISSELL CrossWave Max vs Pet Pro
No cord
Shorter bins
Thicker brushroll, better for resisting tangles
The Max is Wi-Fi enabled
The Max is better at picking up larger debris
Cordless version has a bit less power but also is a lot quieter than the Pet Pro
No display
---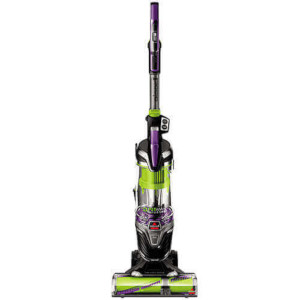 The best at resisting hair tangles. Also does a great job at deep carpet cleaning and is the most powerful of corded Bissell vacuums.
$172.49 on Amazon
The BISSELL Pet Hair Eraser Turbo Plus is a corded vacuum that has an upgraded cleaning brush which is ideal for pet hair. The anti-tangle technology really works well at resisting hair tangling.
The vacuum has a Smart Seal Allergen System which is not HEPA and might not be safe for allergy and asthma sufferers.
Aside from great pet hair handling, the Pet Hair Eraser is also great at deep carpet cleaning. It is one of the best corded cleaners in this price range that is able to provide deep cleaning and not many vacuums can do so.
The BISSELL Pet Hair Eraser Turbo Plus is ideal for those who have pets and lots of carpets to handle.
Read more about the vacuum and its performance with pet hair and carpet cleaning.
---
Editor's Choice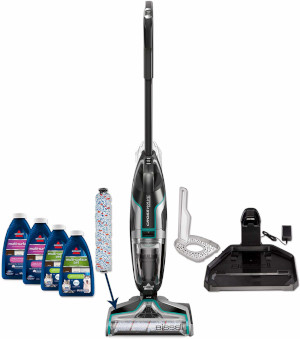 The best Bissell vacuum for stains, dry mopping, and light vacuuming tasks. It has a good pick up ability and smart features making the CrossWave Max the best value.
$365.24 on Amazon