At CES 2020, Roborock Technology Ltd presented its first and I must say one of the best cordless vacuums on the market, the Roborock H6. The company spent almost three years to engineer and produce this machine.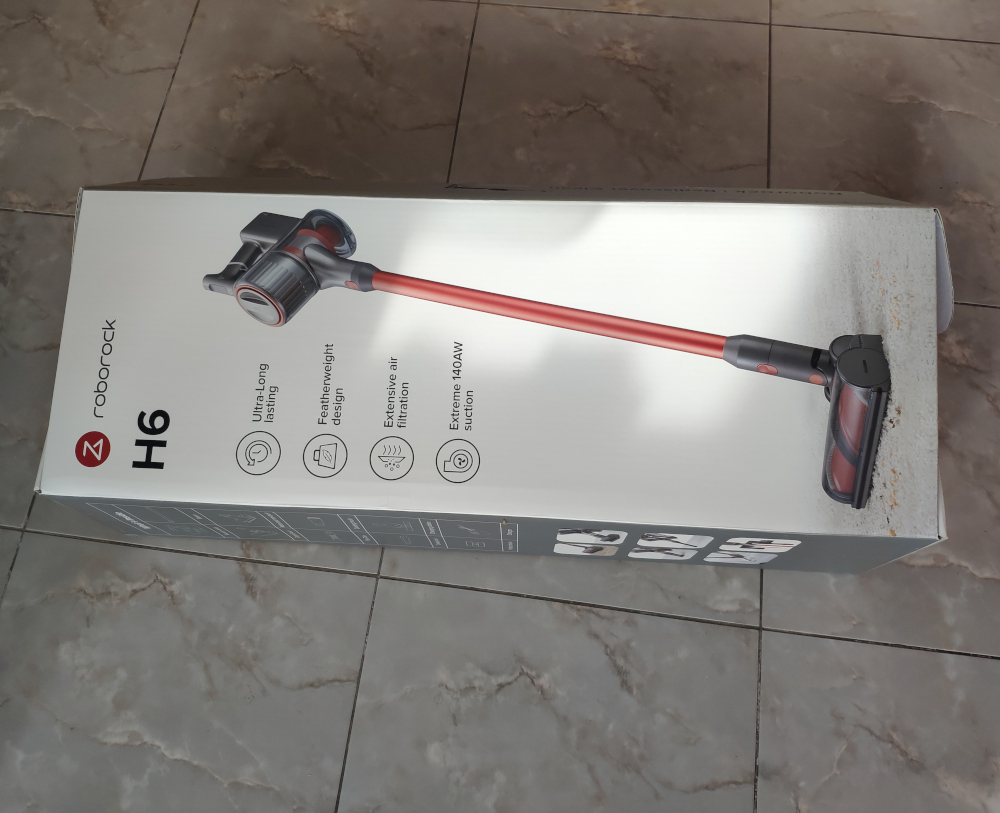 Normally a cordless vacuum has two weaknesses: battery life and weight. Roborock did its best to make a cleaner that has solved both. We got a long-lasting vacuum cleaner that is not heavy to the arm making it suitable for bigger homes.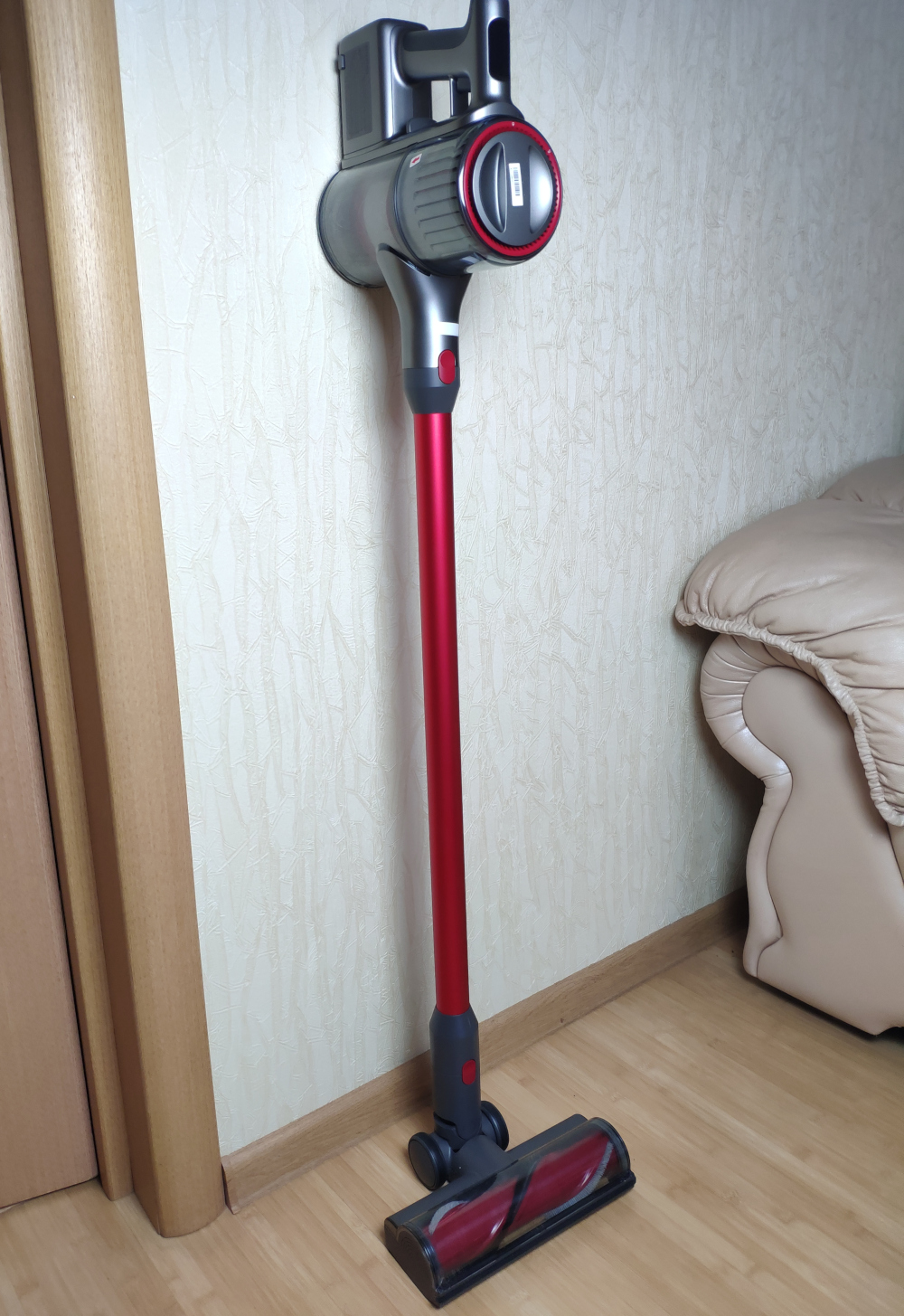 The new vacuum cleaner can be used independently or in a tandem with a Roborock robot vacuum cleaner. Simon Wan, Roborock's co-founder, and vice president said:
"We invested a lot of time developing our first-ever handheld vacuum solution, in fact, we've been carefully planning this for close to three years. With the H6, we wanted a product that addressed constraints still existing in the handheld vacuum space-weight and battery life in particular. It is our goal to empower users by offering the best, most effective and comprehensive cleaning solutions possible, whether it's a robot vacuum or a handheld solution."
The new Roborock cordless combines strong suction and lightweight design and also represents the idea of a vacuum cleaner that can easily be used day-to-day.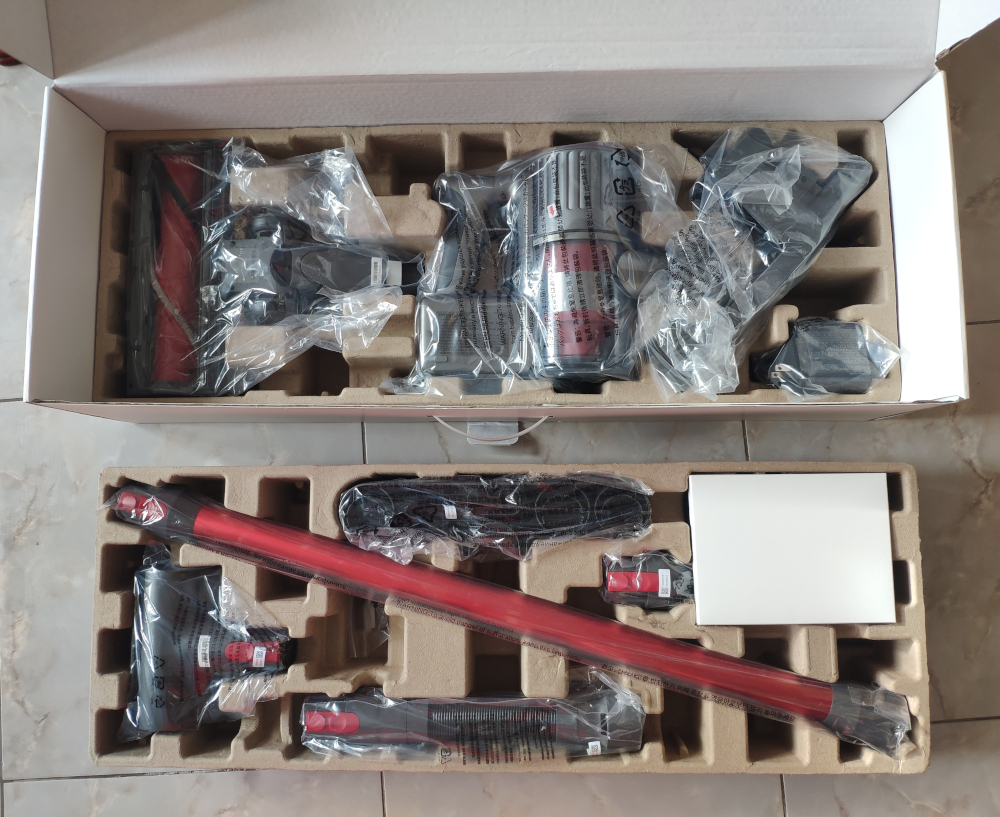 So I am happy to test the vacuum along with my opinion on this one. Is the H6 suitable for carpet? Can you use it on pet hair? How loud is the vacuum? I have an answer to all these questions.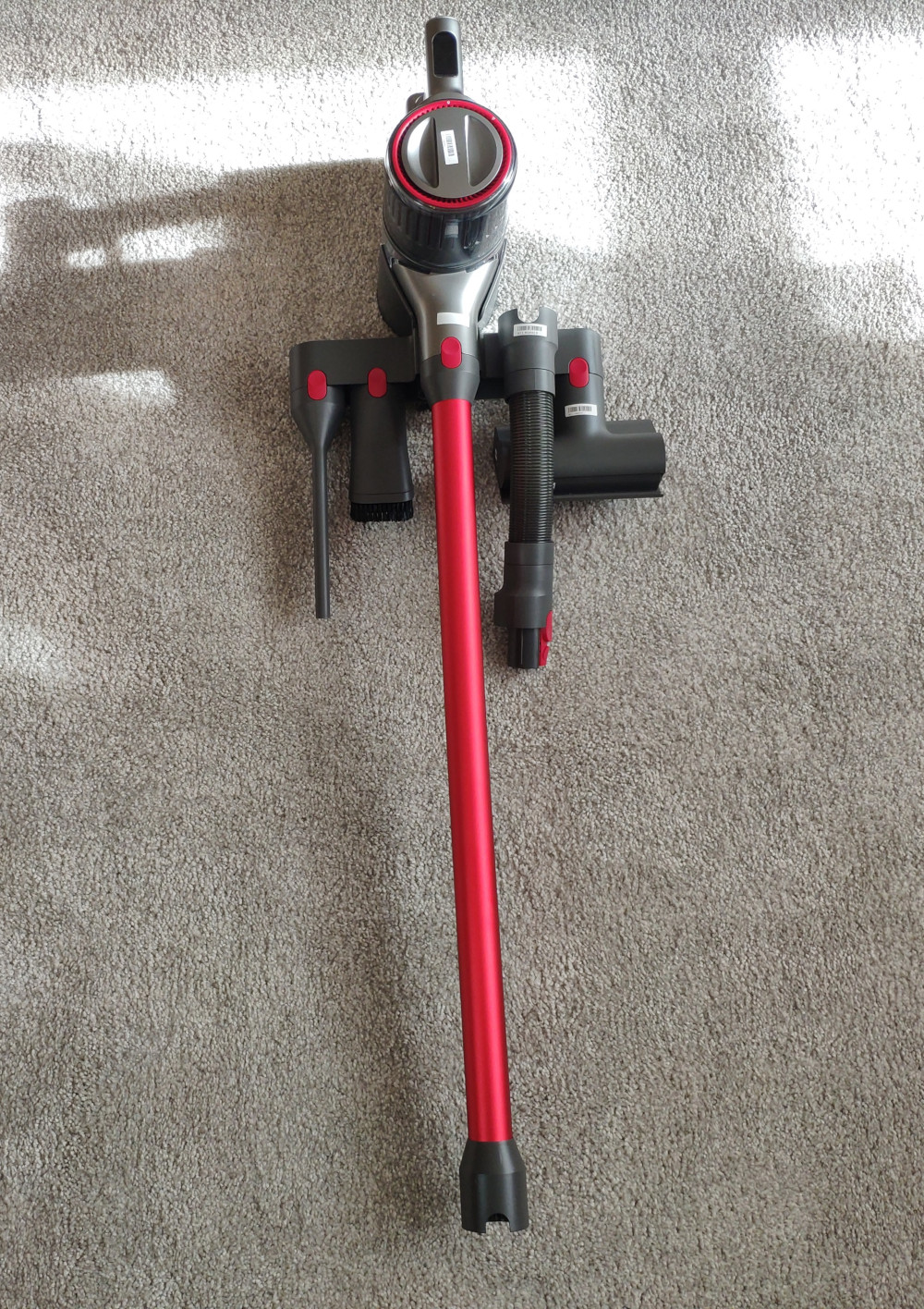 Why the Roborock?
The most lightweight cordless vacuum cleaner in the industry
Safe for allergy-sufferers
Capable of cleaning medium-pile and high-pile carpets
Suitable for pet hair
Has a countdown timer so you always know estimated battery life
You don't have to constantly squeeze the power button
Recognizes carpeted surface and provides deeper cleaning
Has extra accessories in the box for floor-to-ceiling cleaning
The longest-lasting cordless vacuum cleaner in the industry
One of the best cordless vacuum cleaner on the market
You must be aware of another beast of the cordless vacuum cleaner world, the Dyson V10. Let's compare these two:
Roborock H6 vs. Dyson V10: the difference
Auto Carpet Boost. The Dyson lacks this option
Longer battery life (90 min vs. 50 min)
The Roborock has an OLED display
Dustbin size (400 ml 760 ml)
The H6 has slightly weaker suction
Different battery type (Li-Po vs. Ni-Co-Al)
The noise. Roborock is quieter even in high mode.
---
Designed to make your life easier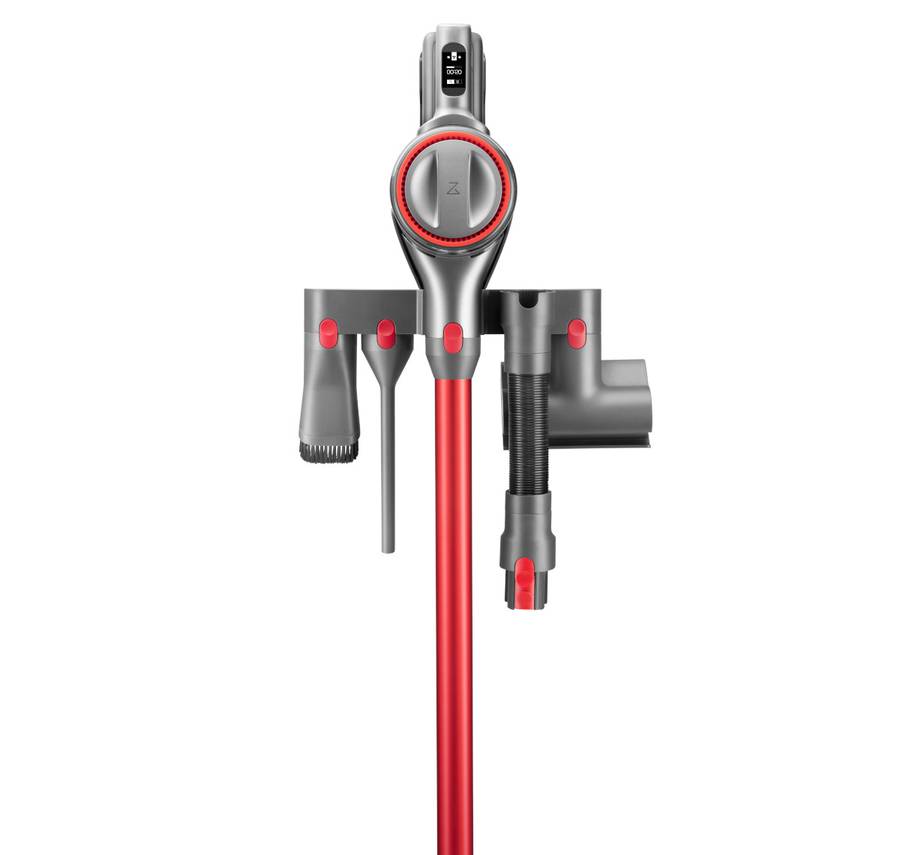 The longest-lasting and most lightweight cordless vacuum in the industry
Capable of deep carpet cleaning. Suitable for all types of flooring.
Safe for allergy sufferers
Soon on Amazon
The Roborock H6 has a nice red finish and does not look like anything we've seen before.
It contains one of the most popular design schemes of the cordless vacuums in the industry. The unit's motor sits inside the main machine which is the heaviest part of the vacuum. The main unit is not heavy, it only has 3 lbs of weight which makes it one of the most lightweight cordless vacuum cleaners in the industry.
Filtration system
The vacuum has a 5-layer filtration system that is composed of multiple cyclones, plus a washable front and rear HEPA filter that captures 99.97% of particles as small as 0.3 microns making the Roborock H6 safe for those who suffer from asthma and allergy. Normally cordless cleaners come with one HEPA filter and sometimes a pre-filter. A real HEPA filter is a nice addition to make the vacuum safer for allergy sufferers and overall every user that doesn't want to have allergens in the air.
The main unit can be disassembled, each part of it is washable including the HEPA filter. Pollutants and Allergens are as small as 0.3 microns go through a 5-stage filtration system trapping the dust and dirt inside the vacuum which makes the cleaner safe for everyone who struggles with allergy and asthma.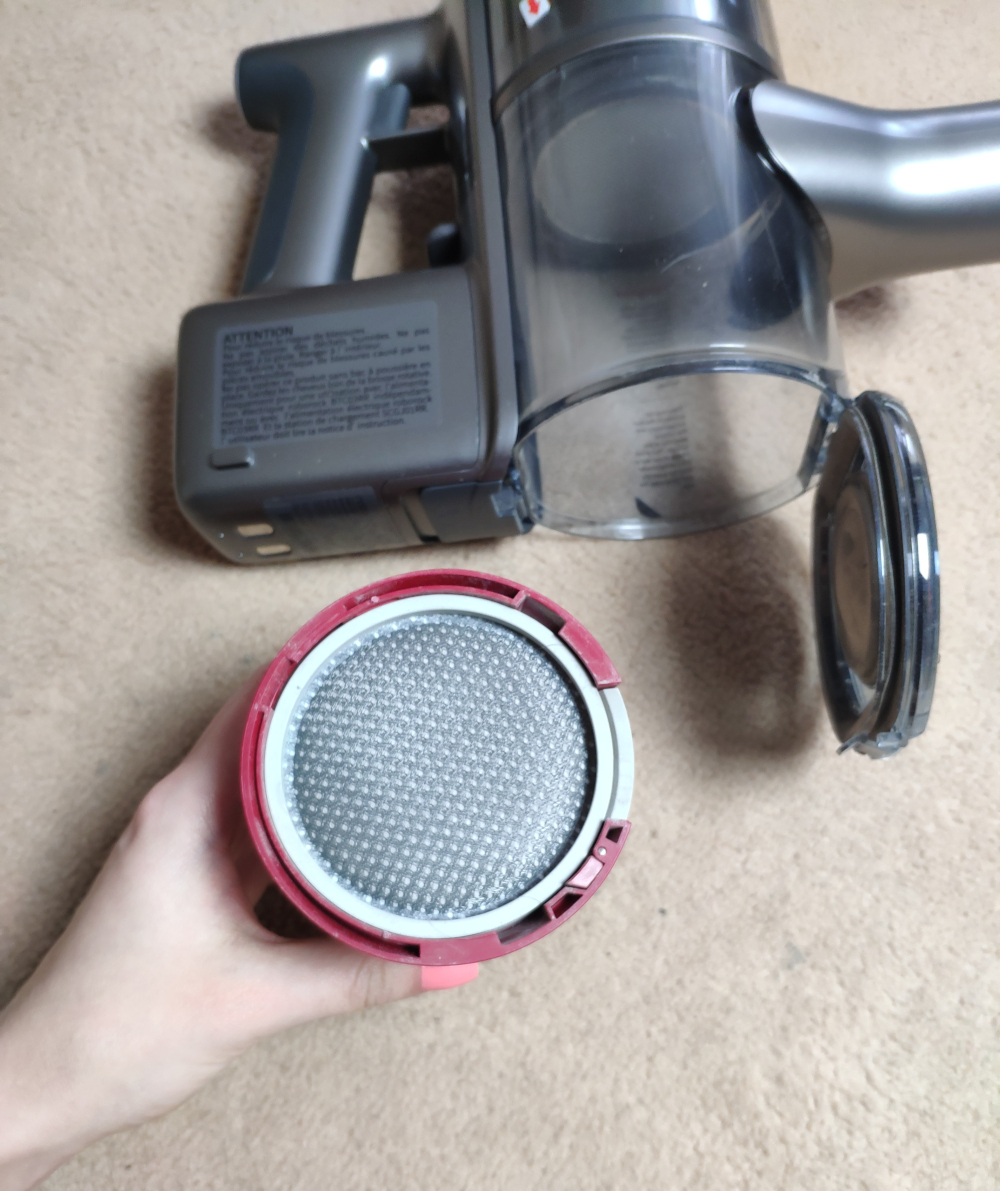 The Roborock has a 400 ml dustbin which is average for this type of vacuum but I would suggest emptying it after every clean. To release the dust you have to press a button on the bottom of the main unit. I have run the vacuum twice before opening the bin and it was stuffed so I had to help it with my hands so I would suggest opening the bin after every clean. Besides, it sucks better when the dirt box is empty.
There is a lock/unlock button on the side so you don't have to squeeze the power button as you clean, which I find very convenient. On the other hand, if you are going to transfer the vacuum from one room to another without it having actually vacuuming, not using the locker would be a great idea.
One of the best things about this vacuum is the OLED display. It shows whether the power button is locked or not; the remaining power, which is useful, you always know when the battery will be out of energy; maintenance alerts, and current cleaning mode (there are three).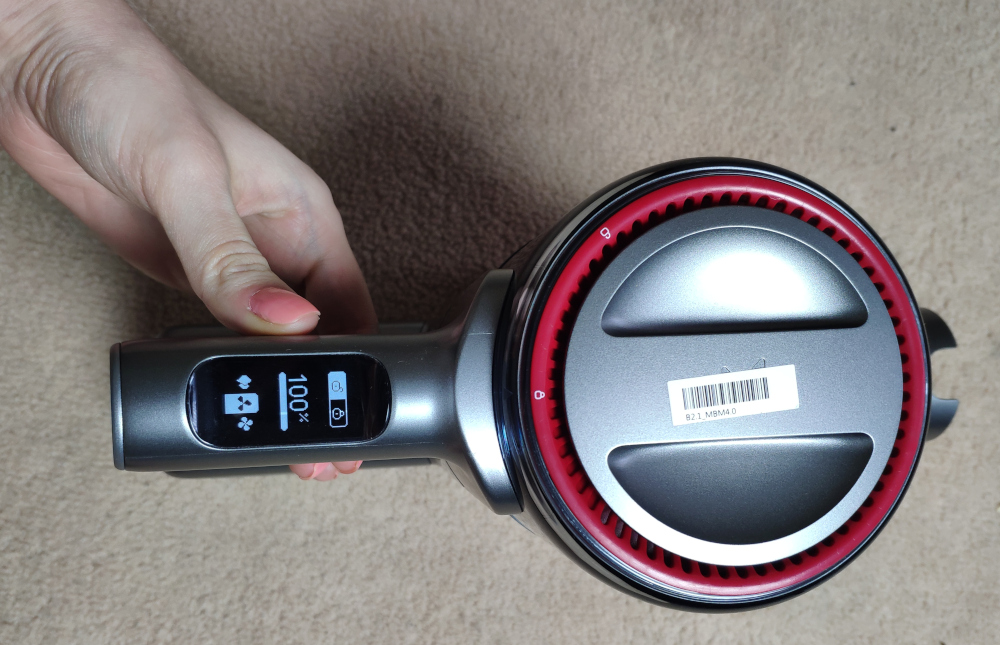 What accessories come with the h6?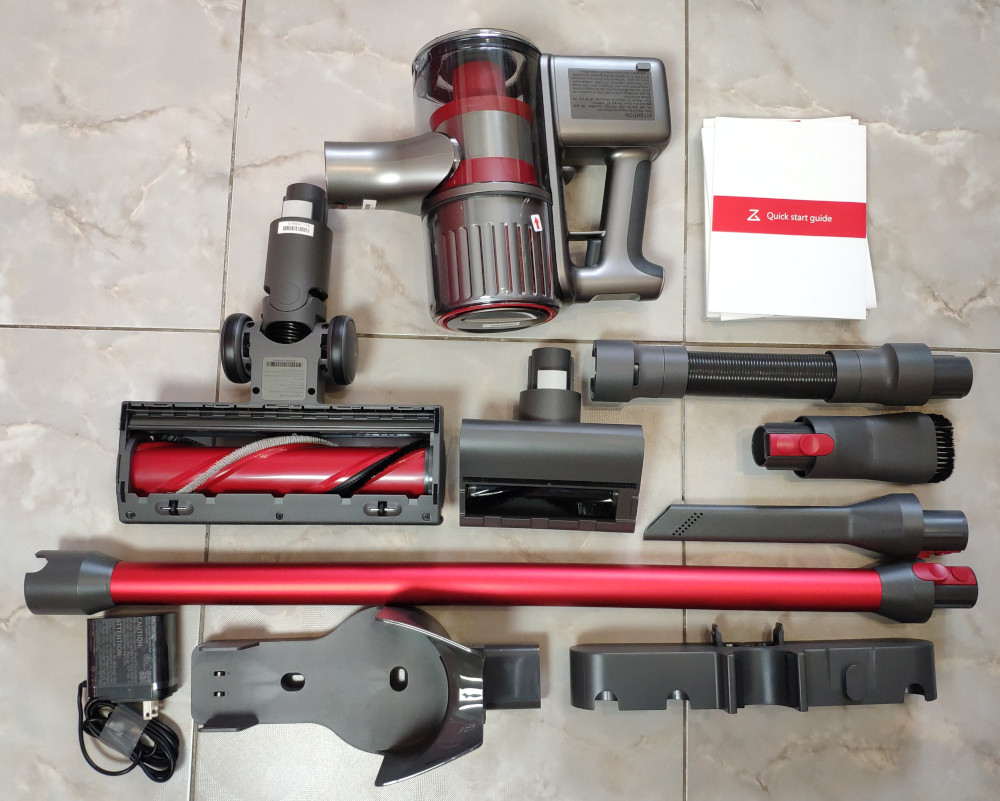 Roborock H6 & Accessories
Wand. It is a simple tube that extends from the motor body of the vacuum to the cleaning head or attachment.
Carpet Brush. It uses stiff bristles for better agitation on carpeted flooring.
Motorized Mini-Brush. It is a small version of the carpet brush. Goof for small zones that need cleaning such as fabrics, upholstery. dog beds, etc.
Dusting Brush. You can use it as a soft dusting brush for upholstery.
Crevice Tool. It is thin and long, ideal to reach narrow places, corners or edges.
Flex Tube. In combination with small tools such as crevice tool or dusting brush makes cleaning in some places easier. Mostly related to shelves and high-placed furniture.
Wall Mounting Holder. This thing helps to store the Roborock H6 somewhere on the wall so it will take less space and you will always know where it is.
Charger. You can charge the main machine without it is hanging on the wall.
Floor Brush. Made of anti-static materials and has an anti-tangle design which helps to resist hair tangles. Ideal for hard surfaces such as laminate, hardwood floors, tile, etc. It does not come with the main accessory pack but you can optionally order one separately.
The charging station can be either mounted on the wall or stay on the floor depending on what you find more convenient. Integrated accessory rack, usable in both wall-mounted and free-standing configurations, keeps all the accessories you need in easy reach.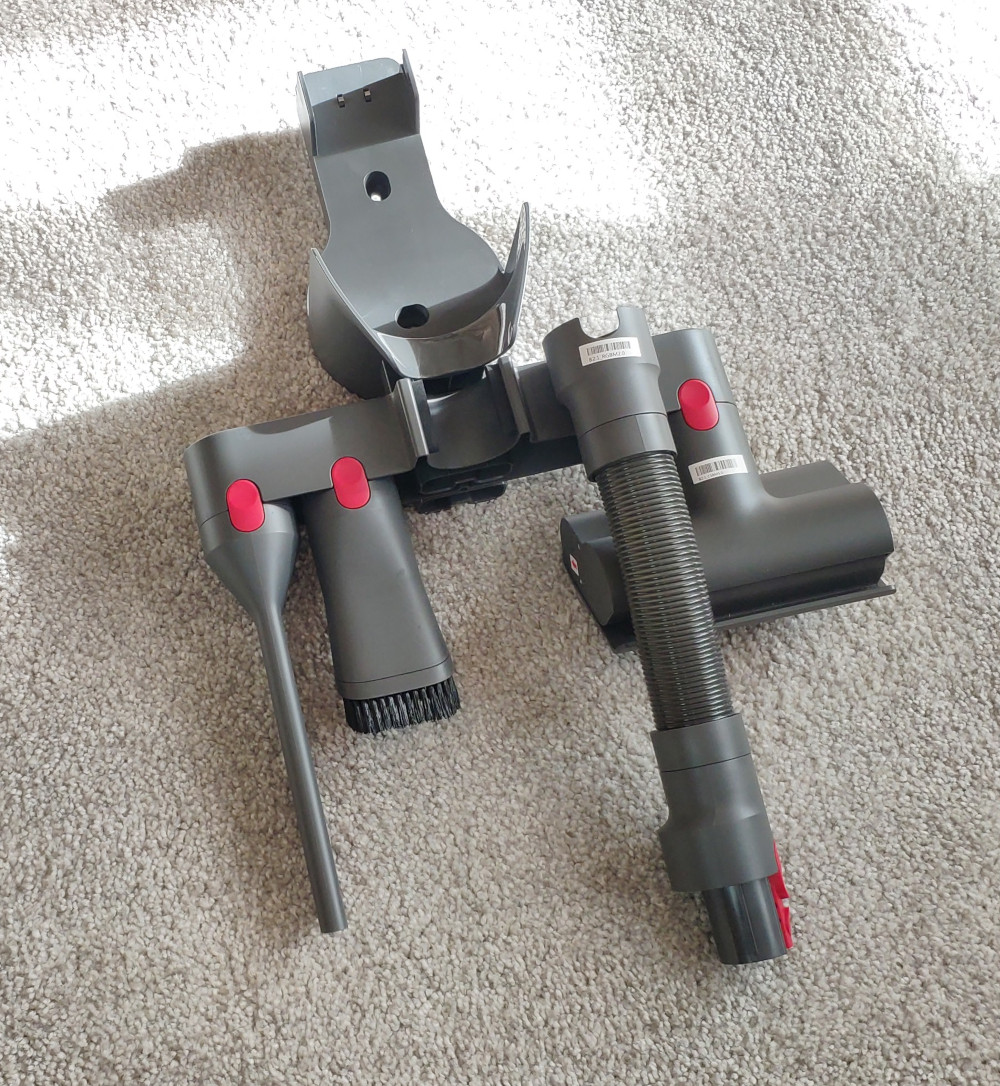 ---
How long does the Roborock H6 battery last?
Thanks to the built-in OLED screen, you are aware of the remaining battery level. It has a countdown timer which shows how much of runtime left.
Depending on accessories attached, battery life may vary. With motorized brushes on, the vacuum last less.
Same goes for the surface type. Because of the Automatic Carpet Boost, the Roborock H6 lasts less on a carpeted surface.
How long does the Roborock H6 battery last: estimated battery life on different power settings
Low: 90 minutes
Medium: 45 minutes
Carpet boost: 13 minutes
High: 10 minutes
In fact, only the latest Tineco Pure One S12 was able to achieve a long runtime like this with two batteries in the box while the Roborock H6 can to the same only with one battery.
You can charge the battery by plugging the main unit to the charger if you don't want to hang the vacuum on the wall.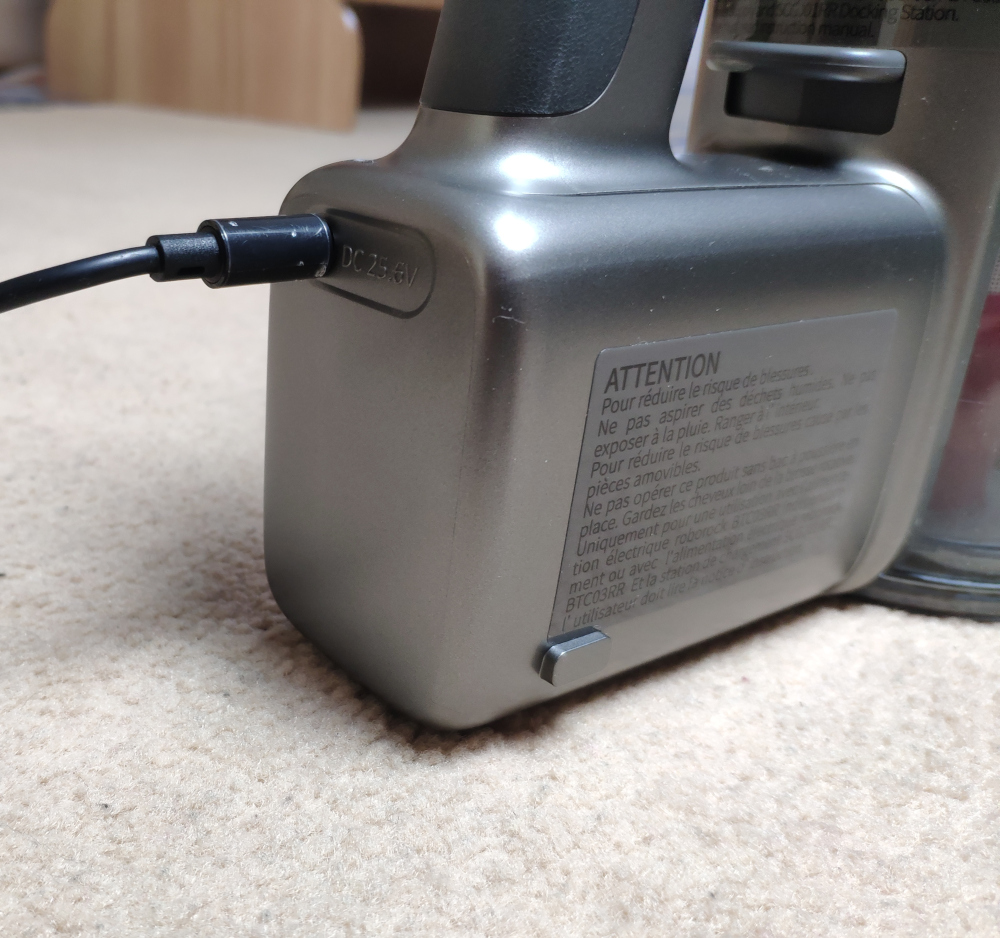 The H6 is the first cordless vacuum that uses the LiPo (Lithium Polymer) battery while other cordless cleaners have a Li-Ion battery. LiPo batteries are more lightweight than Li-Ion and have increased capacity. According to the manufacturer, the Roborock H6 has an ability to maintain 85% of its power after 600 charges.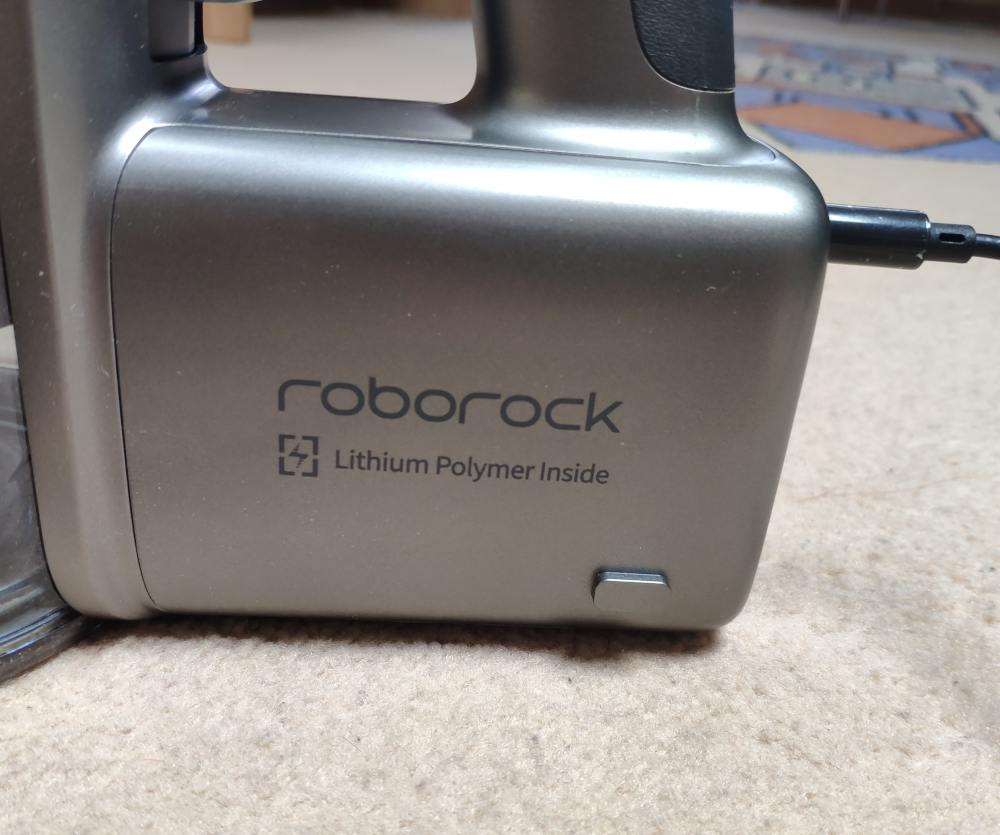 ---
Is the Roborock H6 good for carpet?
The machine has a powerful motor that delivers 140 W in high settings which is pretty impressive. For instance one of the most powerful cordless cleaners have about 150 and 185 W.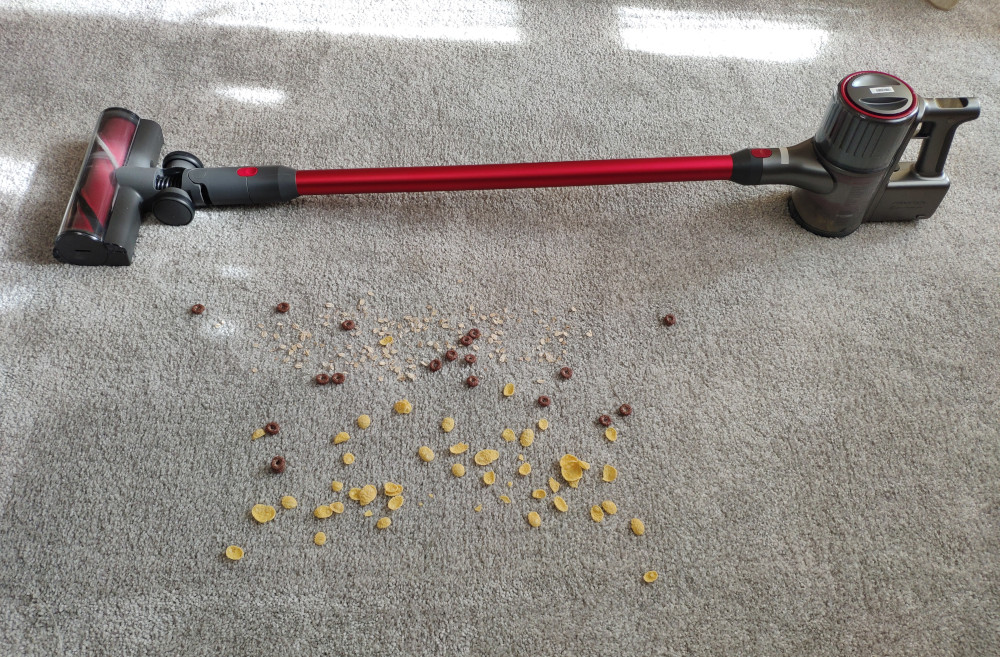 My floors are 50/50 hard floors and carpets. So I have three carpets: one small rug, a low-pile carpet, and a medium-pile carpet. Also, there is a shaggy high-pile carpet for testing the vacuum.
Even though I run my robot vacuum every other day, the Robroock managed to pack the dirt cup full in two cleaning cycles.
Carpet boost turns on after a few seconds as I start cleaning the carpet and it does not work the way it works in the Roborock robot vacuums. When I clean on low power settings, carpet boost increases suction but it does not become as powerful as it would be on Max power settings. To say more, the carpet boost would give you the same amount of power either on low and medium suction mode. When I run the vacuum on the highest settings, it does not change the suction level on carpets.
To say more, the Automatic Carpet Boost turns on only with the Carpet Brush attached.
This is actually a great solution since you still get the deep cleaning on carpets even on low and medium-pile carpets by having longer battery life. This is a good battery optimization, I find it smart, great job on the company's engineers.
With the dusting brush, I clean the thresholds and corners, it is very convenient since the main brush can not reach such places.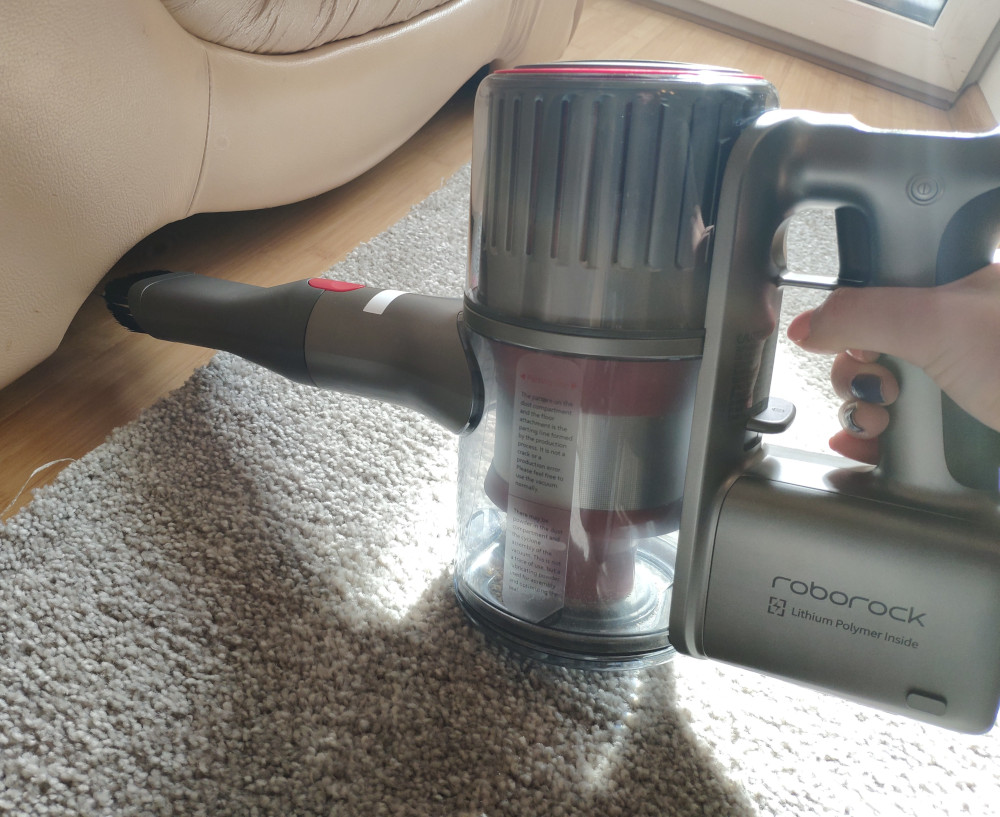 I use the crevice tool on the edges and corners, sometimes it is the only thing that can get areas behind the bed, zones between the closet and wall, etc.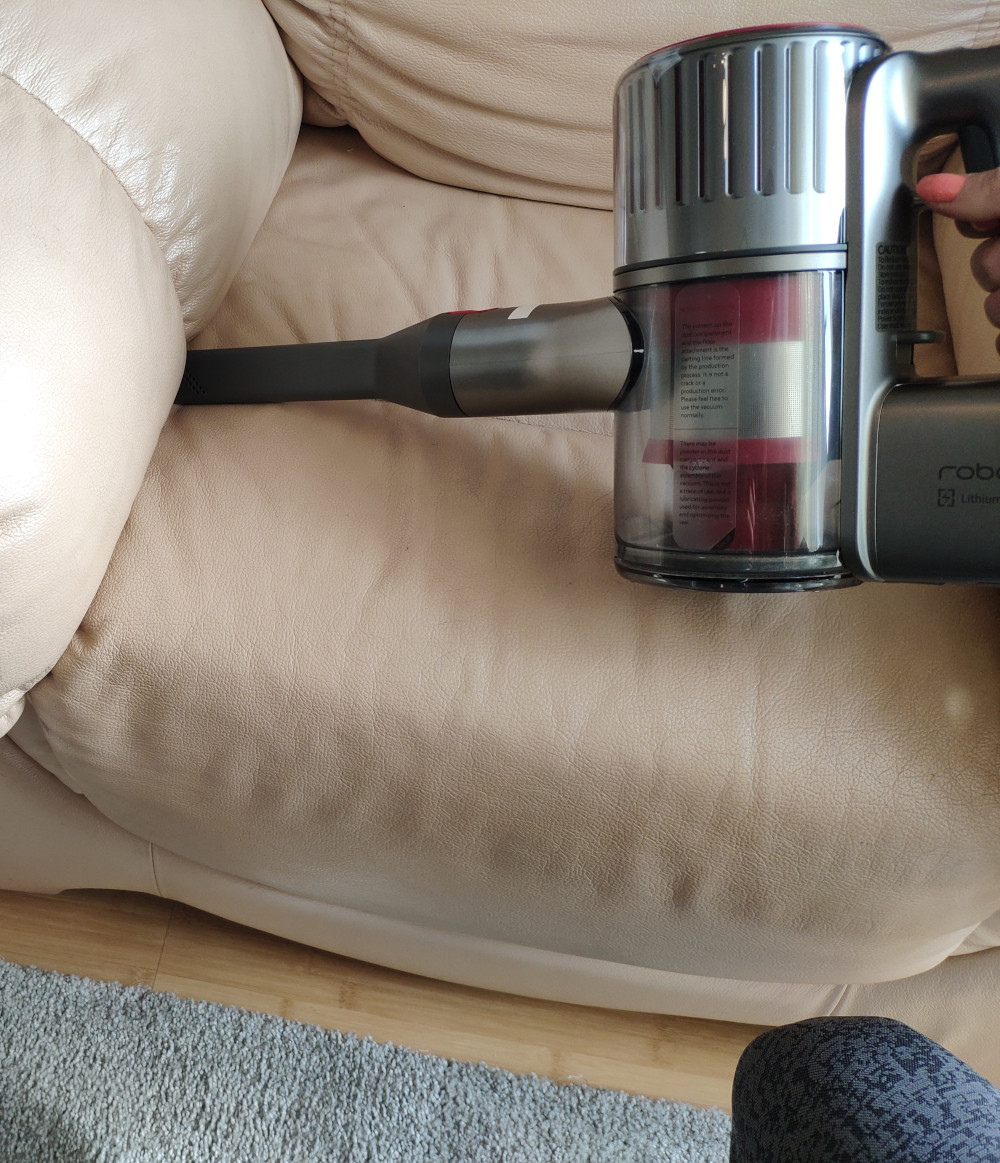 I use the motorized brush to clean my upholstery couch, it can also be used on stairs, etc.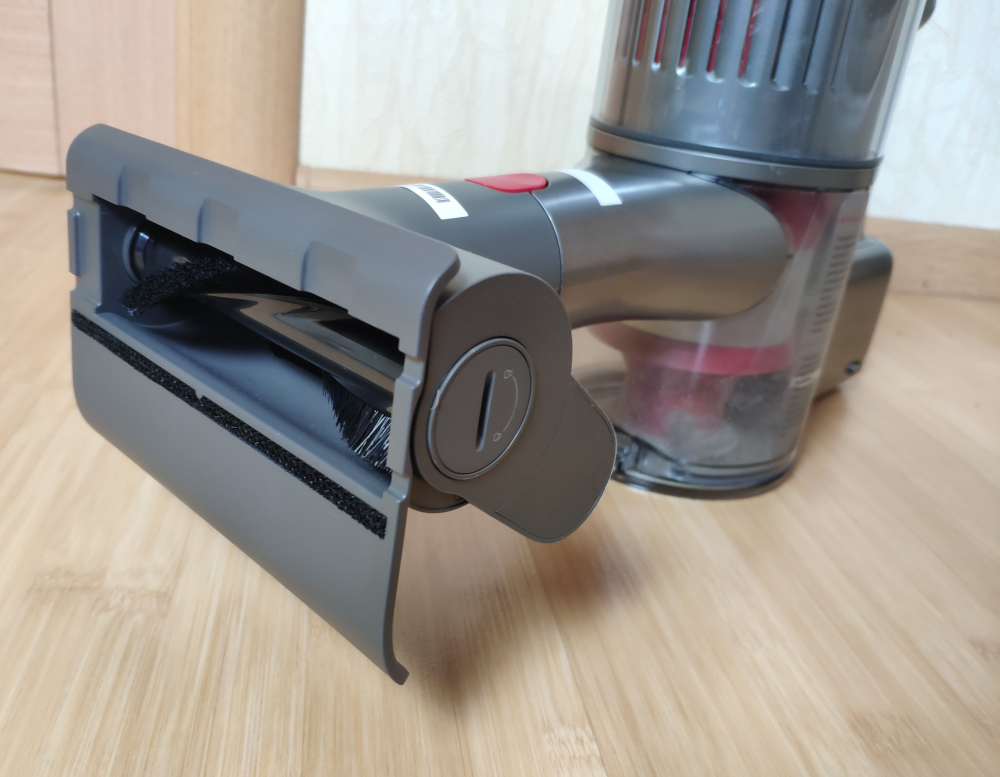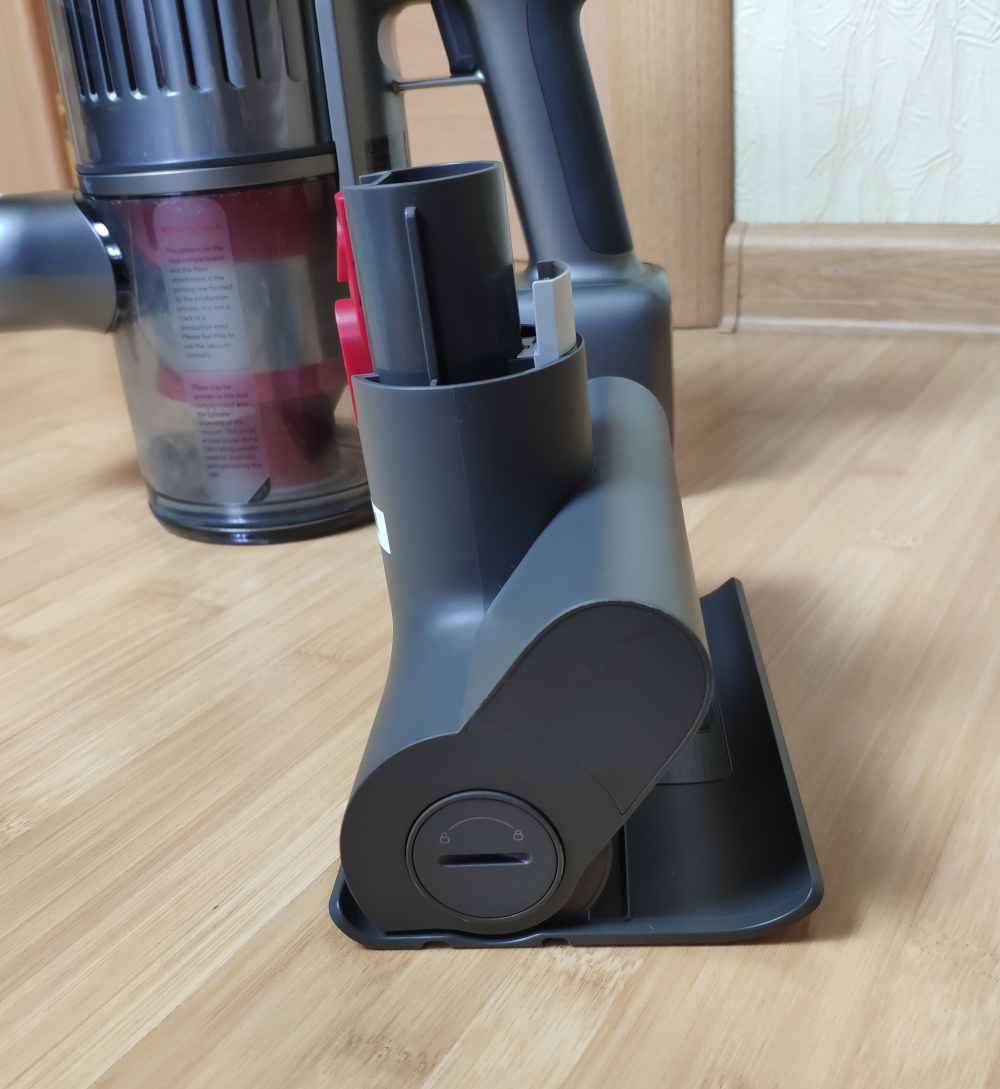 If you combine the flexy tube with a dusting brush, you can get into some high-placed stuff like lamps, shelves, etc. It is also convenient for areas under the furniture.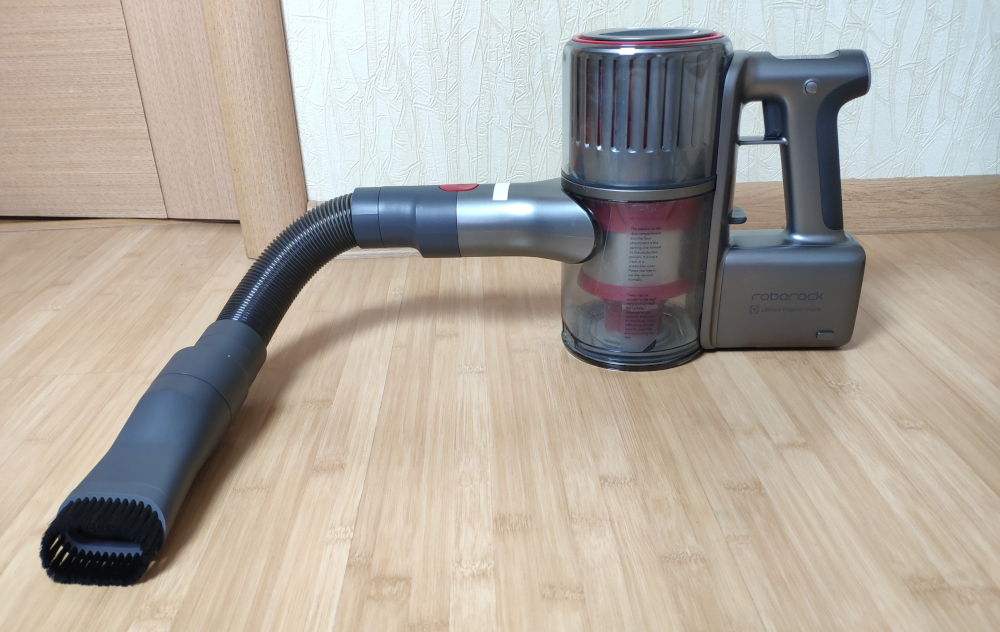 One thing I would point out is operating the Roborock on hard flooring. It tends to scatter some bigger debris but if you learn some tricks, you will not have any issues with it.
Though I would suggest getting a soft roller if your floors are hard and you have no carpets. The motorized brush tends to be loud on tile, laminate, etc. If your surface is 50/50 like mine, you might not need an additional roller.
Because of long battery life, the Roborock is perfect for big houses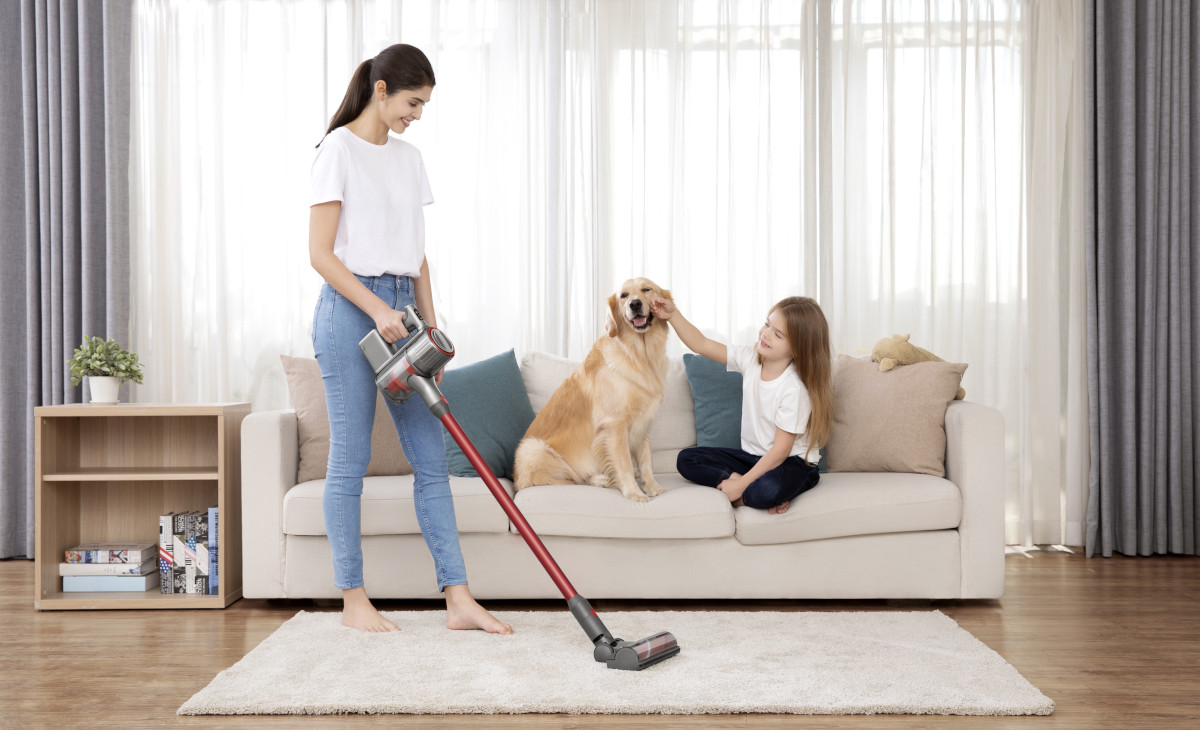 How loud is the Roborock H6?
As I mentioned before, carpet boost delivers the same amount of suction power on low and medium settings. In max mode, the vacuum is the loudest. I believe with the soft roller it will be quieter on hard floor since the carpet brush is a bit noisy when cleaning bare floors but it is okay on carpet.
Low power: 71 dB
Medium power: 73 dB
Carpet Boost: 76 dB
Max power: 79 dB
Overall, it is not as loud considering strong suction.
---
Roborock H6 Maneuverability
Because of being lightweight, maneuvering the H6 is easy. With additional accessories in the box, the vacuum is capable of cleaning ceilings to floor.
The vacuum swivels easy, it is not heavy to the arm and you can vacuum for a long period of time. With the extra tools, you can clean corners around walls, stairs, and furniture. If you need to clean some tall areas, use the flex tube with a dusting brush and as a relatively short person, I find it helpful. In general, operating the Roborock H6 is effortless.
Features and Specifications
| Specs | Value |
| --- | --- |
| Battery capacity | 3610 mAh |
| Battery type | Li-Po (Lithium Polymer) |
| Run time | up to 90 min |
| Max suction power | 140 AW |
| Rated power | 420 W |
| Dustbin capacity | 400 ml |
| LED display | 1.3" OLED display |
| Filter type | Washable HEPA, 5-layer filtration |
| Brushless motor | yes |
| Suction boost | yes |
| Software functions | Selected cleaning modes, battery remaining time, maintenance alerts, battery level |
| Product size | 11.2 x 4.4 x 8.7 inches |
| Weight | 3 lbs (1.4 kg) |
Where to buy the Roborock H6
Roborock H6 Maintenance
To make the cleaner last longer, you have to take care of it. That includes:
Emptying the dustbin after every cleaning cycle.
Wash the filter with water about once a month (let it air dry for 24 hours).
Replace the battery as needed.
---
About Roborock
Roborock is well known for their releable and powerful robot vacuums and great customer service. If you have any questions, you can always contact them and get a response shortly. Roborock specializes in advanced home robotics with an emphasis on precision navigation. It produces robot cleaners under its brand and also cooperates with one of the largest China's largest technology companies, Xiaomi. Currently, Roborock is available in 40 countries, including the US, France, Germany, and Spain.
---