Today I'm exited to review the Handled Electric Mop from Xiaomi - a modern way to mop hard floors. Xiaomi's mission is to improve and simplify our lives with cool products that do our job in the household with ease. Let's face it, not everyone loves to mop hard floors, and we are no exception.
This device is designed for those who don't want to spend time on manual mopping. Who doesn't want to make it easier? Forget about doing it with your hands, trying to get rid of stubborn stains, etc. The SWDK Mop D260 is a perfect unit that is easy to store, easy to get started, provides efficient cleaning, gives your floor a shiny and polished look.
[Update, Jan 2020] It's been quite a while since I've used the mop. I have never liked floor mopping as much as I do now. It only takes a few minutes to get the unit started. No need to change water while mopping, no need to press the mop cloth closer to the floor to get rid of dirt. Using the unit is a pleasure. I am not going to lie, I hated doing it manually. The SWDK changed everything. It is easy to use, it is lightweight and can be stored anywhere. The only thing I might complain about is the shape of the mop. It can't go into narrow places and can leave some dirt in the corners. Other than that, I am a happy owner of the SWDK electric mop and would recommend it to anyone who wants to get away from the mopping routine. I would also suggest checking our best electric mops article.
The Xiaomi SWDK Handled Electric Mop D260 is a device you've been dreaming of, and here is why.
Xiaomi Electric Mop Main Features:
2,000 mAh Li-ion battery works for 50 minutes on one charge equivalent to 4-5 cleaning in an area of 100 meters
The battery only takes 3 hours to charge to full capacity
A patented technology makes translational movements with a frequency of up 1,000 times per minute
The LED light illuminates dirt and stains
The right-angle design easily cleans corners
Easy to operate using only one hand
Flexible rotation does efficient cleaning without dead corners
Power indicator shows battery level
Auto shutoff. Energy-saving mode turns on when the grid is in an upright position
Water inlet design
Three types of mopping pads for better cleaning performance
Quiet operation: 68 dB
2-in-1 mop & floor polisher
First Glance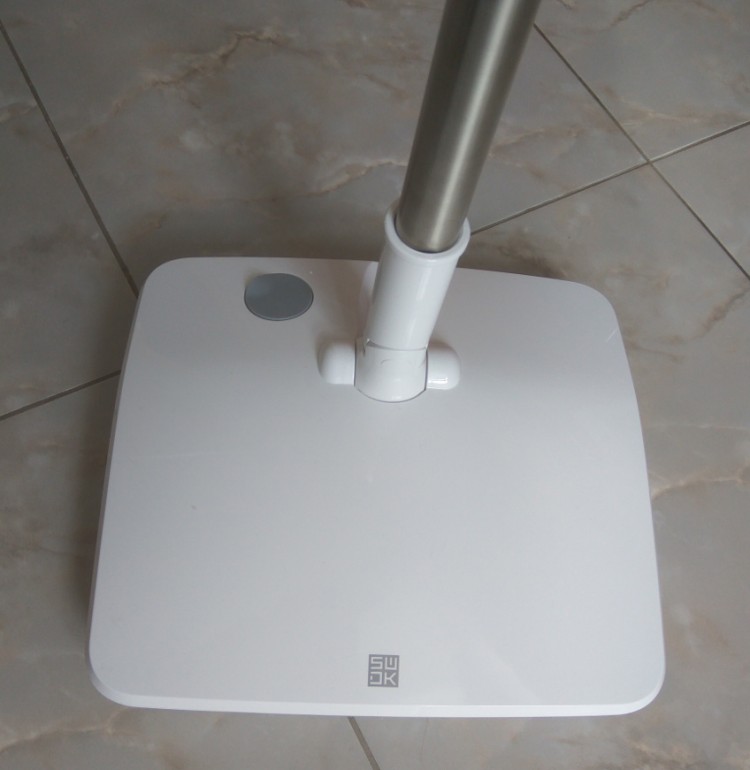 The Xiaomi SWDK Electric Mop body design
The Xiaomi Handled Electric Mop has a minimalist design; no wonder since Xiaomi makes all their products this way. Inside the box, I found an electric mop with a grip divided into four parts, so I had to put together all the pieces to make it look like one of the manufacturer's pictures. The device is wireless, there was an adapter to charge it. It has a 150 ml measuring cup and three types of mopping pads. In any case, the mop looks very useful, which makes me want to clean my floor more often.
The mop is lightweight and easy to carry around. As a matter of fact, you can store it anywhere in your home. Mine stays on the balcony.
The device does look impressive, not something you used to see before. However, it looks kinda baggy that might make you think it is hard to use which is not true.
On the grid, there are two buttons: power and the one that sprays water. Unfortunately, the manufacturer does not mention if any floor cleaning detergent, however, I do use some. Only try not to add too much of it to water.
The LED lights in front of the body help to track stains. You also can see how much water you need to get better quality of cleaning.
There is no actual stop button. Push the grid to the upright position and the Mop will turn-on an energy-saving mode. This is how the mop is stored.
Mopping pads
In the box, there are three types of mopping pads:
Terry one that absorbs hair. It is soft and has terry corners to catch hair. This is one is useful if someone in your family has long hair or you have a pet. Since my hair is long, this pad is excellent at picking it up.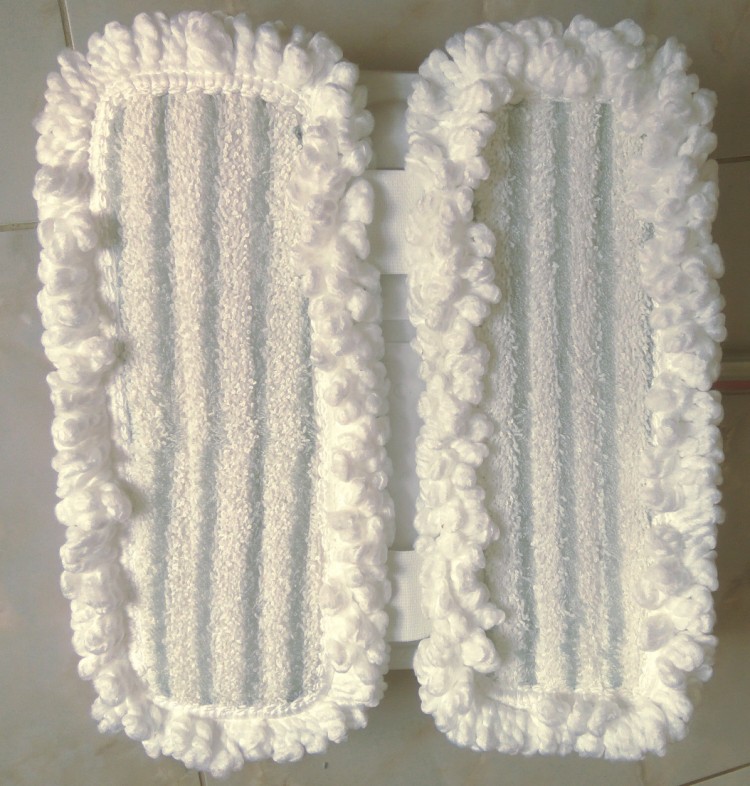 The terry pad is the best at absorbing hair
Standard pad. I use it the most. It is also good at picking up hair but not as good as the terry one. I try to use my robot vacuum before to catch all the hair. The standard pad is suitable for cleaning dirt while absorbing water. Two types of fibers located on opposite sides easily remove stubborn stains.
There are also 10 pcs of disposable environmentally-friendly mopping pads that are made of a degradable material. It features excellent cleaning capacity without pollution.
The mopping pads are very easy to replace and maintain. Before getting started, place it on the floor and press the device on it. The SWDK is ready to work. After finishing the whole mopping process, you just remove the pad and wash it with water and some washing gel (I use washing gel after every cleaning). You can also wash it it in the washing machine. I have done it, the pad didn't change its shape, it still works great.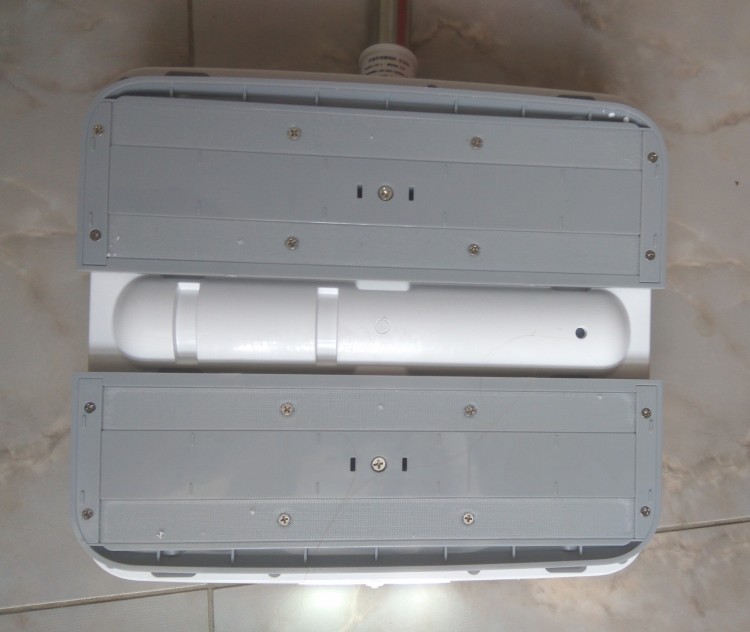 The Xiaomi SWDK Handled Electric Mop D260 underneath
Cleaning Performance
To get the Mop started all you need is to fill the body with water (or add some cleaning liquid to it as well), thanks to the measuring cup in the box, it is easy to do. When the water is inside the device, place the mop pad you want to use on the floor and put the device on top of it, then push the grid closer to yourself and you will see that the battery indicator is lightened up and the LED lights are on. Press the power button and use the second one to spray water to get better cleaning performance.
My place is about 50% of carpets and 50% of bare flooring including a few types of tiles and laminate. The worst one is in the kitchen. Tile in the kitchen is the hardest one to clean. However, it takes up to 10-15 minutes to clean the whole place.
The Xiaomi handled electric mop is equipped with a high-frequency motor that operates with up to 1,000 revolutions per minute. The manufacturer claims it removes all varieties of dirt and the most stubborn stains. How does it work in real life?
This solution is actually great. I was skeptical about how good it would work at first. While when mopping manually you have to push the mop cloth harder to the floor to get rid of dirt, this device does the job for you.
If there is a stain that is hard to remove, spray more water and go over the spot once again. I had no issues with removing stains. The tile in my kitchen is hard to clean. The SWDK does the job surprisingly good.
As for laminate and other kinds of tile, there are no problems at all. I spend up to one or two minutes to clean one room. The most time I probably spend cleaning the tile in the kitchen.
The device leaves my floors not only clean but also polished thanks to the way it operates.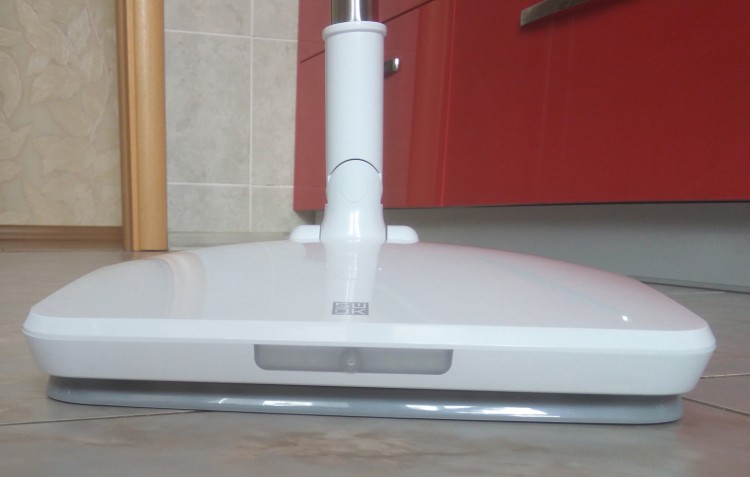 The mop handle rotates at 90 degrees, allowing it to clean in hard-to-reach places.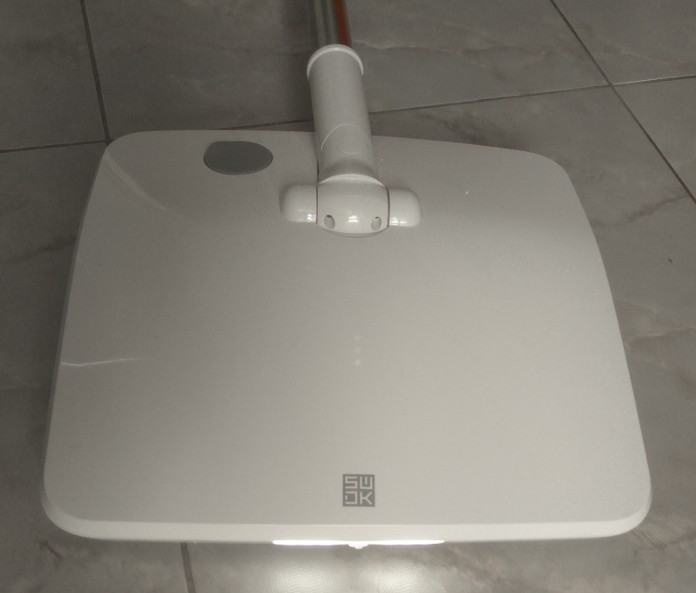 The LED light illuminates the floor helping to track dirt and stains
The mop makes about 68 dB of noise, but I wouldn't say it is very distracting. You can keep a conversation going if anyone is using the unit in the same room.
The charge indicator shows the battery level, so you know exactly when the electric mop needs to recharge. When there is one light on - the unit needs to be recharged.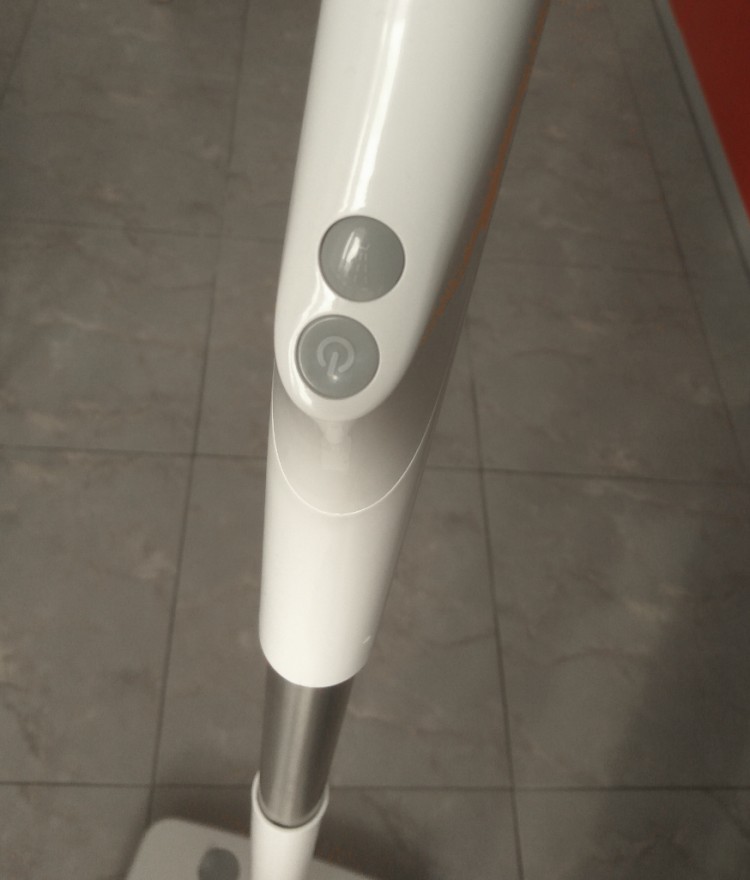 On the body, there are two buttons: power button and the one that sprays water
There is no stop button. When the electronic assistant finishes cleaning, I push the handle to its upright position, and the device goes into energy-saving standby mode.
I should say that even the regular durable mopping pad handles hair with ease. For sure, maybe the one with terry would do it better, but if you're not in the mood to change the cloth that is only for absorbing hair, the standard mopping pad does the work as well. For instance, I have long hair, it might get clogged as the standard pad doesn't work to remove hair, but it takes a few seconds to remove the hair from the cloth.
As for me, the electric mop works great. I have a type of tile in the kitchen that is not easy to get clean especially if there are some stains. The polisher performs excellently at removing stains and leaving my floors polished.
Unboxing and a first test
Operation
Operating this thing is easy. Actually, I can clean with only one hand. The head is flexible, the unit itself is lightweight, so it is effortless to operate the mop. As I mentioned before, the device is very easy to operate.
Battery
The 2,000 mAh battery is equivalent to 4-5 cleaning in an area of 100 meters. I rarely charge it because as I said before my place is about 50% of bare floors. I usually don't use the amount of water I filled the device with.
I live in a 60 square meter apartment (645 sq.f.), 50% of the living area is covered with carpets. I charged the unit a few times only since there is not too much of the area to use the mop on. The battery life is long, you won't be annoyed by recharging it if you own an average-size home. It takes about 15-20 minutes top to clean my space.
Weight & Dimensions
| Xiaomi Handheld Electric Mop | Specs |
| --- | --- |
| Weight | 2.1 kg / 4.7 lbs |
| Height | 5 cm / 1.9 in |
| Width | 27 cm / 10.6 in |
| Height | 30 cm / 11.8 in |
What you get with the Xiaomi Electric Handle Mop
Electric mop; 2-in-1 normal mopping pad, 2-in-1 terry mopping pad; 10 disposable mopping pads; 150 ml measuring cup; adapter; connecting rod.
Pros
Modern minimalist design
Easy operation
Decent battery life
Good cleaning performance
Can ged rid of stubborn stains
LED lights help to track dirt and stains
Always ready to get started
Many different pads in the box
Easy to store.
Cons
Because of its shape, some narrow areas won't be cleaned.
---
My Experience with the SWDK Handheld Electric Mop
Recently I spent some time cleaning my balcony. Since I live near to the road, dust shows up on a windowsill in no time no matter how carefully I try to get rid of it. This time is no exception.
I used the cordless vacuum cleaner Alfawise AR182BLDC and my favorite SWDK - D260 (I have no idea how I lived without these devices before).
To remove the dust from the surface around windows, I attached the soft dusting brush to the main machine of the Alfawise and started removing dust. The vacuum does a great job, by the way, I'm impressed by how good it handles dust. I didn't switch to max mode, there was no need. In fact, I only turn on max mode when vacuuming carpets.
Of course, if you want to get the better-looking surface, I would recommend doing wet cleaning over the surface since the vacuum supposes to vacuum only, right? Which I did too. When I'm done with it, I decided to move to the floor. On the balcony, I have tile which as you might already know, also covered with road dust. Normally I would switch from the manual mode to the tube + direct-drive head that I use for carpet, but this time I attached the head directly to the main machine.
It took about 2-3 minutes to vacuum the balcony floor, the dust was inside the vacuum dustbin. After the cleaner, I have taken the handheld mop to finish the job. Usually, I add some cleaning solution for a fresh scent (not too much tho, otherwise the mop leaves marks). The tile on the balcony is easy-to-clean, so the mop doesn't have any issues with that. Again, I spent around 2-3 minutes to wet mop the floor and let it dry.
The whole process took no more than 5-10 minutes. The best thing about each device, it's always ready-to-go. You don't have to charge it (I always charge mine immediately after they die), just take it and use it. Very convenient, isn't it?
I use the vacuum when I need to clean some high-traffic areas such as under my table, kitchen, etc. It takes a few seconds to turn it on, vacuum, and the job is done.
The mop is my probably most favorite thing. As much as I hated manually mopping, I love it now. If I need to mop, I know that it would take about 10-15 minutes top. As I said before, I add some detergent when using the SWDK.
The Alfawise AR182BLDC and SWDK - D260 become one of my favorite helpers when it comes to cleaning duties.
---
Why you have to get the Xiaomi SWDK Handheld Electric Mop
The device is easy to maintain and operate. All you need is full it with water, press start, and the unit will do the rest. It easily cleans stubborn stains which is impressive. The floor looks polished after mopping even when I didn't use anything except water. I would recommend this electronic assistant because, with this thing, mopping floor is a joy, not a job you hate.
---