What do we know about DJI drones so far? Their models equipped with the newest features on the market making the quadrocopters smarter than most of the machines on the market. What the differences between DJI drones and what you need to know before buying one.
DJI Phantom 4 Pro
DJI drones are always at the top of their class, and the Phantom 4 Pro is no exception. Packed with high-end features, it has a decent flight time. It fairy called "the iPhone of drones." Dive into details and make sure that the description is truthful.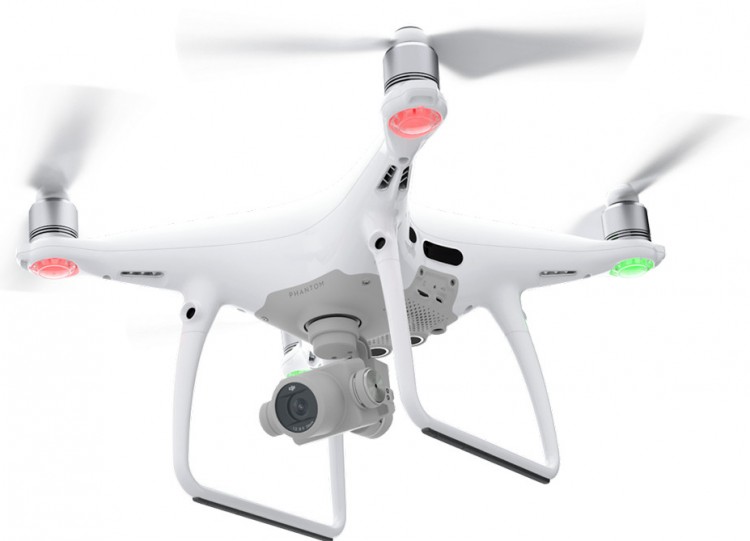 Specifications
Flight time: 30 min
Maximum range: 4.3 mi/7 km
Vision system: forward vision system, backward vision system, the downward vision system
Obstacle sensing: front & rear obstacle avoidance, left & right infrared obstacle avoidance
20 MP camera
Video recording resolution: 4K/60P
Max transmission distance: 4.3 mi / 7 km
Operating аrequency: 2.4 GHz/5.8 GHz
Max service ceiling above sea level: 19,685 feet (6,000 m)
GPS/Glonass supported
Storage: up to 128GB micro SD
LiPo 4S battery with a capacity of 5,870 mAh
TapFly feature that makes the drone fly by simply tapping on the screen of its remote control
Thanks to the upgraded 'Return to Home' feature the drone will avoid obstacles on its way when getting back to the place it started
Flight modes: ATTI, GPS, Visual; Follow-me: behind, in front, circle, side; Tap to fly map navigation; Return to home
| Weight & Dimensions | |
| --- | --- |
| Weight | 1388 g / 3 lbs |
| Size | 28.95x28.95x19.60 cm / 11.4x11.4x7.72 in |
Pros
5-direction Obstacle Sensing System (OSS)
Excellent camera
Plentiful flight modes
Long flight time
Outstanding range
Cons
not as portable as Mavic Pro
Design & Appearance
Construction of the Phantom 4 Pro is the adoption of titanium alloy and magnesium alloy. Rigid design and high landing gear the build quality is excellent. A camera is placed in the center of the bottom. For easy transportation, you can remove the propellers and even though it is still small enough to be stuffed inside a backpack the Phantom 4 Pro does not have a folding feature. There are sensors located on the drone's legs. Infrared and optical sensors fitted into quadrocopter's right and left sides. Dji offers the Phantom 4 Pro and Phantom 4 Pro+. The Pro+ version has a built-in display on its remote control that will cost you extra 300 dollars.
Sensors
Three sets of dual vision sensors form a 6-camera navigation system that works constantly to calculate the relative speed and distance between the aircraft and an object. The drone is equipped with full multi-directional obstacle avoidance sensors located on four sides and on the bottom to prevent collision so the machine will not bump into things on its way when returns to home or just flying around. Forward and downward sensors also help the device to maneuver providing the safe landing. The new omnidirectional sense-and-avoid system use sensors that alert when you fly too close to an obstacle so the drone can avoid it by itself. However, this option can be turned off.
Flight Performance & Battery
At 3 lbs (1388g) weight, the Phantom 4 Pro's battery with a capacity of 5,870 mAh can fly for about 30 minutes with the maximum speed of 45 mph/72 km. The drone's maximum range is 4.3 mi/7 km. The DJI GO 4 app shows battery lifetime and calculates remaining flight times according to a distance traveled and more. The remote controller alerts when the battery runs low on a safe journey back. It takes about 1.5 hours to fully charge the quadrocopter.
FlightAutonomy system
FlightAutonomy system is expanded with an additional set of high-resolution stereo vision sensors placed at the rear in addition to the pair placed at the front as well as infrared sensing systems placed on the left and right sides. This network creates a total of 5-direction of obstacle sensing and 4-direction of obstacle avoidance, protecting the Phantom 4 Pro from more obstacles.
Remote Controller
The Phantom 4 Pro comes with a remote controller that is a part of the magic of this drone. It is responsible and easy to use. The controller has a 6,000 mAh LiPo 2S battery, uses a combination of the traditional joysticks, video record, photo capture buttons along with a central focus and auto exposure button and scroll wheels. The maximum operating range is 4.3 mile (7 km). The Pro+ model also has the first DJI remote with a built-in 5.5-inch touchscreen display with a 1080p resolution that is fantastically bright.
Flight modes
The Phantom 4 Pro offers a bunch of flight modes.
With the ActiveTrack feature, you can draw a rectangle target around a person or object to have the camera or drone to follow them by using a touchscreen of the remote controller or on your mobile device.
In the Drow Mode on the touchscreen using your finder, you can draw a route you'd like the drone to go and set the speed you want it to fly with.
The TapFly option allows the quadrocopter to fly to the point you've tapped on the screen.
Terrain Follow mode maintains a certain distance from the ground using its Downward Vision System. Perfect for filming over terrain that varies in elevation.
In the Sport Mode, the drone reaches up to 45 mph/72 km speed.
With the Tripod mode, you can choose a point in space to take a shoot so the drone will be locked in that position. It also limits the speed to 4mph (7kph) providing smooth movements.
In Gesture Mode, advanced computer vision technology allows the Phantom 4 Pro to take instructions through gestures. The subject simply lifts their arms when facing the camera and the aircraft will recognize this movement by locking on and placing the subject in the center of the frame. When ready for a photo, the subject holds their arms out to signal the aircraft. A three-second countdown will begin, making time to strike a pose, allowing moments to be captured without the remote control.
Return To Home Feature
The best part of the features Phantom 4 Pro offers is the newest Return to Home one. When it is activated the drone find its way back home dynamically avoiding any obstacles that might appear along the way and then lands by itself to its precise take-off position, within centimeters. You only need to press a button or slide your finger on the screen.
Camera
The brand new Phantom 4 Pro camera has an aerial optimized F2.8 wide-angle lens with a 24mm equivalent focal length. In a 1-inch CMOS sensor (which is bigger than a 1/2.3-inch class that you can see on most drones or flagship smartphones) at 20 MP, the camera can record a 4K video with a standard 3840×2160 resolution or Cinematic 4K of 4096×2160, both at up to 30 frames per second. For creating slow-mo footage, you can scale down the recording to 2.7K, 1080p, and 720p as well. It is the first DJI camera to use a mechanical shutter, eliminating rolling shutter distortion which can occur when taking images of fast-moving subjects or when flying at high speed. It is as powerful as many traditional ground cameras which sounds incredible.
What's in the box
Aircraft Body
Transmitter ( without Screen )
8 propellers
Intelligent flight battery
Battery charger
Power cable
Set of English Manuals
Gimbal clamp
USB OTG Cable
Micro USB cable
16GB Micro SD Card
Carrying Case
---
DJI Mavic Pro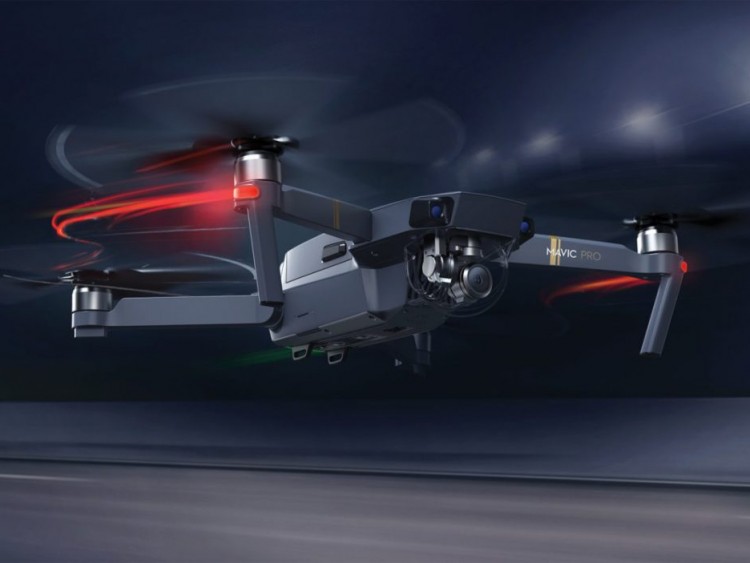 The Mavic Pro has been designed as a compact and portable drone. When folded up it's the same size as its mini drone Spark. Pro is equipped with the same amount of smart features as it's flagship cousin Phantom. Let's dive deeper and see what Dji offers.
Specifications
27 minutes of flight time
About 1 hour to charge
4.3 (7 km) miles long transmission range
12 MP camera records video in 4K
Super-portable design
Supports Follow Me, ActiveTrack, TapFly and other intelligent features Dji's one of the most expensive dron Phantom has
Intelligent obstacle avoiding system
Can fly with a 40mph (65kph) speed
Stream a live HD video
Portable remote controller
3,830 mAh battery
External Memory: micro SD card up to 64GB
| Weight & Dimensions | |
| --- | --- |
| Weight | 750 g / 1.6 lbs |
| Size when folded (mm/in) | 83x83x198 / 3.3x3.3x7.8 |
Pros
Decent flight time
Amazing portable design
Supports a lot of smart flight features
Can shoot in cinematic 4K
Can take selfies only by waving your hand, without a remote controller
Small remote controller
Forward obstacle avoidance
Best value in its price class
Almost the same size as the DJI Spark when packed away, smaller than the Phantom series.
Cons
Build Quality & Design
The folding design plays cool taking the drone to the whole new level. When Mavic Pro's arms have folded the machine easily fits into the smallest of bags. Weighing only 750 g (1.6 lbs), the Mavic measures 3.3 by 3.3 by 7.8 inches (83x83x198 mm) when folded making the drone one of the smallest machines we've seen in the market being this smart. The controller is also portable. Dji designed it in the same way: when it's folded, it is about the size of a walkie-talkie. You can control the Pro using the controller poping your smartphone into it. The Mavis pro is incredibly portable about one-sixth of the size of its Phantom brother. Up front, you will find a 4K camera and super compact 3-axis gimbal.
Features of Mavic Pro
The Mavic uses FlightAutonomy technology to detect obstacles up to 49ft (15m) away and allows the Mavic to bypass them or brake to hover, reducing accidents.
ActiveTrack detects a number of common subjects including people, bike riders or vehicles and then creates a variety of shots once you have market your subject on the screen.
Use Mavic's Gesture Mode to take selfies by only waving your hand. No remote controller needed.
Tripod Mode makes the drone to go slower and sleek which is great for flying indoors in small spaces.
TapFly feature allows Mavic to go to the point you have tapped on the screen. It is a great option for users to whom drones are new.
Return To Home is the feature we've heard a lot of. When the battery runs low Mavic flies back exactly at the same place it started.
The drone gathers information data from both GPS and GLONASS satellites.
Battery & Flight Time Of Mavic Pro
With a 3,830 mAh battery, the Mavic Pro can fly about the whole 28 minutes which is longer than the most drones flies. In Sport Mode, the Mavic reaches 40mph (65kph) of speed. In regular mode expect about 27 minutes of flight time per charge (in Sport Mode even less). It takes about an hour to juice up the battery to its full charge. If you want to fly more consider buying additional batteries.
Camera
A 1/2.3-inch sensor captures 12 Mp stills and can shoot in cinematic 4K. It also has a super-compact 3-axis gimbal that keeps the camera stable when while flying. The difference os cameras between the Pro and Phantom is the field of view (79 degrees Pro and 94 - Phantom).
The drone is also equipped with another 4 cameras that were designed for in-flight stability and safety. They help the machine to recognize obstacles in a forward arc preventing collisions so when Mavic 'sees' a wall it'll stop in a few feet from it.
Flight Performance
The Mavic has the same flight modes as the Dji's top-of-the-line Phantom. In Follow Me mode the Pro follows your movements.
Guesting mode as we mention before allows you to control its movements by only waving your hand. Feels like magic.
In Terrain Follow Mavic uses its Downward Vision System to maintain a certain distance from the ground, to film over terrain that varies in elevation.
The new OcuSync video transmission technology allows streaming a live HD video feed using its camera.
It has a long transmission range – up to 4.3 miles (7km).
What you get in the box with Mavic Pro
Aircraft
Transmitter
3 x flight Batteries
Charger
Power Cable
5 pairs of propellers
3 RC Cables
Gimbal Cover
Gimbal Clamp
16GB Micro USB Card
Micro USB Cable
4 x RC cable sliders
Charging hub
Car Charger
Battery to power bank adapter
Shoulder bag
Set of English Manuals
DJI Mavic Pro Platinum
The Mavic Pro Platinum features a sleek design and compact body that is both powerful and alluring. A new and improved 30-minute flight time coupled with 60% noise power reduction makes the Mavic Pro Platinum DJI's best portable drone yet. When folded the drone measures 3.3x3.3x7.8 inches at weigh about 1.6 pounds.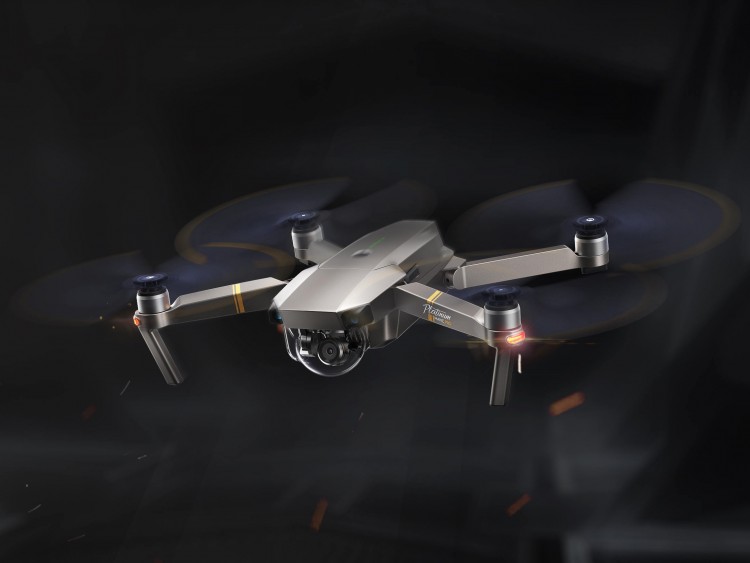 What's the difference? Mavic Pro vs. Mavic Pro Platinum Comparison
The Platinum drone makes fewer sounds. To achieve the low noise effect, the Dji had to redesign the props and upgraded the electronic speed controllers making Platinum 60% less noisy.
The basic model has a 27 minutes flight time while the newest one - 30.
The most apparent thing is design: the Platinum has a chic platinum finish while the Pro comes in grey and white colors.
What's the same? Mavic Pro vs. Mavic Pro Platinum
Both models are rated for a maximum range of 7 kilometers.
The Platinum edition uses exactly the same DJI intelligent 3850 mAh flight batteries.
They share the same Forward Vision System and Downward Vision System.
Equipped with the same professional motion camera that captures C4K videos and 12 M pixels RAW or JPEG images.
Both the Mavic Pro and Platinum are extremely portable, have the same size.
You get the same amount of accessories in the box.
Pros of the Mavic Pro Platinum
Great camera that captures high-quality pictures and 4K video
Longer flight time than the basic model
60% quieter than Mavic Pro
Smart flight performance
Many flight modes
Easy-to-carry design
Easy to operate when flying
Has a chic platinum color
Cons of the Mavic Pro Platinum
---