What is the best budget fitness tracker that supports iOS and Android? The MPOW D6 is a smart bracelet it is waterproof, comes with heart rate monitor and on sale for less than $20. Designed for health.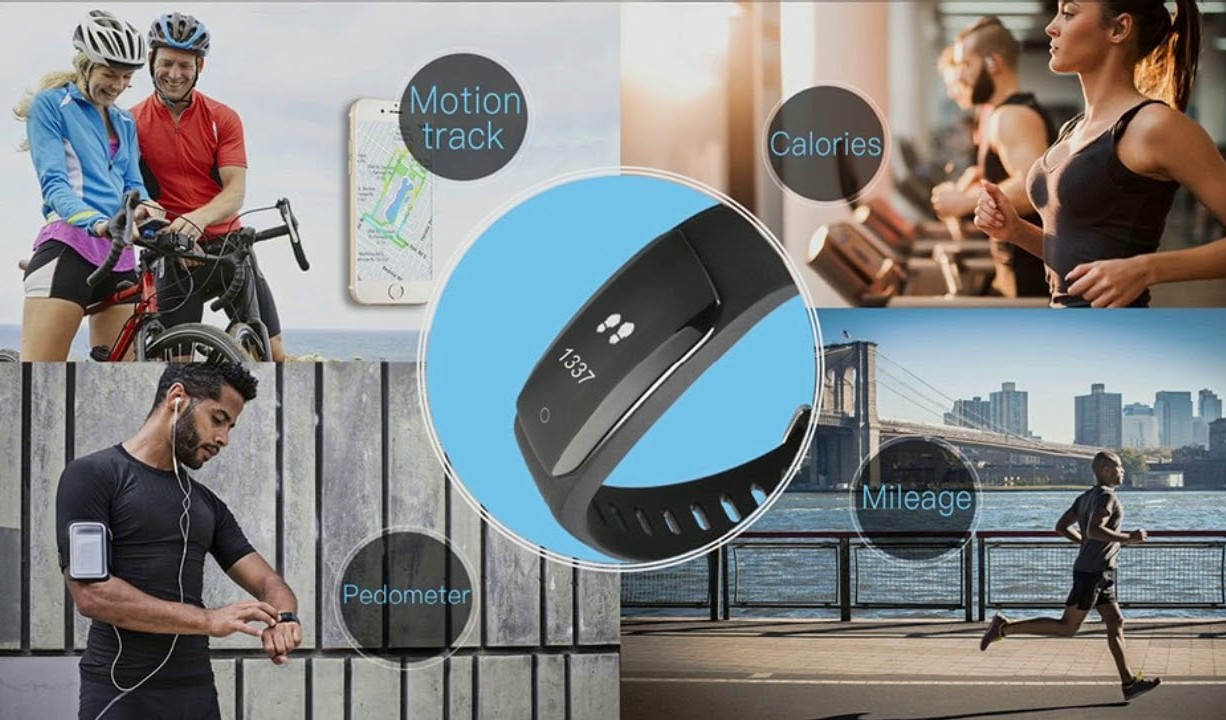 To use it simply download the app "MPOW Band" from Google Play or Apple App Store that is free. The smart bracelet connected to the phone via Bluetooth 4.2, you can also use a tablet to manage the device, all the data will be synchronized to the app. The «MPOW Band» will give you a daily goal for your health depending on your daily activity, the number of calories spend, the number of steps taken tells you how do you sleep according to your sleep quality, and also shows your heart rate. Set your own data including your age, gender, weight, and height that will help to calculate the calories burned and your maximum heart rate.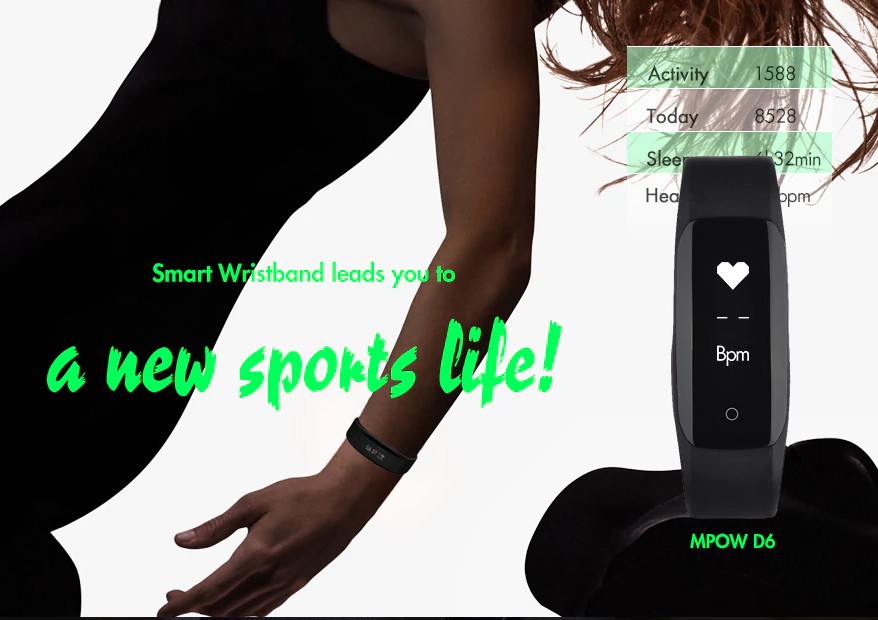 Appearance
The bracelet has a plastic strap. It's quite easy to fit and available for many sizes of wrist. Equipped with:
90 mAh battery that charges for about 1.5 hours and lasts for 15 days;
0.87 inch OLED Screen with 128 x 32 resolution display.
It supports iOS 8.0 or above, Android 4.4 or above systems.

Detachable dial design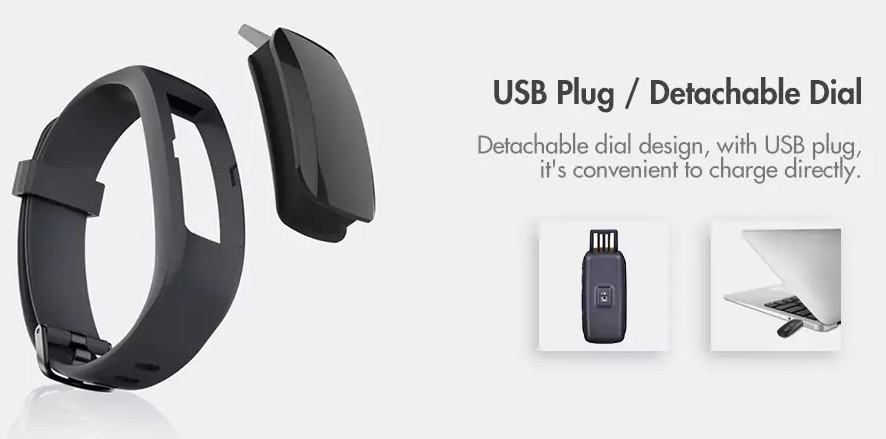 The band is waterproof. It is okay for the shower but not quite suitable for swimming, but you do not have to pull it off if you want to take a bath. Just pops out the detachable dial and charge it using USB.
Calorie consumption
Depending on what goals you want to reach you can choose a «Keep Health» or «Lose Weight» function on the app and the steps shows the number of steps you have to take and how many calories you have burnt so you can easily monitor the energy you need to spend to reach it out.
The app also allows sharing the data of the progress to Facebook, Gmail, Twitter, etc.
Features:
1. Calories counter
The feature allows you to see how many calories you have burned which is a perfect thing for people who stay active all the time.
2. Steps
The smart device also records the number of steps taken which is helpful due to the goals you want to reach.
3. Distance Travel
MPOW D6 smart bracelet measures the distance of your routes.
4. The Sleep feature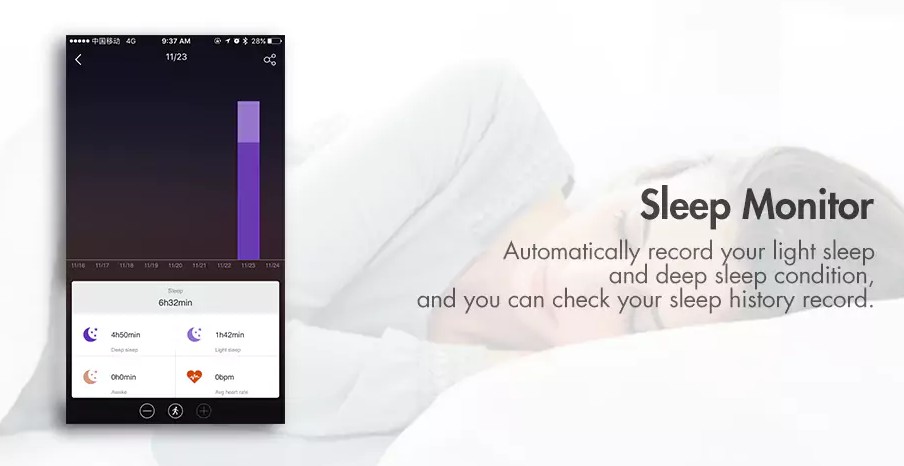 This feature monitors the quality of your sleep such as deep sleep and light sleep hours and time awake. To see how well do you sleep open the app and check a chart where all the data will be displayed.
5. Alarm
The MPOW D6 comes with an alarm function so you can set up time you want the watch to wake you up.
6. Notification bar

Also, you can see the notifications from your phone with the smart band MPOW D6 that vibrates once you receive a phone call or a text message or a message from Facebook, WhatsApp, Twitter etc.
7. Heart Rate Monitor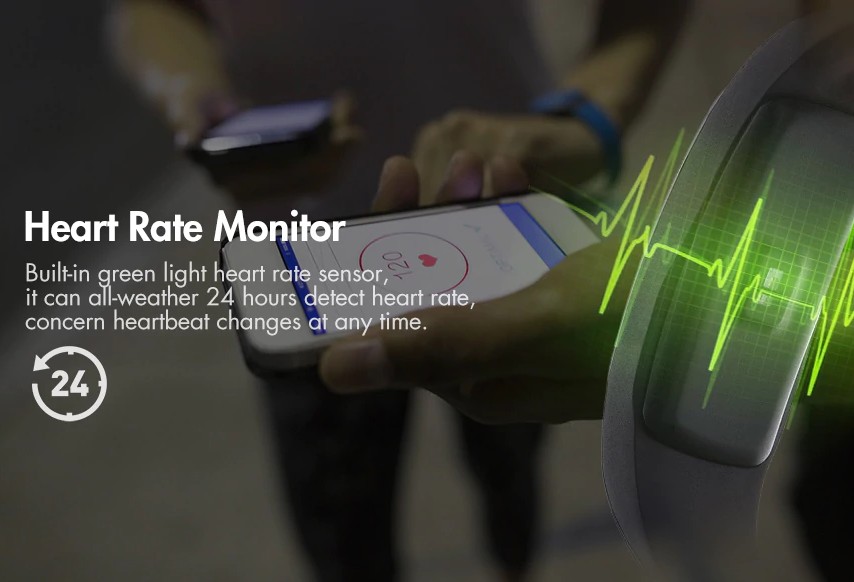 Now you can see your heartbeat changes 24 hours a day.

To see current date and time simply cross it and that shows it on the screen. Also, it shows the battery level so you could see when you need to charge it. Swipe across push you the number of steps you've taken, how many calories you've spent and how many kilometers have you walked.
In case you swipe up or down it puts it into the function mode, a function that should be used by holding your finger on the screen for a few seconds to find your phone. Also, you can set up notes if you need to remember something, and you can turn the power off.
To Wrap It Up
The MPOW D6 is a device for active people who want to monitor their heart rate continuously, calories burned and a distance they have walked. It a good smartwatch that has a lot of functions and could be a great sports partner that will remind to finish your goals daily. Do not forget that this is a smartwatch that monitors heart rate for the $15 price tag only. For the money you could possibly spend on the MPOW D6 you get a really lovely gadget that not only looks good but also helps you to reach your fitness goals.
---