We cannot imagine our lives without smart gadgets and the new 2018 year brings devices that might change our lives. The new JMGO M6 DLP projector is the thing we are talking about. The projector was designed by Bobby Chan, a Red Dot Award winner. Speaking about the design - the device looks impressive with its gold finish and super portable size. The manufacturer claims that the device's lamp life is 20,000 hours which is about 5 years of regular use.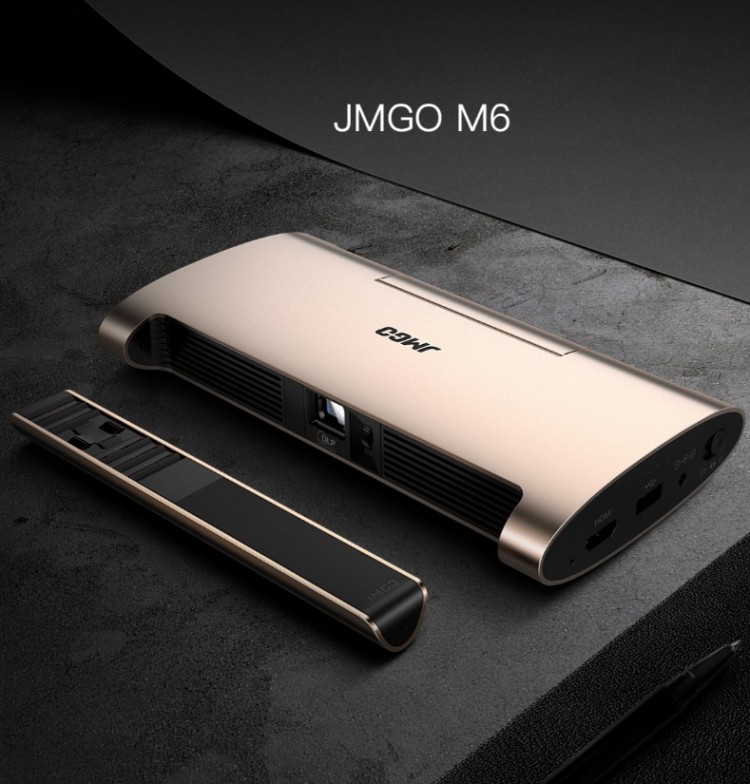 | Specifications | |
| --- | --- |
| Display Technology | DLP |
| Projector Light | LED |
| Main Chip | 4-core |
| Proccessor | 1.5 GHz Media Tech |
| Contrast | 3000:1 |
| Screen Aspect Ratio | 16:10 |
| Screen size | 30-300 inches |
| Brighteness | 200 Lumens |
| Native Resolution | 854 x 480 pixels |
| Operating System | Android 7.0 |
| RAM | 1GB DDR3 |
| Flash Memory | 8GB eMMC |
| Resolution Support | 1080P / 4K |
| Noise Level | 30 dB |
| Weight | 0.5 kg |
| Lenght (cm / in) | 19.4 / 7.64 |
| Height (cm / in) | 2.9 / 1.14 |
| Width (cm / in) | 10.2 / 4.02 |
| Run Time | 2.5-3 h |
Main Features
Beautiful sleek design
Portable size
Power bank with a capacity of 5,400 mAh to charge your phone
Bright screen
Magnetic transitional for a quick access to your phone
Supports Wi-Fi and Bluetooth
What is cool about the JMGO M6 portable projector
A smartphone connects with JMGO M6 portable DLP projector by a magnetic transitional plug
Comes with an awesome brightness of 200 ANSI lumens that is enough for a small room
It is about an average pocket size so the projector is quite portable
Supports Miracast. JMGO M6 can be used for wireless connections between devices such as laptops, tablets, smartphones, etc.
Quiet operation. It produces about 30 dB
Supports 4K ultra HD/1080P/3D video playing
DLP technology achieves high fidelity image and a clear bright vivid picture
HDMI port allows connecting the device to computer, PS4, XBOX or PC
Wi-Fi and Bluetooth enabled
Can be used as a dock station for a smartphone
JMGO M6 Design
The projector is made of a beautiful gold color ABS plastic and has a minimalistic, sleek design. It looks like a high-quality accessory with innovative technical features. It is thin, has "home," "ok," "power" and navigation buttons. On the side of it, there is a laser pointer that could be useful for presentations. In front of it you can find a projector lens, focus and a kick-stand to stand it towards a wall. On the other side, you will see two speakers and an infrared sensor right in the center. Also, there is a little spot that houses a magnetic USB adapter. All you need to do is plug the adapter, and it's ready to get started. Plug your phone into it and enjoy the watching. You can switch the adapter to whichever types of phone do you have. Universal multi-adapter that comes in the box with the unit is able to power this device no matter where are you in the world.
Power Bank + Projector
The device has a built-in battery with 5,400 mAh capacity that can charge a smartphone whenever you want.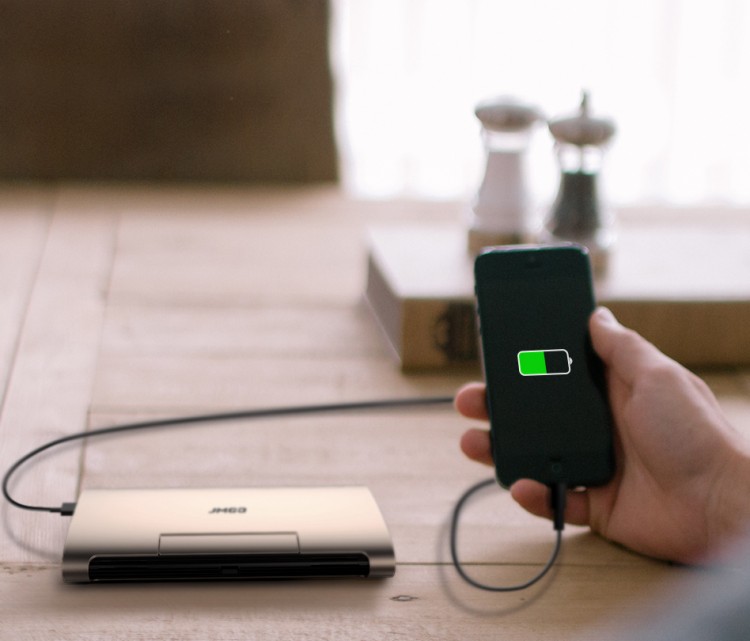 What else you need to know about the JMGO M6 projector
A USB cable also comes with a magnetic adapter. There is a digital zoom option that allows you to zoom the screen to the bigger size if you'd like to. The device comes with 200 Lumens that is actually bright enough for a small portable projector.
The JMGO M6 offers an effective electronic keystone correction: the slider for this is at the top, directly behind the setting wheels for zoom and focus.
You can download any app you want such as Youtube or Netflix to watch videos through it.
This model supports a wider color spectrum (BT.2020) and a 10-bit color, amounting to 1.06 billion colors, instead of the 16 million offered by older 8-bit color technologies, therefore, the gradations between shades and different tones on onscreen content present a far greater degree of realism.
What you get with JMGO M6 Portable DLP Projector
M6 DLP Projector
Remote Control
Universal Power Adapter
USB Cable
8 Pin Adapter
USB Type-C Adapter
Price & where to buy
The JMGO M6 is available to get on Gearbest for around $360.
Why do you need the JMGO M6 Projector
With JMGO M6 projector you can watch movies or use it for a presentation only using your phone. A magnetic adapter provides quick access to connect your smartphone to the projector. The screen is bright enough to watch everything you want using only a small thing that fits in your pocket. It is a beautiful-looking device that will fit in your home so you can relax and watch your favorite movies only using this thing and your phone. Add a new gadget to get a smarter home because why not?
---