Big thanks to GearBest that I have an amazing opportunity to test this amazing Xiaomi HUAMI Amazfit Pace smartwatch also known as AMAZFIT Sports.
UPDATE: Xiaomi presented the new second version of Amazfit smartwatch called Xiaomi Amazfit 2 Stratos.
Update (September, 2018) Xiaomi's Huami launches the Amazfit Verge.
[Update February 2019] I have the Amazfit Pace for a year now. I wear it non-stop. The screen does not have any scratches, nor the body. I receive software updates regularly. The battery still lasts about 4-5 days even though I have sport mode on a few times a week. When I travel and don't turn on sport modes, the smartwatch lasts up to 8-9 days. With every new update, the health data becomes more accurate. The only thing I'd love to have is NFC. Other than that I am satisfied with the Amazfit Pace, for this price, the smartwatch is a good choice to get even in 2019.
Xiaomi makes a lot of cool, high-quality products but not everyone knows that they also produce decent smartwatches. The Amazfit Pace smartwatch is a must-have gadget. It comes with an affordable price tag that is super budget friendly considering its features and long battery life. Amazfit Pace is on our list of the best budget smartwatches of 2018 and its battery life maybe makes it one of the best in the category of smartwatches that cost around $100.
What I love about the Amazfit Pace
Decent battery life (up to 11 days)
Sleek minimalistic design
Supports Wi-Fi and Bluetooth
It's IP67 water-resistant
A variation of sport activities
Equipped with GPS
Affordable price
Excellent transflective display
Cons
No notification interaction
No built-in NFC
Amazfit Pace specifications
| Amazfit Pace | Specifications |
| --- | --- |
| Thickness | 12 mm |
| Screen size | 1.34 inches |
| Screen resolutions | 320 x 320 |
| Display protection | Corning Gorilla protective glass |
| Body material | polycarbonate & zirconia ceramics |
| Wireless connection | Wi-Fi / Bluetooth |
| Water resistance | IP67 |
| RAM | 512 MB |
| ROM | 4 GB |
| Battery capacity | 280 mAh |
| Battery life | standby time is up to 11 days, working time is up to 5 days for regular use |
Features
Notification alerts from any smartphone apps
Multiple sports recorders: track running time, heart rate, pace, calories, speed, cadence, altitude, etc
Compatible with Bluetooth version 4.0, Android (OS 4.4 or above), iPhone (iOS 8.0 or above)
You can store up to 500 songs to listen to via Bluetooth earphones
Build-in GPS and GLONASS
Easy to understand menu
Many different watch faces to download
Weather forecast
Built-in timer
Built-in stopwatch
Sleep data can be tracked on the smartwatch itself and inside the Amazfit app
Lots of sports modes available: running, indoor cycling, eliptical, climbing, trail run, skiing, tennis, soccer
Bult-in alarm
Training center: this feature motivates to get ready to a marathon.
First Glance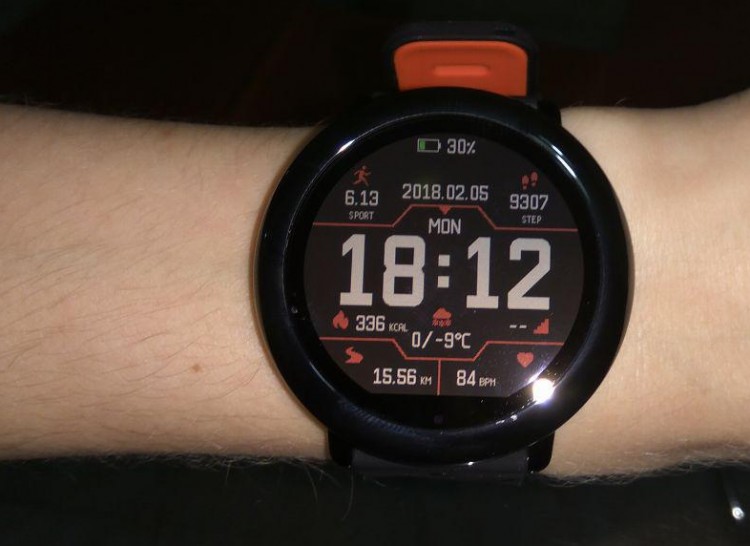 Nice packaging leaves a great first impression. In the box, you find the smartwatch itself with silicone band, USB charger, and English user manual. To set the watch, you have to scan a QR code and download the Amazfit Watch App for free. Then the watch helps you to go through the process.
Xiaomi HUAMI Amazfit Pace Appearance
Amazfit comes with a round watch face. The band that comes with it is adjustable and made of silicone. You can replace the band with any other standard 22 mm strap. There is one physical button on the top-right edge that acts as a home and unlock button. You can also set up an option to unlock the watch by double-tapping on the screen which in my opinion is easier. The most significant advantage of Amazfit Pace is the transflective screen that is always on and has outstanding brightness and contrast under direct sunlight. On the back of the watch, you can find a heart-rate sensor and contacts for charging. Amazfit is a smartwatch designed with a ceramic bezel and protected with Corning Gorilla glass, making it durable and resistant to scratching.
Amazfit Pace working on customized Android 5.1 (not Android Wear), it is easy to use it and navigate through a series of swipes and the interface is very smooth.
The Transflective Liquid-Crystal Display
Amazfit Pace is equipped with a transflective liquid-crystal display that reflects and transmits light. Under bright illumination, the display acts mainly as a reflective display, and you don't need to turn on screen backlight. Only in dim and dark ambient situations, you need to turn on the backlight. Some the reviewers criticize the screen saying it's not bright enough in the daylight. In my opinion, this display is incredible, and I think this type of screen suits perfectly for wearable devices. Thanks to it the battery lasts longer even though the screen is always on.
Amazfit Watch App
The app has a lot of features that help to follow the progress you've made. You can see your daily activity, battery level, heart rate, sleep sessions, detailed information about your workout. There is an option to change a watch face, find your phone, turn on or off some widgets on the watch, manage notifications, etc.
Activity tab shows how many steps were taken in a day, week, month and how much calories were burned.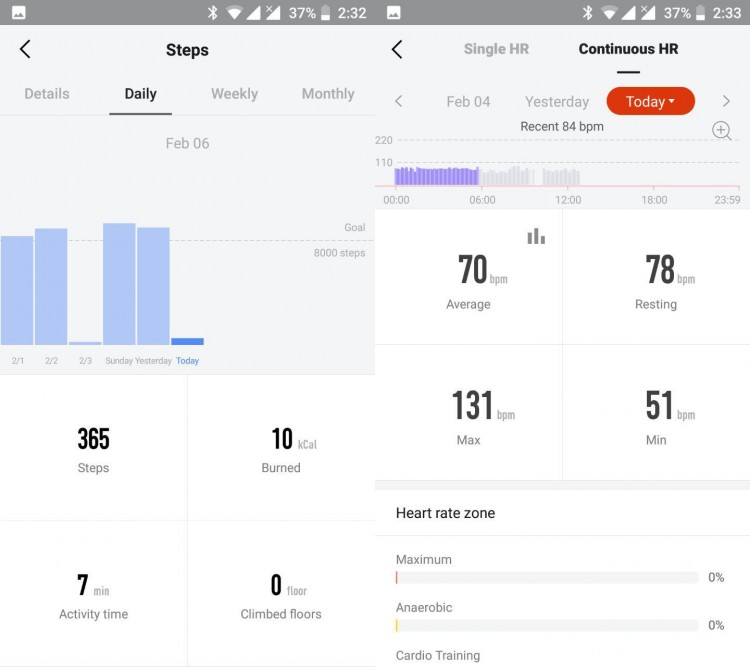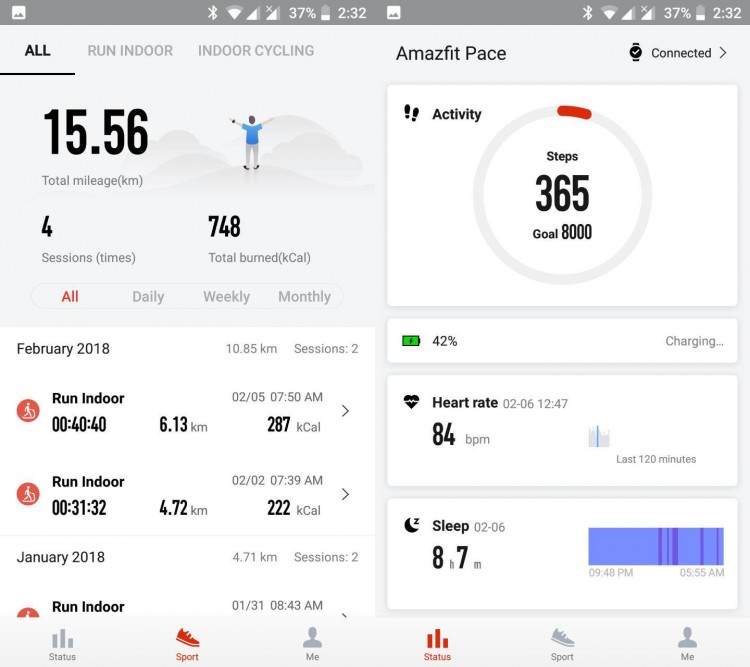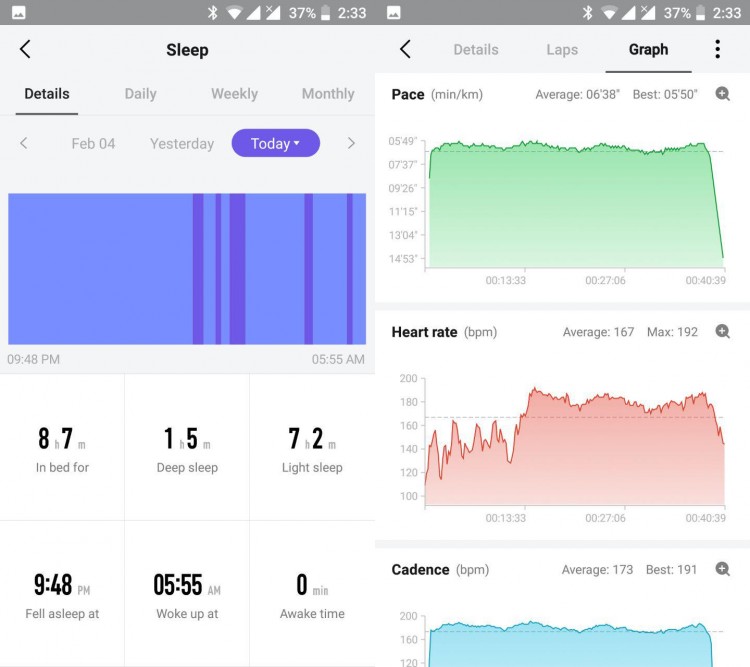 Watch Faces
There are the 21 watch faces available that are different but there are plenty of other variation to download.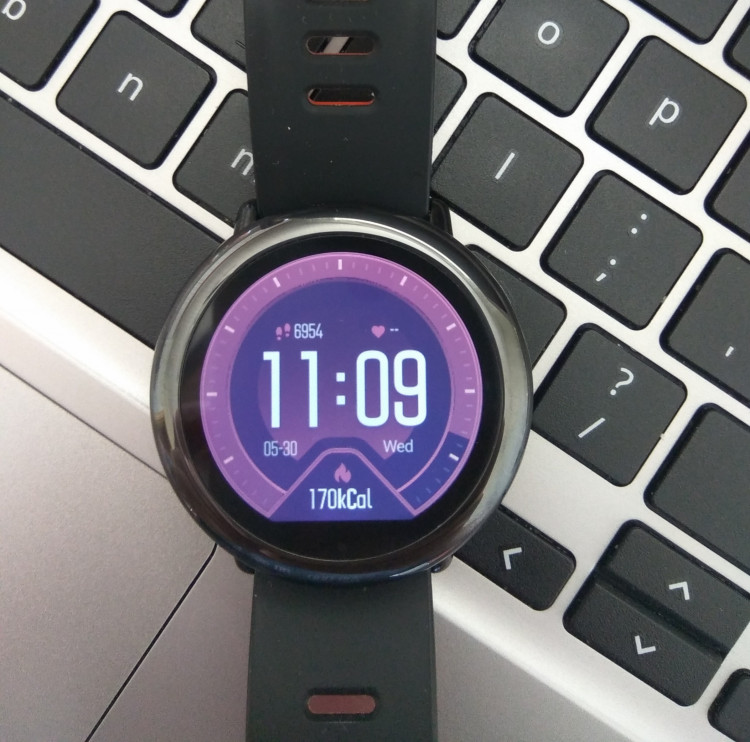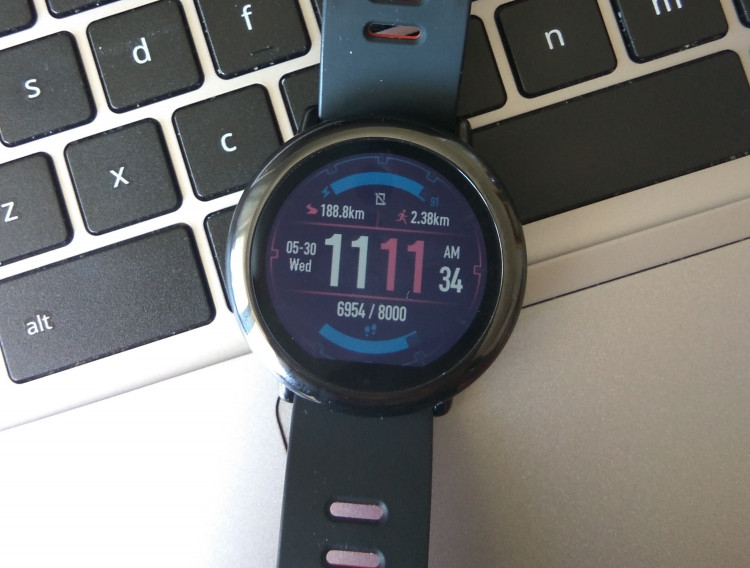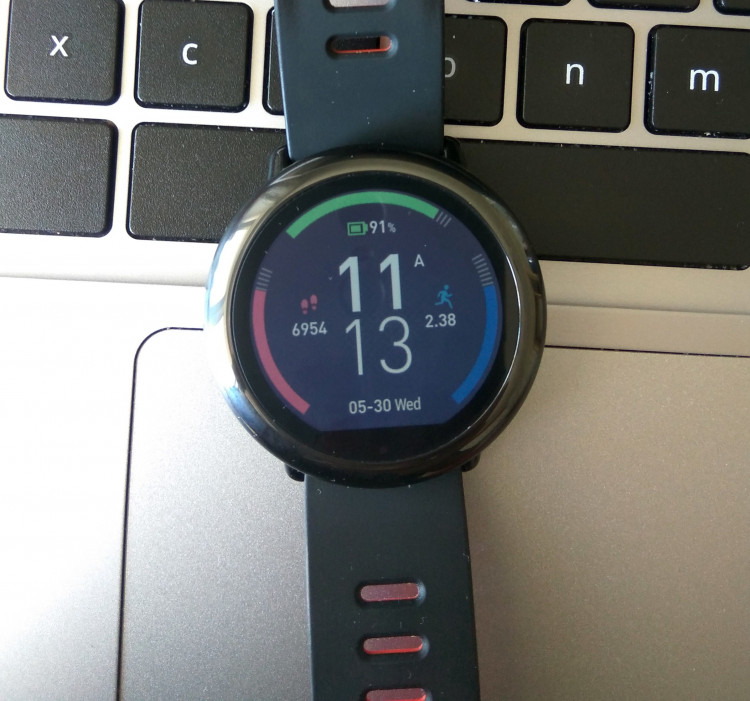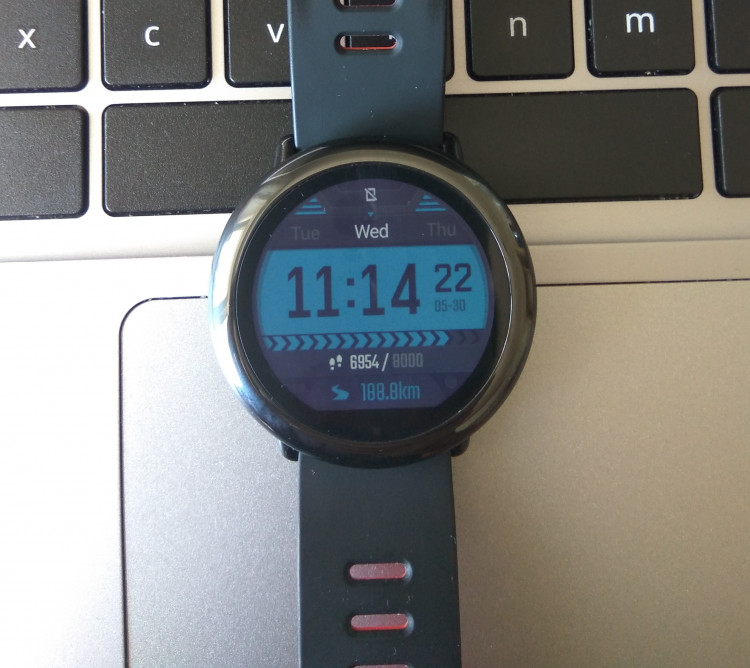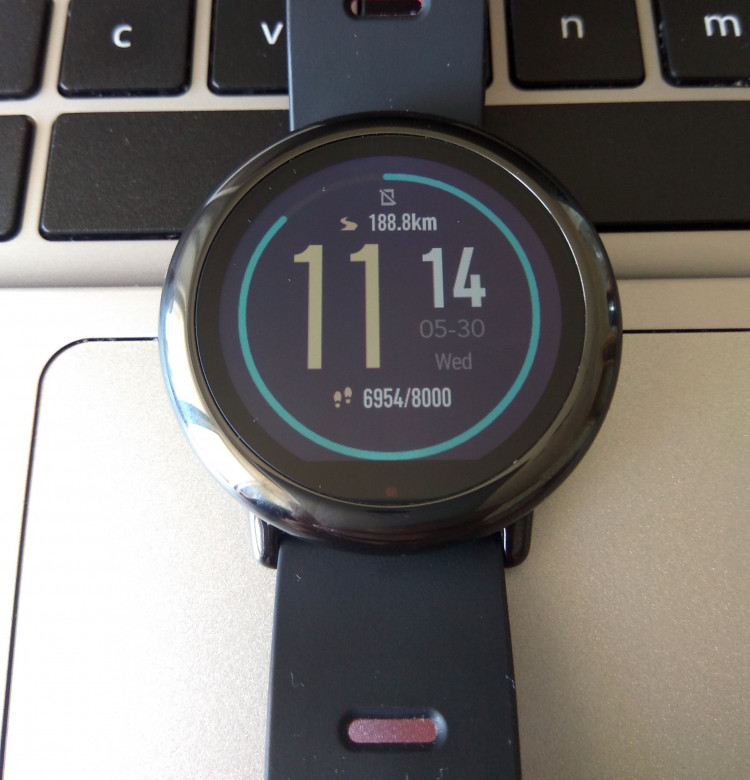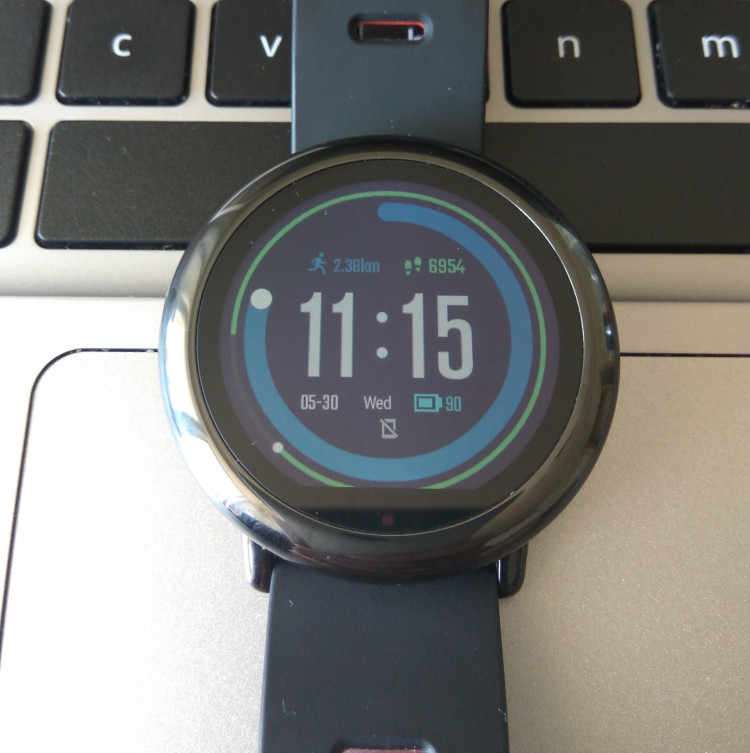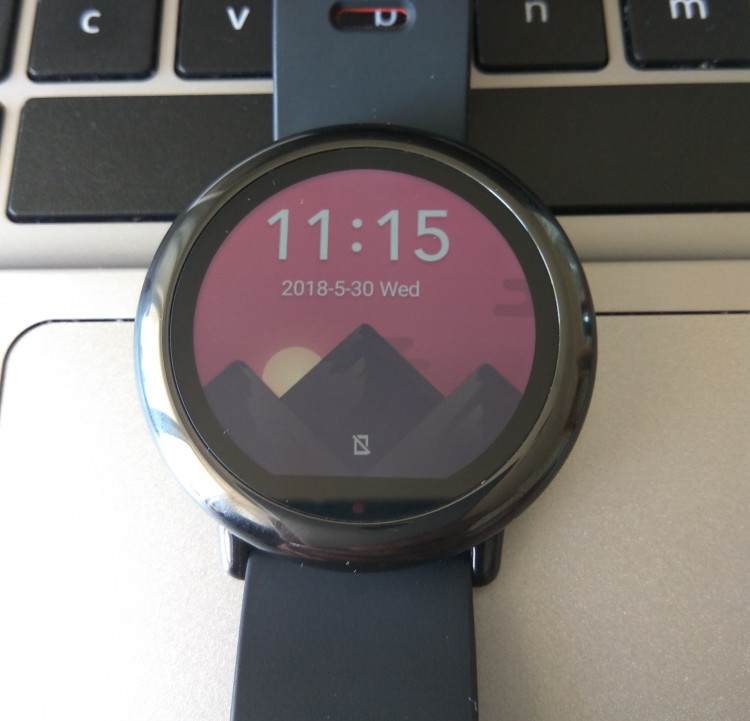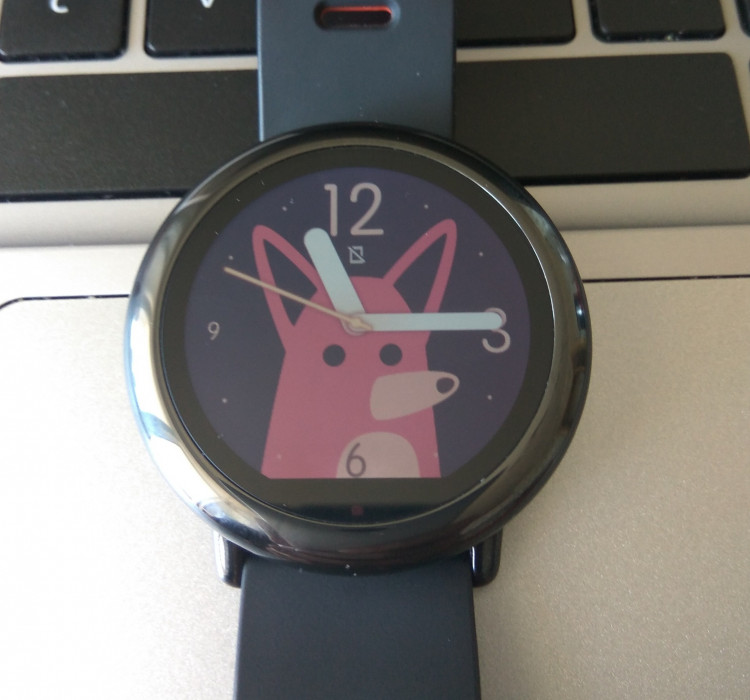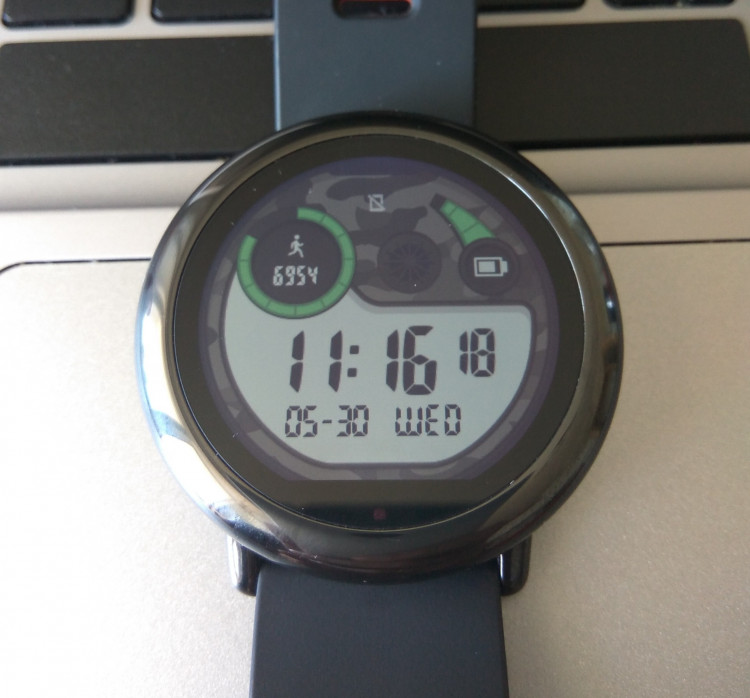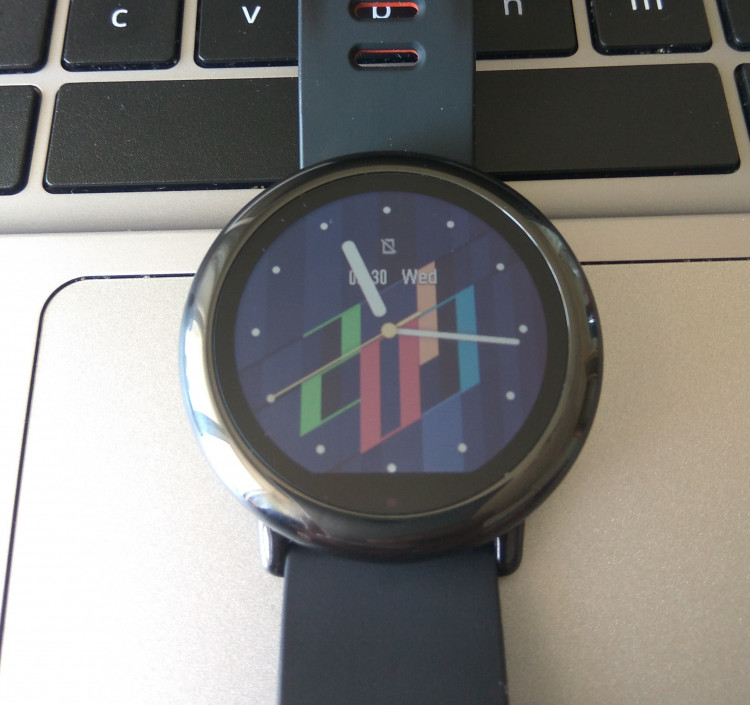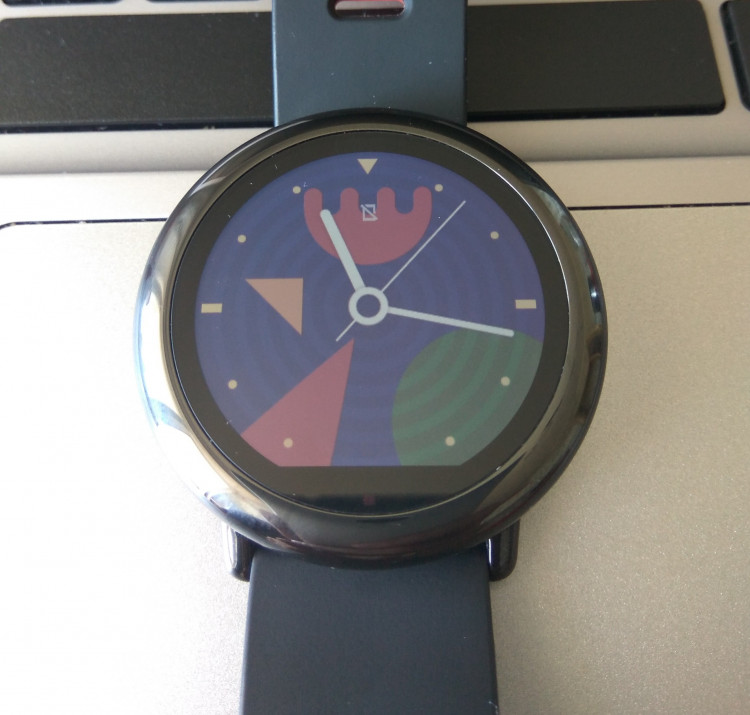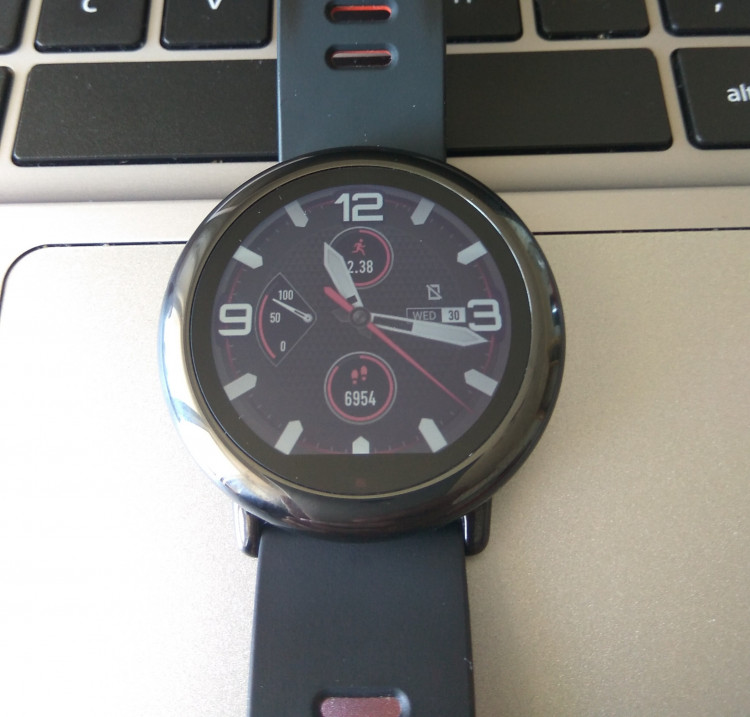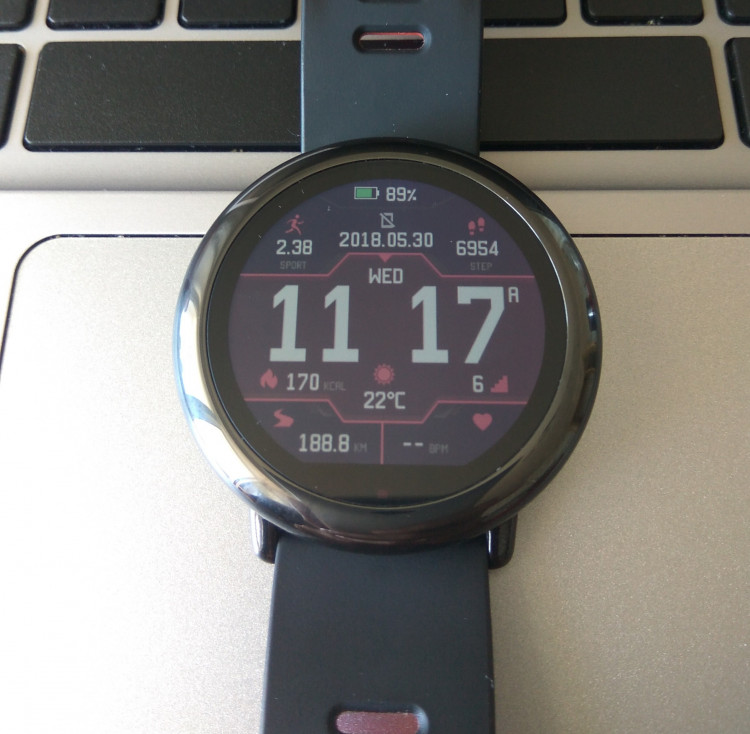 Fitness Features
The watch is able to count calories burned, distance run (thanks to built-in GPS), steps taken and heart rate. You can check time and date, local weather forecast, compass, sleep tracking, timer, training center and play music, set up alarm up to 7 times per week.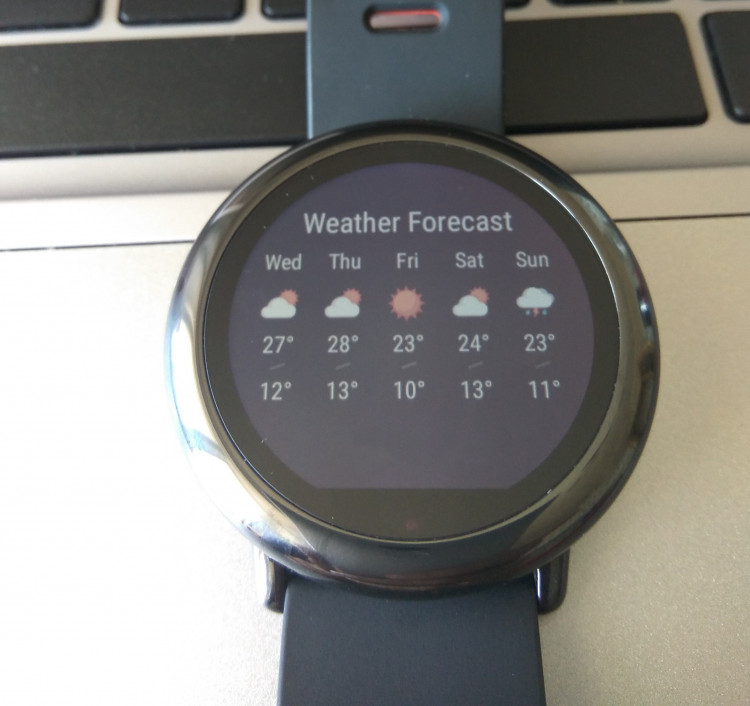 Activity
The Amazfit offers wide options for workout activities. There are run, walk, run indoor, bike, bike indoor, climb, trail run and elliptical modes.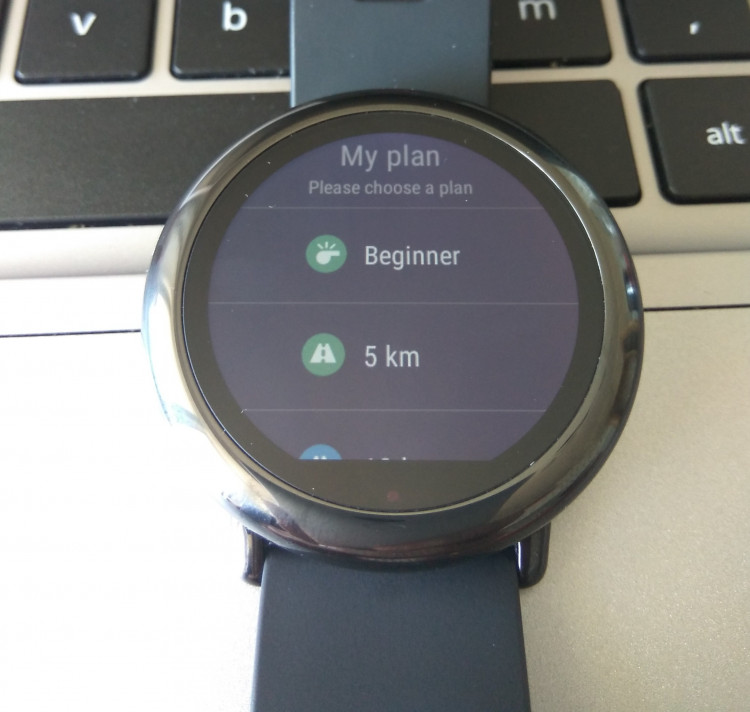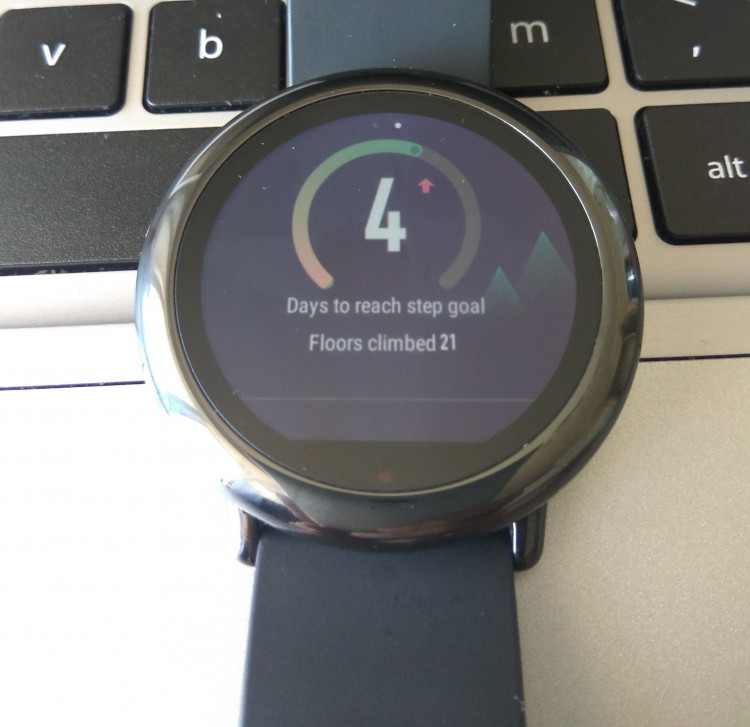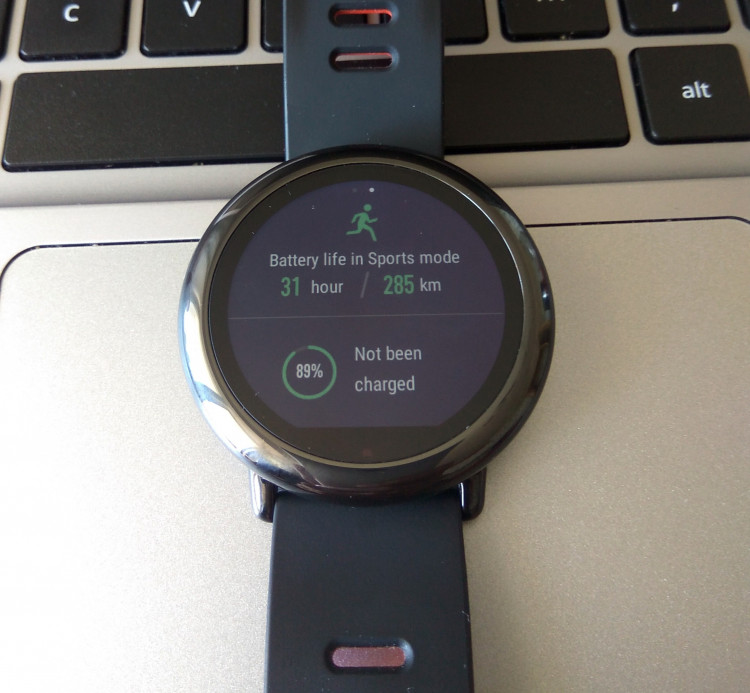 On the watch itself, you can track daily activities, for the whole history, you should sync the device with your smartphone App. To check out your workout history simply open the app and go to the "sport" tab.
Training Center
This is a kind of virtual coach that helps you to reach your running goals. Goals are available: beginner, 5 km, 10 km, half marathon, marathon. After you selected your target, it plans out your running sessions for the next 8 weeks to get you where you want to be. It'll notify you when you don't run, so it is another reason to start running since it's kind of fun to see how a small thing on your wrist keeps you motivated to do it.
Unfortunately, this option works only on the watch and is not available in the app. The downside of the training center is if you turn it on, it will notify every other day making you run, and you can not turn it off in case you mistakenly tried it for the first time.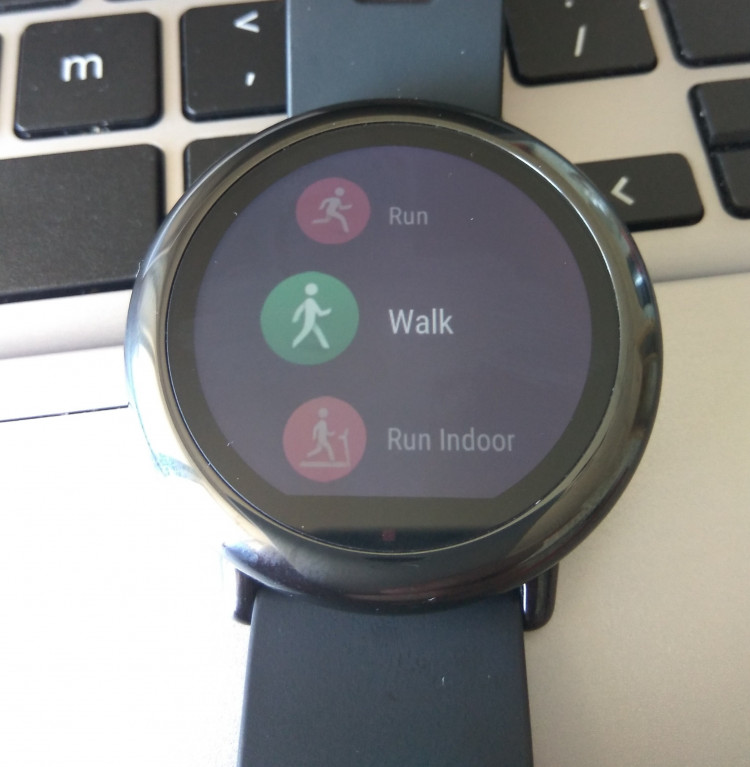 Sleep tracking
You don't need to press anything on the watch to monitor your sleep tracking. Just fall asleep and the device will do the rest. To check your sleep quality you can go to the Amazfit App. The tab "Sleep" shows your deep and light sleep, time awake, total sleep time and what time you fell asleep/woke up. The sleep tracking works accurately.
You can see sleep history on your smartphone as well as on the device itself.
Heart rate
There is an option to check your heart rate manual by using a "single HR" option or you can turn on "continuous HR" for tracking your heart data 24h/7. Please notice that the continuous HR drain the battery faster when turned on.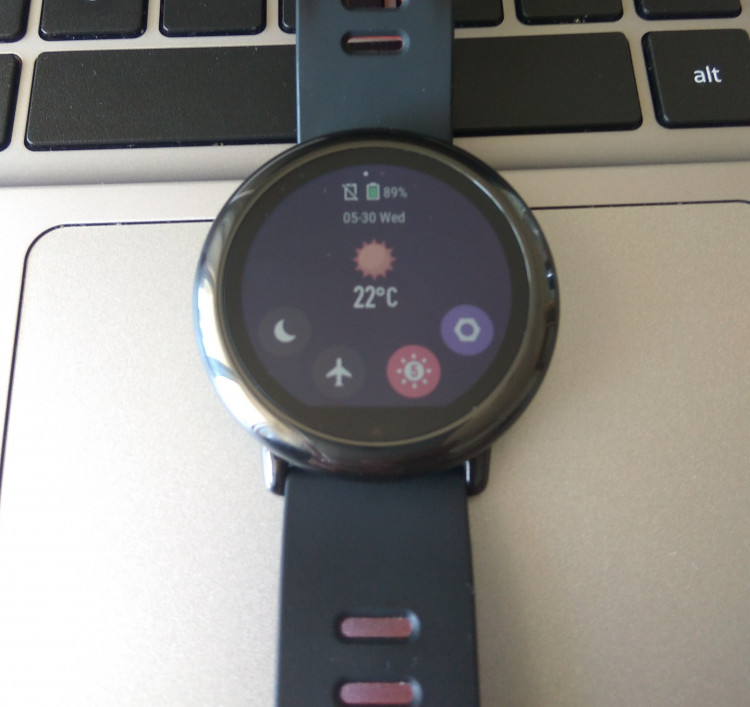 Battery life
The 380 mAh battery lasts up to 5 days active use which sounds impressive comparing the smartwatch with other even more expensive models.
Charging takes about 2 hours from a USB port.
Notification reminder
If the Amazfit connected to your smartphone you get a notification when someone's calling or messaging you. You will also receive notifications from apps like Instagram, Facebook, WhatsApp and so on.
You might like the feature that alerts you when you've been sitting too long. For example, while I was writing the review the watch buzzed a few times reminding me to go for 1 min walk. I personally love this feature since I tend to work on my laptop for hours so the watch is essential that helps me to move.
To see all the notifications swipe up from the main menu tab with time and date.
Amazfit Pace video review
Xiaomi Amazifit Pace Daily Use
I've been using the device for a week now and could see why it's one of the most popular smartwatches for the price of around $100. The battery lasts up to 5 days with continuous heart rate and sports activity on up to 3 times per week 30-40 min each which is a big deal if you consider buying the Amazfit. The smartphone app is very user-friendly, I can see all the health data on my phone including how well did I sleep, my heart rate during running, etc. The device helps me to stay in good shape, it alerts when I reach my daily step goals. Actually, the Amazfit alerts literally about everything: what is the weather be like today, gets me moving when I sit still working on my laptop, when I'm on the halfway to my daily step goals or when I get there, etc. The interface is easy to use as well, I just need to swipe left/right to find the tap I need. To check all the notifications, I need to swipe up from the main menu. I also turned on the unlock option by tapping twice on the screen which is more comfortable than pressing the Home button in my opinion. The transflective display works just great, it is very responsive at least I've never had a problem using the watch. The screen is bright in the dark as well as in the daylight. When running, I'm listening to music using a small thing located on my wrist, so I don't need to take my 5.5 inches phone when doing cardio. Now when I've been using the Amazfit for some time, I don't understand how I lived without it.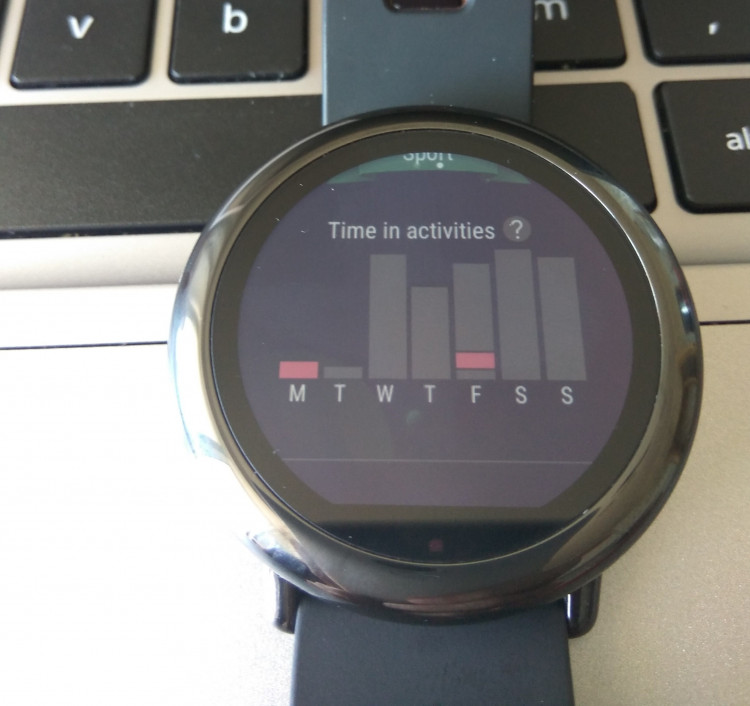 Price & Purchace
At Gearbest the Amazfit Pace costs $130 right now.
Should You Buy Amazfit Pace?
The biggest thing why the Amazfit Pace worth buying is its battery life. Charging a smartwatch every day could be annoying, with this device you don't need to do it daily. Most of the smartwatches live only up to 1-2 days. This is an excellent device that is water resistant, comes with a built-in GPS, stores up to 500 songs, supports Bluetooth and Wi-Fi and have a very user-friendly app that gets several updates each week as well as smartwatch firmware. Coming with an affordable price tag, Amazfit Pace could compete with other more-expensive smartwatches considering its features and how long the battery lasts which makes it one of the best budget smartwatches to buy in 2019.
---