Cordless vacuum cleaners have become popular, and there are many reasons for that. It's easy to start cleaning, all you need it to press a start button and the vacuum is ready to clean. You don't have to look for a socket to make it work. Yes, cordless cleaners do not work too long, but most of them provide enough time to cover small to average place in one charge. The most expensive models, such as the Dyson V10, V11, and Tineco PURE ONE S12, offer 60-80 minutes of cleaning time, which is mindblowing. Also, cordless cleaners are lightweight and easy to carry if you compare it to a traditional vacuum. And, if you think cordless vacuum cleaners are expensive, we want to convince you, there are plenty of budget models suitable for everyone.
One of these budget cleaners is the Alfawise AR183BLDC. At a $130 price, it has strong suction, many extra tools in the box can be stored on a wall, and is lightweight even for a cordless device.
Alfawise AR183BLDC Specifications
| Specs / Model | Alfawise AR183BLDC |
| --- | --- |
| Battery Life (low power settings) | 35 min |
| Battery Life (high power settings) | 15 min |
| Charging Time | 4 h |
| Suction Power | 18,000 Pa |
| Noise Level | 72 dB |
| Dustbin Size | 800 ml |
| Power Settings | 2 |
| Battery Type | Li-Ion |
| Filter | Washable Sponge Filter + Primary Sponge Filter |
| Cleaning Heads With LED Lights | 2 |
| Weight | 3.08 lbs |
| Dimensions (L x W x H) | 12. 9 x 4.5 x 8.8 in |
| Removable Battery | Yes |
| Warranty | 12 months |
| Price | ~$130 on GearBest |
8 Reasons to get the Alfawise AR183BLDC
Cheap. The vacuum costs only ~$130 and offers good cleaning performance for the price.
Relatively long running time. Enough to cover a small to average place.
Big dustbin. Might be one of the biggest dust containers among the cordless vacuum cleaners. You don't need to empty it as often, and most likely, it would not get full in the middle of the cleaning cycle.
Many accessories in the box. If you are looking for a floor-to-ceiling vacuum, this would be just right for you.
Easy to store on a wall. The vacuum does not take lots of space to store, and it holds 2 more extra accessories.
Soft-Roller Head is essential for hard floors.
LED lights help to track dust and dirt on the floor.
Removable battery pack is easy to replace if needed.
Design
Hands down, the Alfawise has a beautiful design. It is white with red elements, looks minimalist, and would fit in a modern place.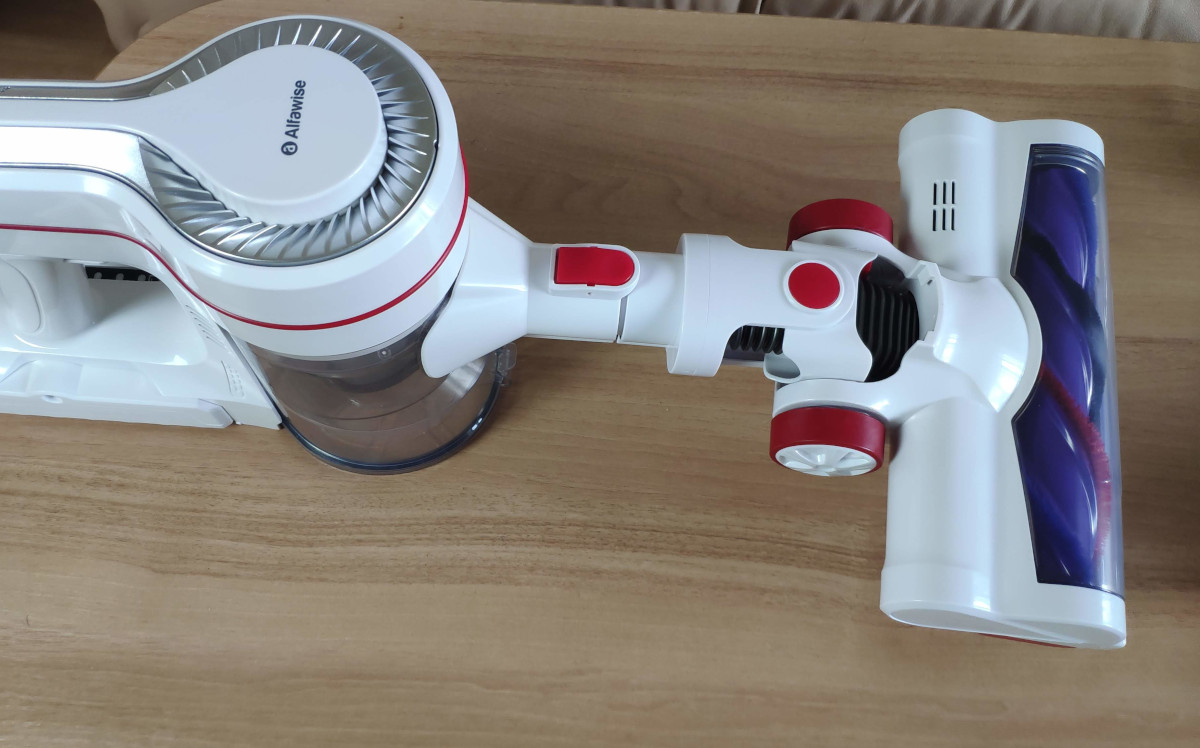 The vacuum's parts are detachable, it's easy to transform it into the handheld if needed. To empty the dustbin, all you need to squizz the holder and the lid would open up. The multi-filtration system consists of a primary sponge filter, washable sponge filter, stainless steel filter, and cyclonic separator. The filters are not HEPA though, or at least I didn't find the manufacturer mentioned of it anywhere; however, it catches pollens and allergens in the air as small as 0.3-micron size.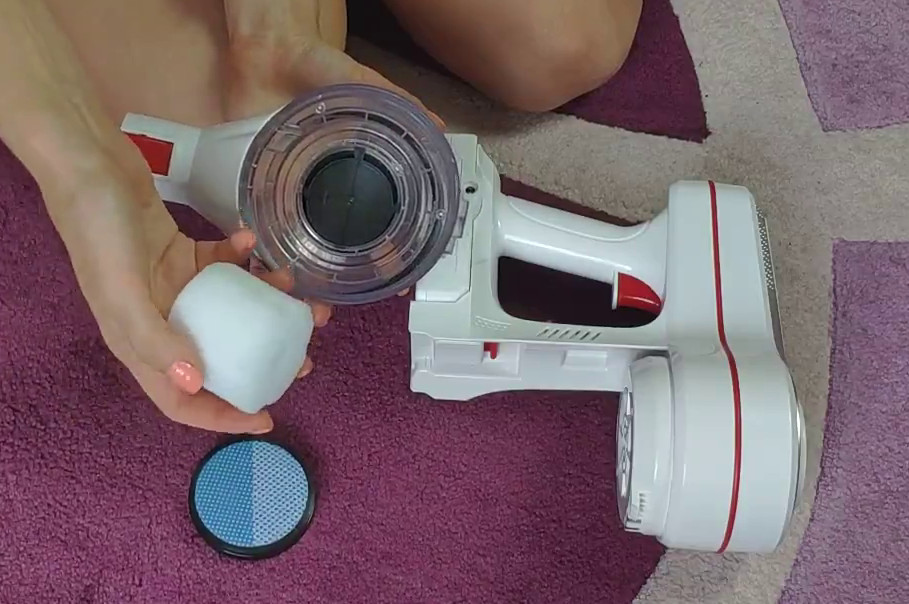 Accessories
The manufacturer is generous on accessories in the box. When you get a cordless cleaner, you usually have not only a device to vacuum your floors but also the curtains, furniture made of fabric, shelves, chandeliers, etc.
With the Alfawise AR183BLDC, the package includes: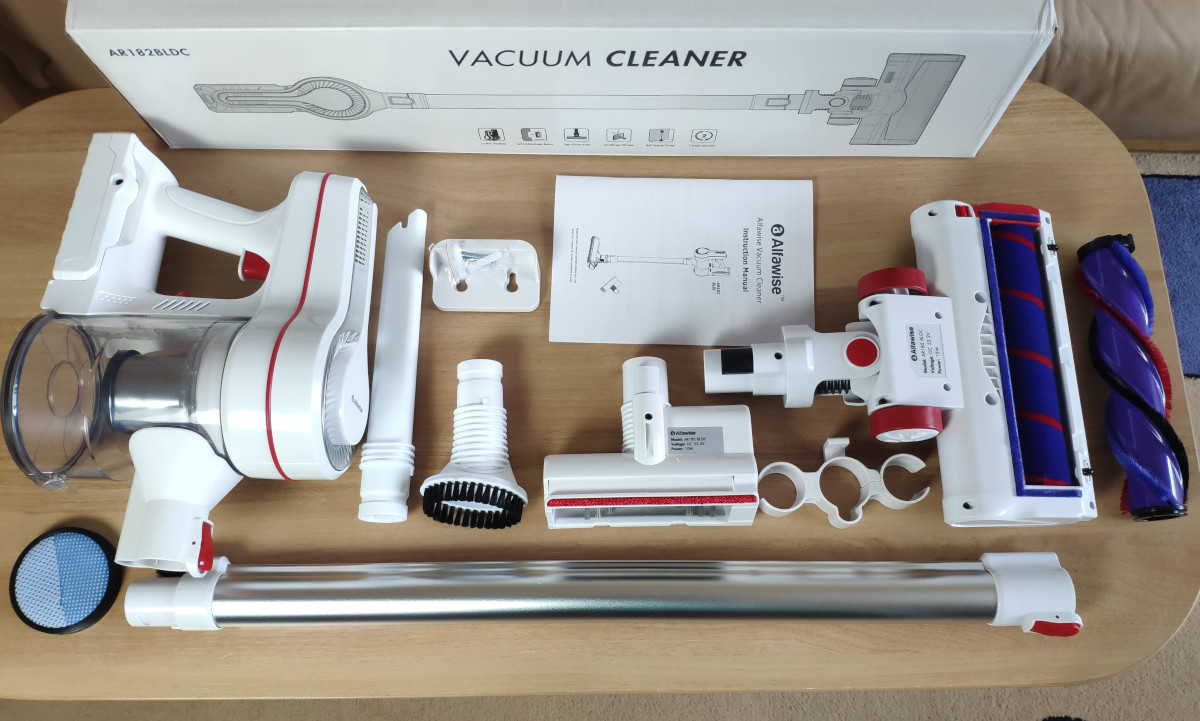 Motorized Hard Brush for Carpet (with LED lights). It has stiff bristles to agitate dust and dirt hidden away in the carpet. LED lights are very useful to track dirt and small particles. By the way, none of the Dyson cordless models have it.
Motorized Roller Brush for Hard Floor (with LED lights). The soft roller brush is ideal for hard floors. I think many manufacturers got the idea of the roller head from Dyson. This head catches even big particles such as cereals on hard floors, something the carpet head is not able to do on hard flooring.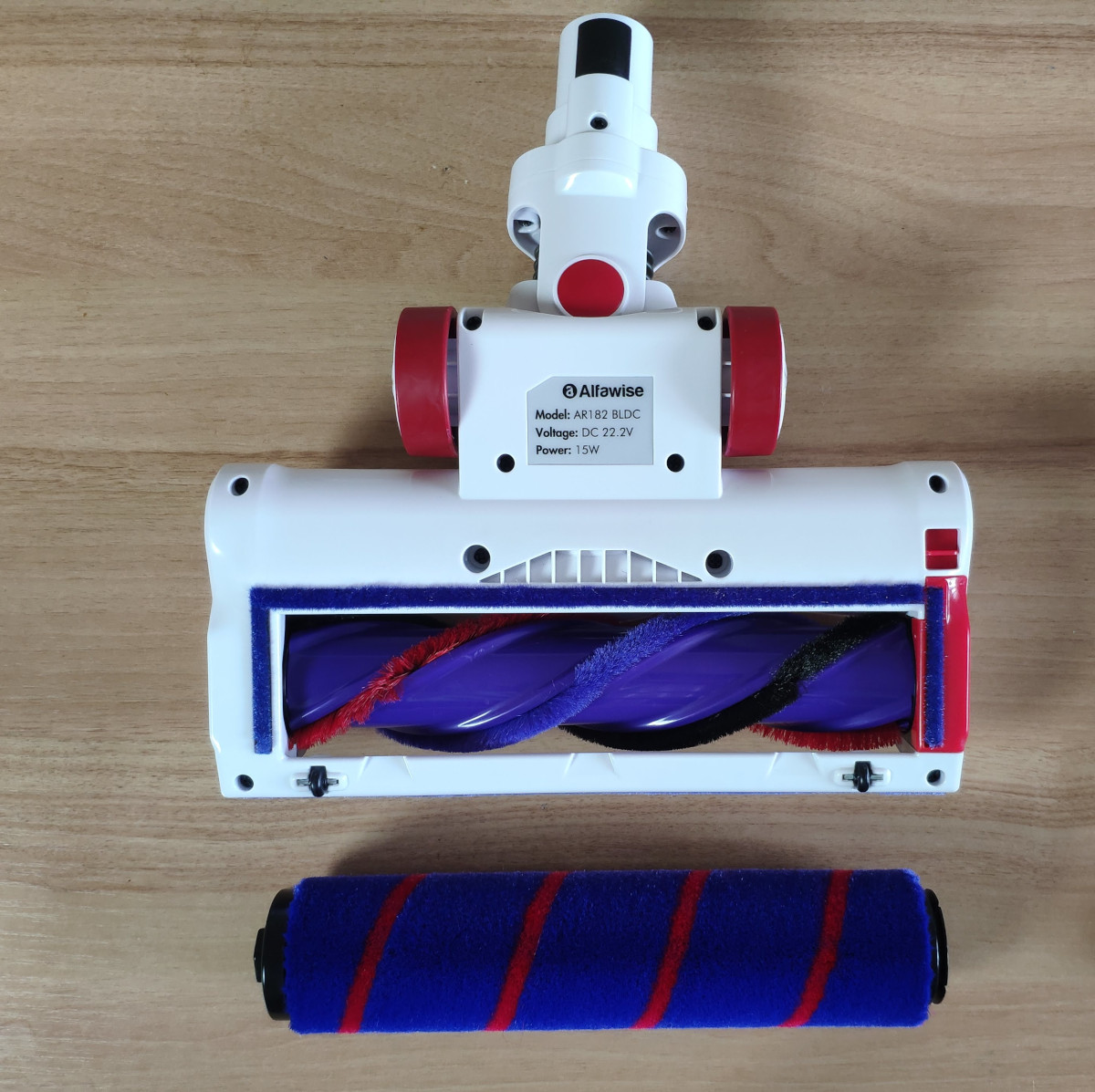 Soft Dusting Brush. When you need to clean the curtains or anything that could be somehow damaged by the main brush, the soft dusting brush would be ideal. Also, it is suitable for hard-to-reach places such as chandeliers or shelves that hang too high.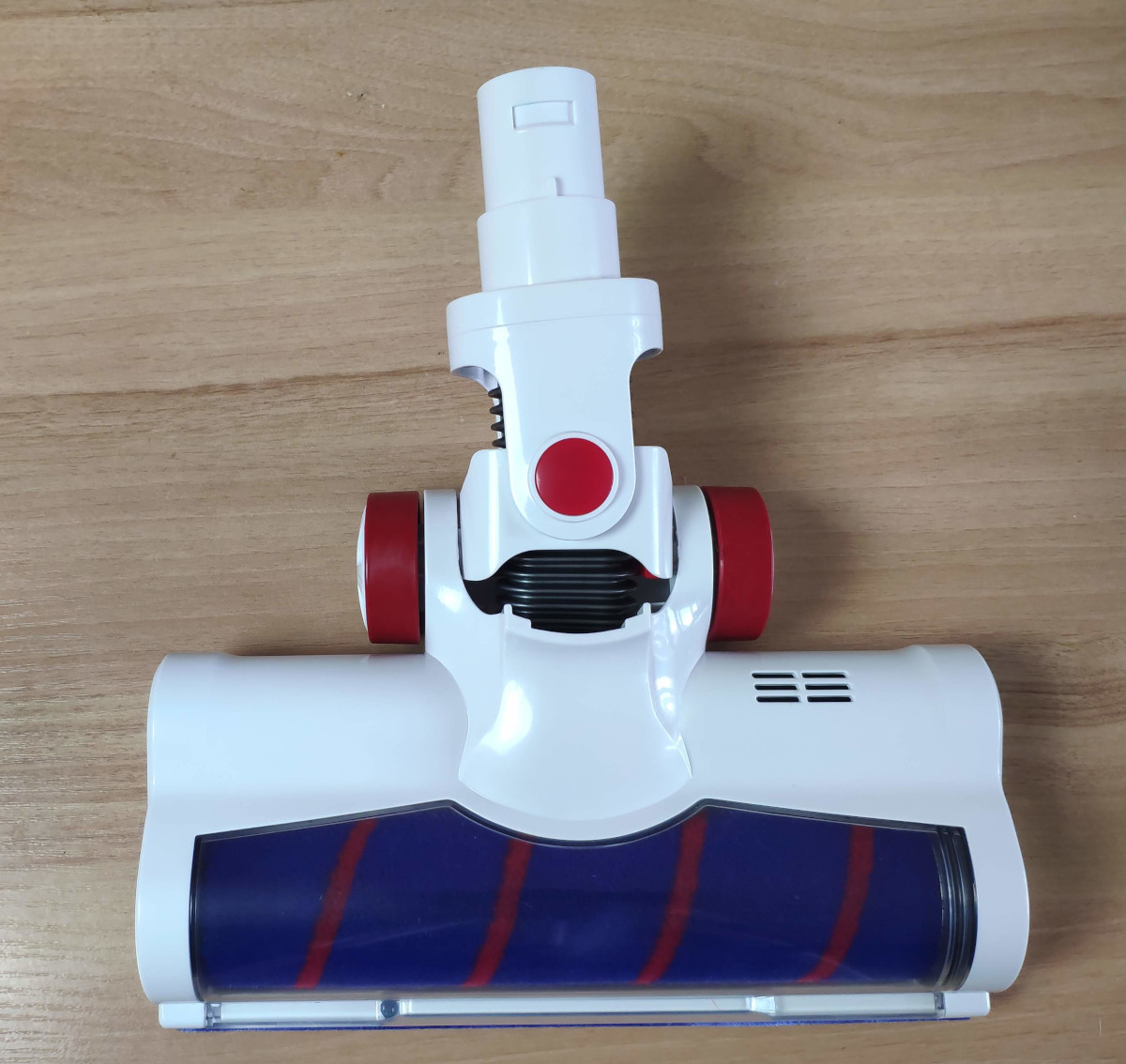 Crevice Tool. It is thin and flat, ideal for getting to the narrow areas such as in between couch stitches or if you need to get closer to the walls and corners.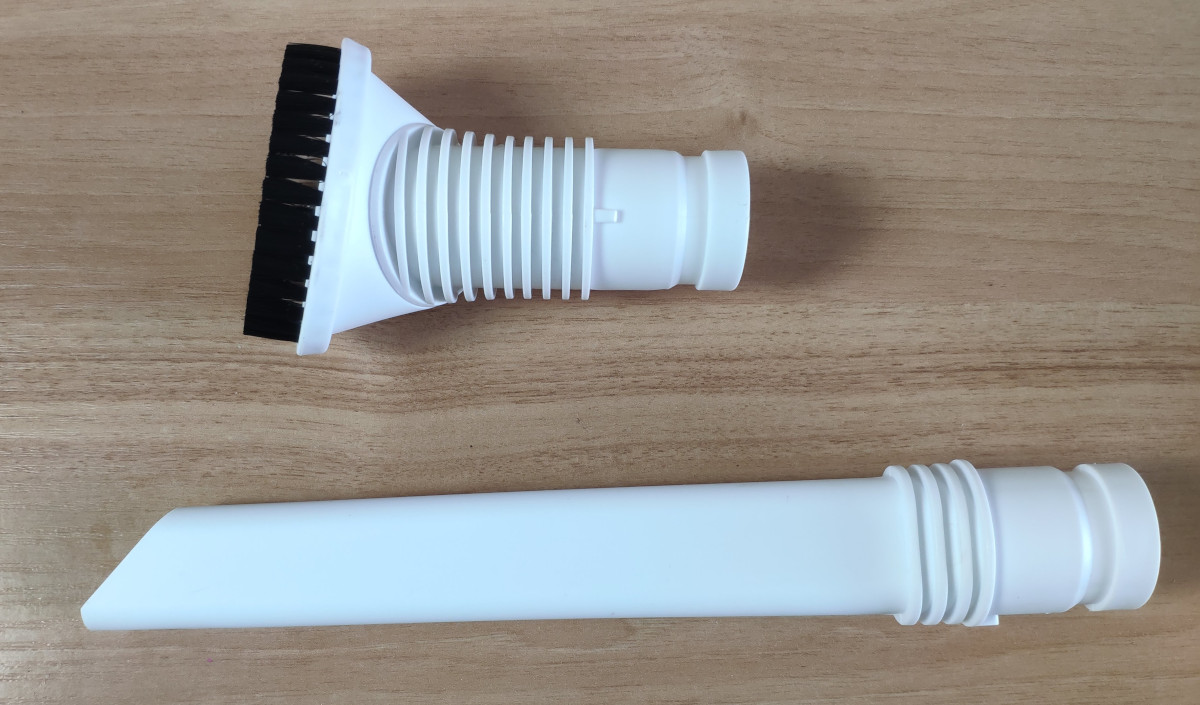 Motorized Mattress Tool. It is a small version of the Hard Brush for Carpet. Useful when it is used as a handheld, it provides better cleaning performance on fabrics, pet hair, etc.
Wall Mount & Accessory Holder. If you want to store the cleaner on the wall, there is a wall mount tool that is easy to attach to the wall. The accessory holder stores the cleaner and two extra tools on the wall, so you always know where it is.
Dustbin
The Alfawise AR182BLDC is equipped with a large 800 ml dustbin. The latest Dyson V11 has a 760 ml one and it is big as for something as small. The big dustbin holds more dust, and if you have more than one pet, the bigger dustbin would be essential. For example, my hair is long and not hard to assume, it's everywhere around my place. A big dustbin holds dust and dirt and my hair, so I don't have to empty it as often. But I still would recommend emptying the container after every cleaning cycle even if it is not full, especially if you have pets, it is always better for your health considering the filters are not HEPA.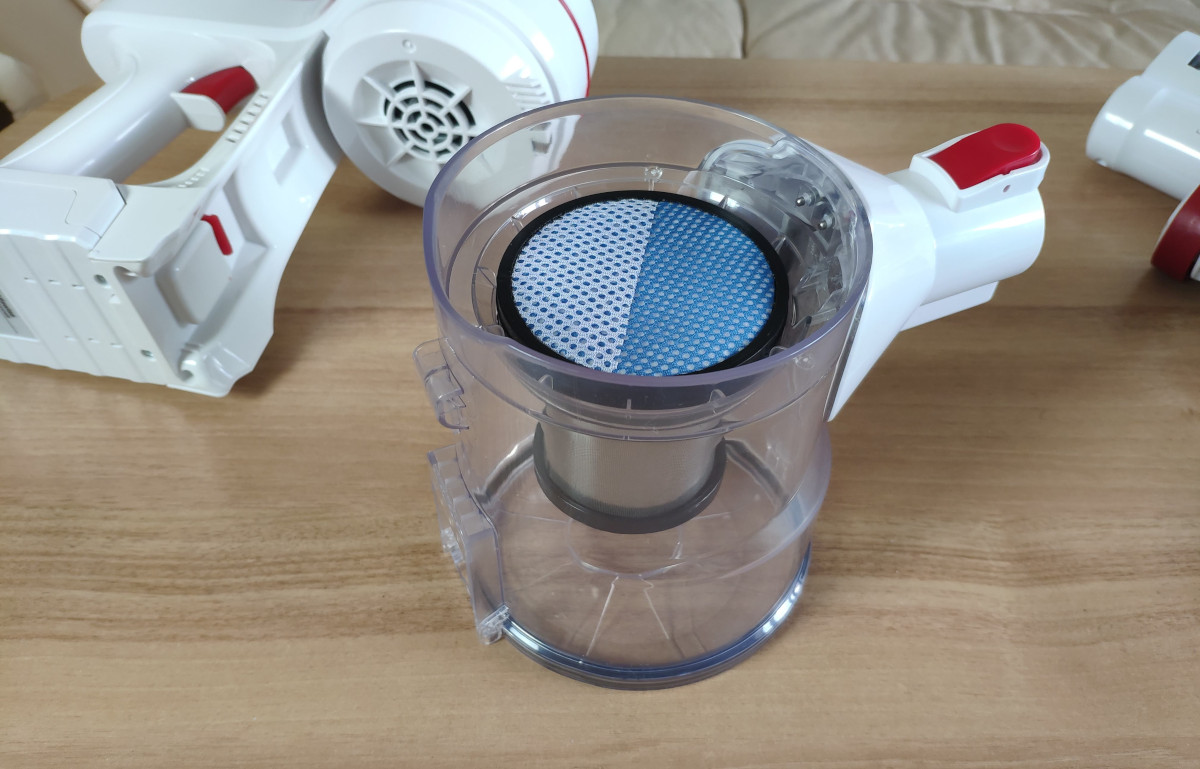 Suction
The Alfawise AR182BLDC has 18k suction power. For instance, the latest Dyson V11 ($700) delivers 28k of suction, the same-priced Dibea D008 Pro has 17k, and the cheapest Dibea D18 ($100) produces 9k of suction on max mode. The motor of the Alfawise spins with an 80,000 rpm speed.
Let's make it clear: the Alfawise would not provide deep cleaning, especially on thick carpets but would be great for thin carpets and bare flooring.
Battery Life
Based on what the manufacturer claims, the vacuum provides up to 35 minutes of cleaning time on standard mode and about 12 minutes on low speed compared to the Dyson V11 that has 8-14 minutes on max mode depending on a used tool. 35 minutes of runtime would be enough to cover about 180 square meters (1937 sq.f) of a cleaning area.
In our case, on max mode, the vacuum lasted up to 14 minutes with a motorized brush and about 15 minutes with a non-motorized tool which was pretty impressive. It was enough to clean our three full-sized carpets, and there was some time left to clean bare floor. My place is 65 square meters, and 15 minutes was enough to cover the whole area.
The battery pack is removable and easy to be changed.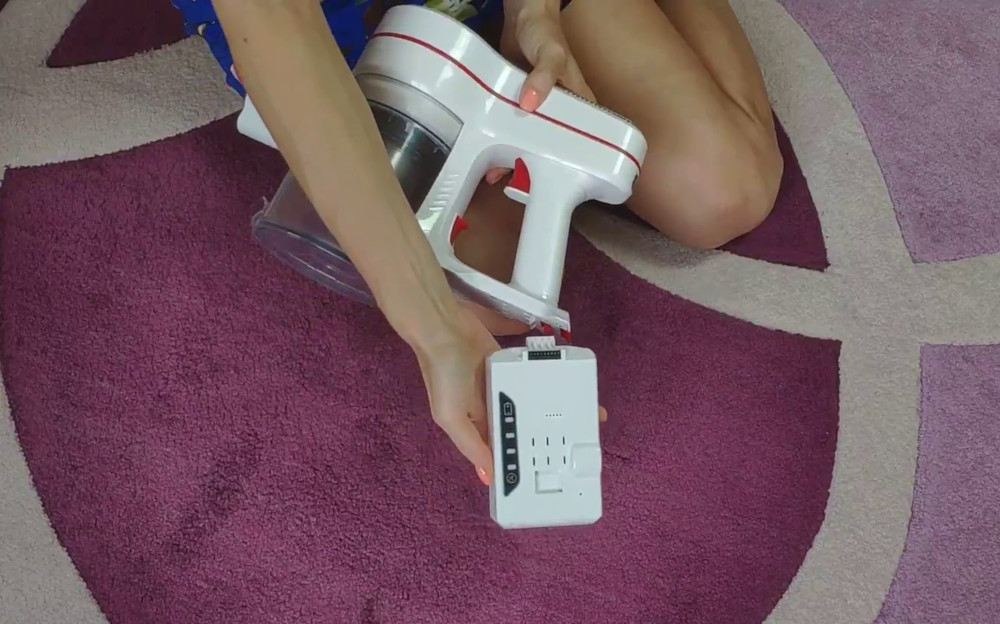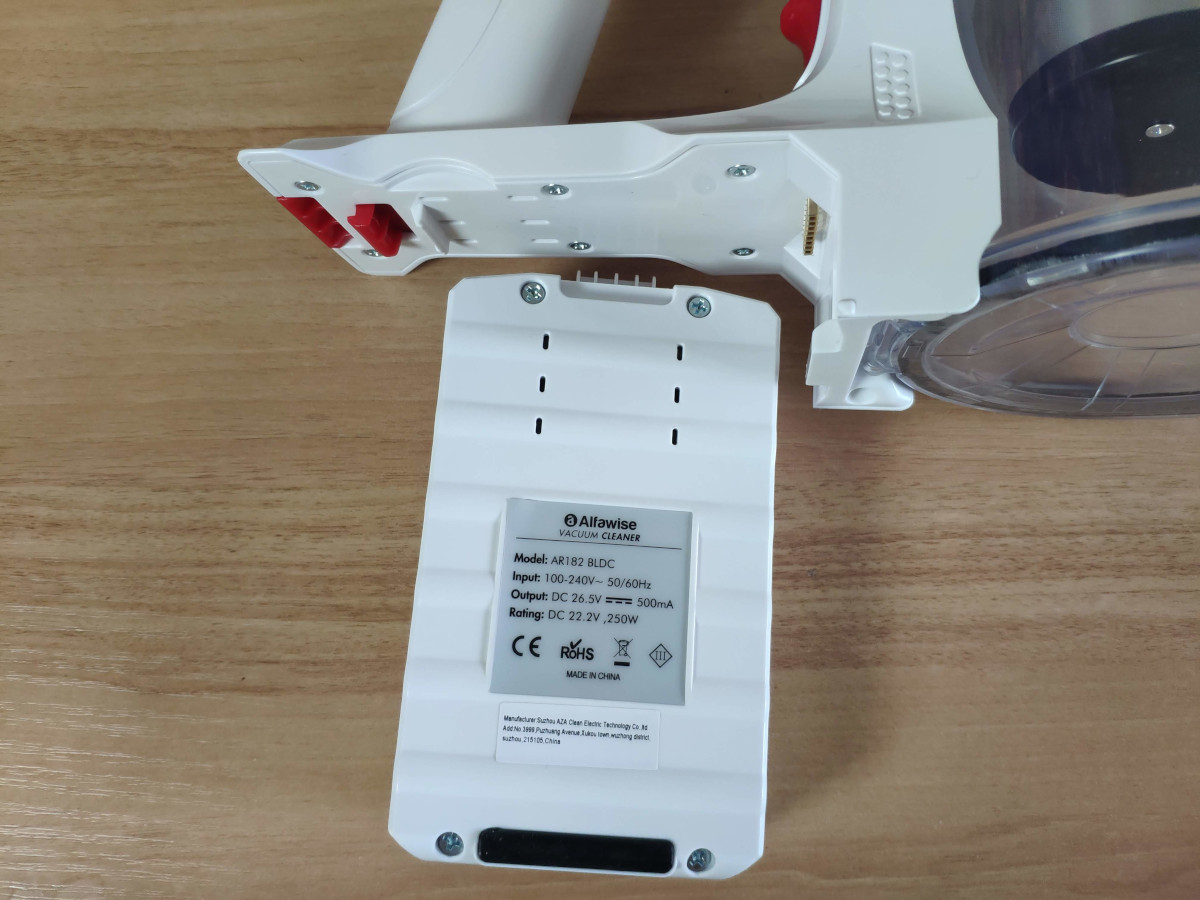 Noise
The Alfawise makes about 72 dB of noise on low power. It is an average noise level for this kind of machine. Overall, the sound is not distracting when you vacuum.
---
Cleaning
To make the vacuum work, you should squizz the power button housed on the handle. Unlike the Dyson, you don't have to hold the button when vacuuming, press it to start and then press it to stop when finished. The button on the main machine has a plus/minus written on it, by pressing it you turn on standard or max mode depending on your needs.
If you want to clean a table, furniture, chair, bed, etc., you can attach any tool directly to the main machine, which is useful and effortless to do.
For cleaning the floor or something that is located high, use the aluminum tube with the attachments to make it easier to get these areas.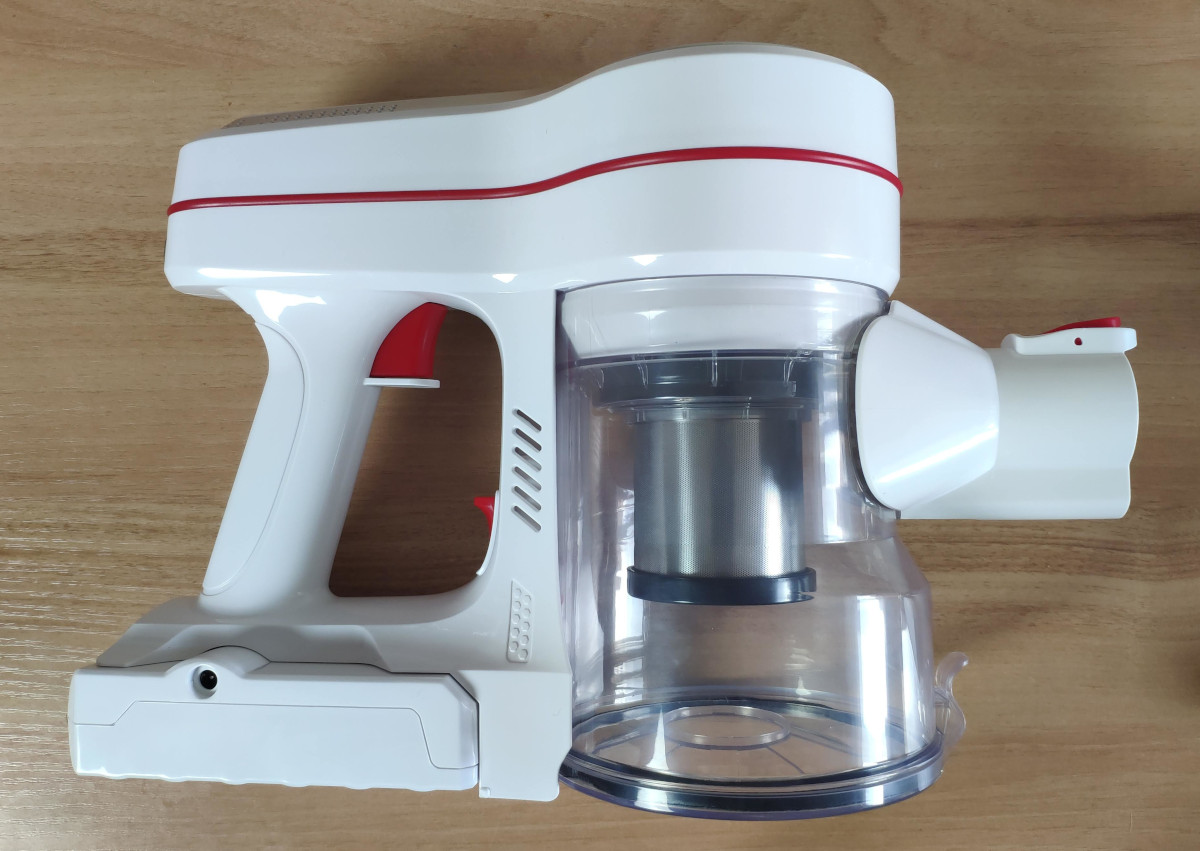 Bare flooring
For those who only have bare floors in their place, the Alfawise would be an ideal device. If you have pets, the strong suction, soft-roller head, and a big dustbin will work together to pick up pet hair with ease. Keep in mind, the filtration is not HEPA and would not be safe for people who have allergy or asthma.
The soft roller does a superb job at picking from tiniest to the biggest particles on the bare floor. The head is detachable, so if you need to clean it, it would be easy to do.
I have not had any issues with the soft roller head. My place is about laminate and two types of tile. The marble tile I have in the kitchen is hard-to-clean, but the vacuum did not have a problem with that too.
I really like the roller head and think it is the best solution for hard flooring; it is even slightly polishing the floors.
The brush for carpet is good but not the best which is not surprising considering the price. The bristles are not too stiff to agitate dirt hidden away in thick carpets but are suitable for thin carpets.
And the LED lights. Once you try the vacuum with LED lights, there is no way to get back. You might think you see all dust and dirt, but the lights would prove you were wrong.
Cleaning Tests
We put the vacuum to some tests and here what we found out.
We have thin carpets and one medium-pile carpet. For our test, we used chips, oatmeal, cereals, and some fine debris.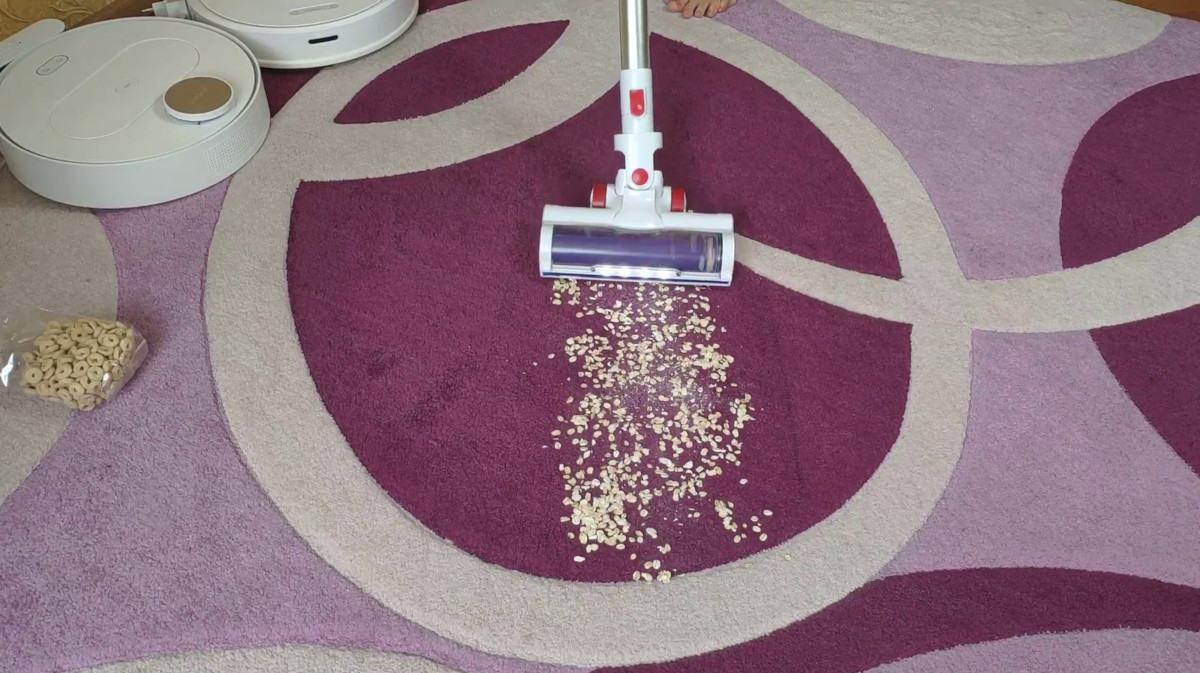 The Alfawise did catch up everything on low power setting, but it does not have enough suction, and when it was turned off, some debris started to fall out to the floor. When turning Max mode on, the vacuum finally managed to suck it up.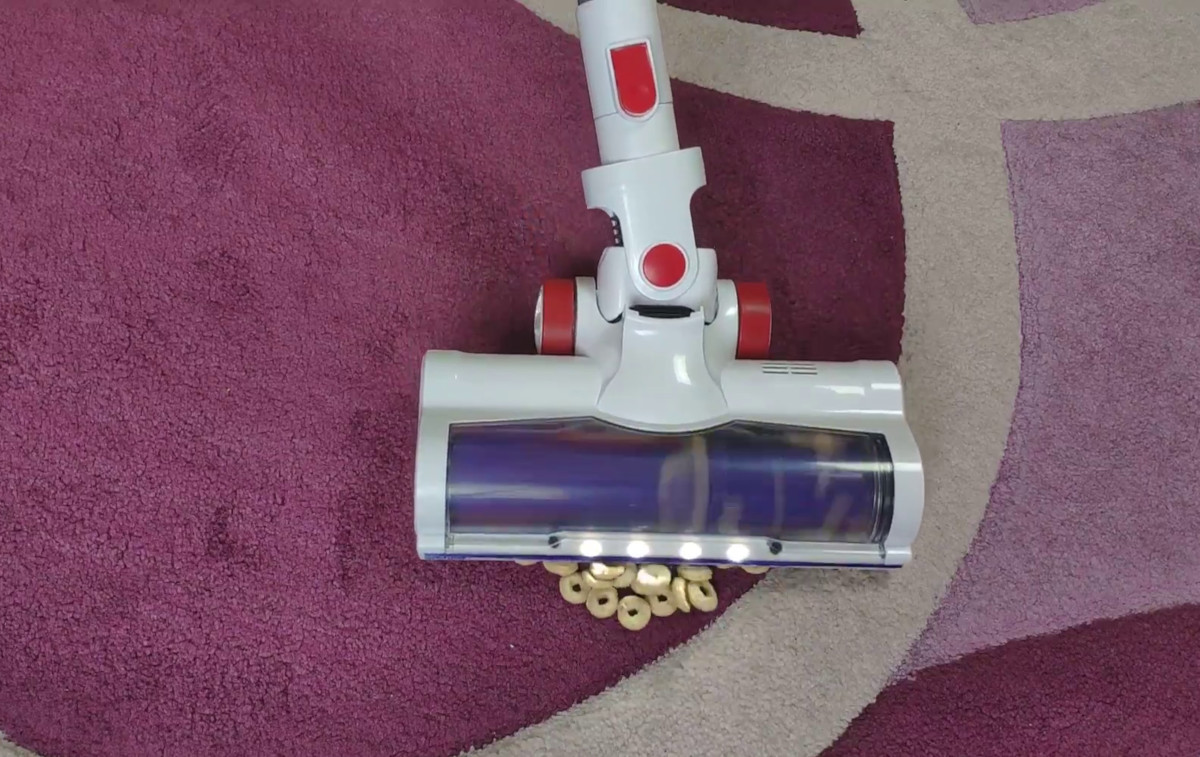 The soft-roller was a bit worse. I suppose it was not designed to catch a big amount of big debris we scattered. But again, for everyday cleaning, the soft roller should be good.
I have to point out, it is extreme conditions, and you would not face it in real life daily. We did scatter a lot of debris, and it was a bit challenging for the cleaner to do a flawless job.
When vacuuming the carpets on max mode, the vacuum performs well. It is able to catch even the smallest particles on my medium-pile carpet. Overall, I was satisfied with the performance. It reminds me of the Dibea D008 Pro we tested before except for the fact, the Dibea did not include a head for carpet that is helpful if you need to pick up debris on carpet.
In the handheld mode, the vacuum is a bit heavy. When I tested it with the non-motorised tools, my arm got tired, and I had to switch hands to finish. The vacuum's weight is average, so if you are looking for something very lightweight, the Alfawise might not be for you.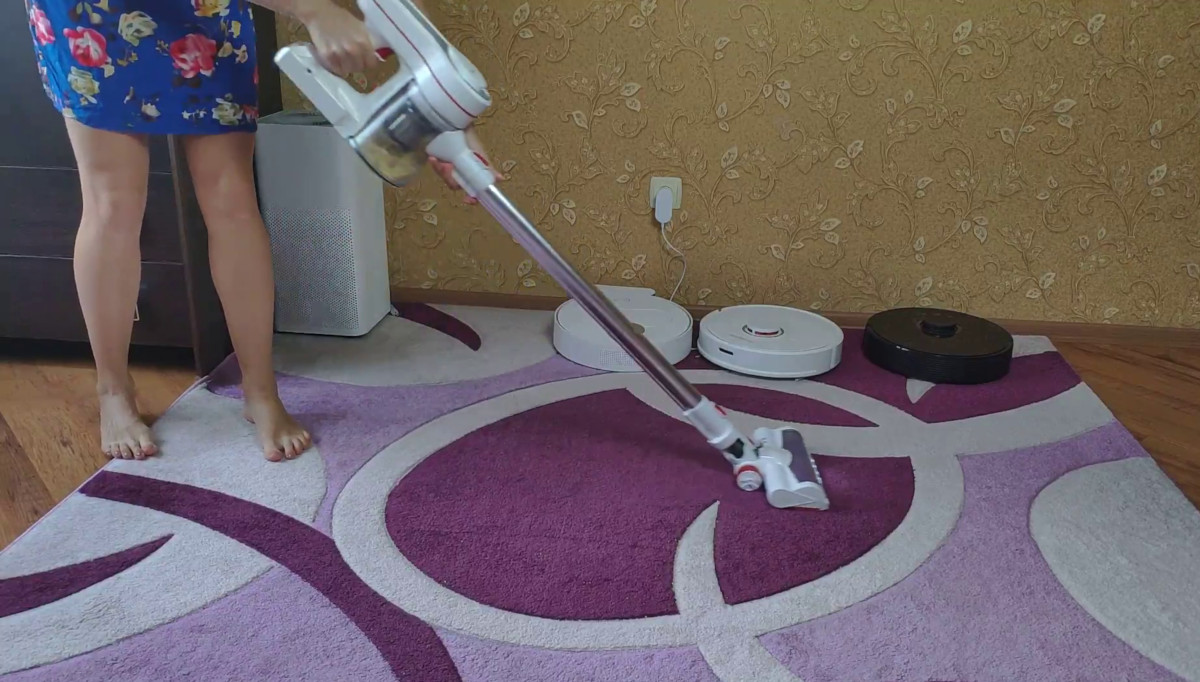 The soft dusting brush does a great job at removing dust from furniture, the head is turning around for you to be easier to get to some hard-to-reach points.
With the crevice tool, you can clean corners and narrow spaces or the areas full of dust such as zones under the bed, since the tool does not have bristles.
The mattress head is great for cleaning fabrics.
Hair Performance
We also tested the Alfawise AR182BLDC with hair on carpet and was surprised by the results. The hair went right into the dustbin, and the head was not wrapped with hair as I expected it to be.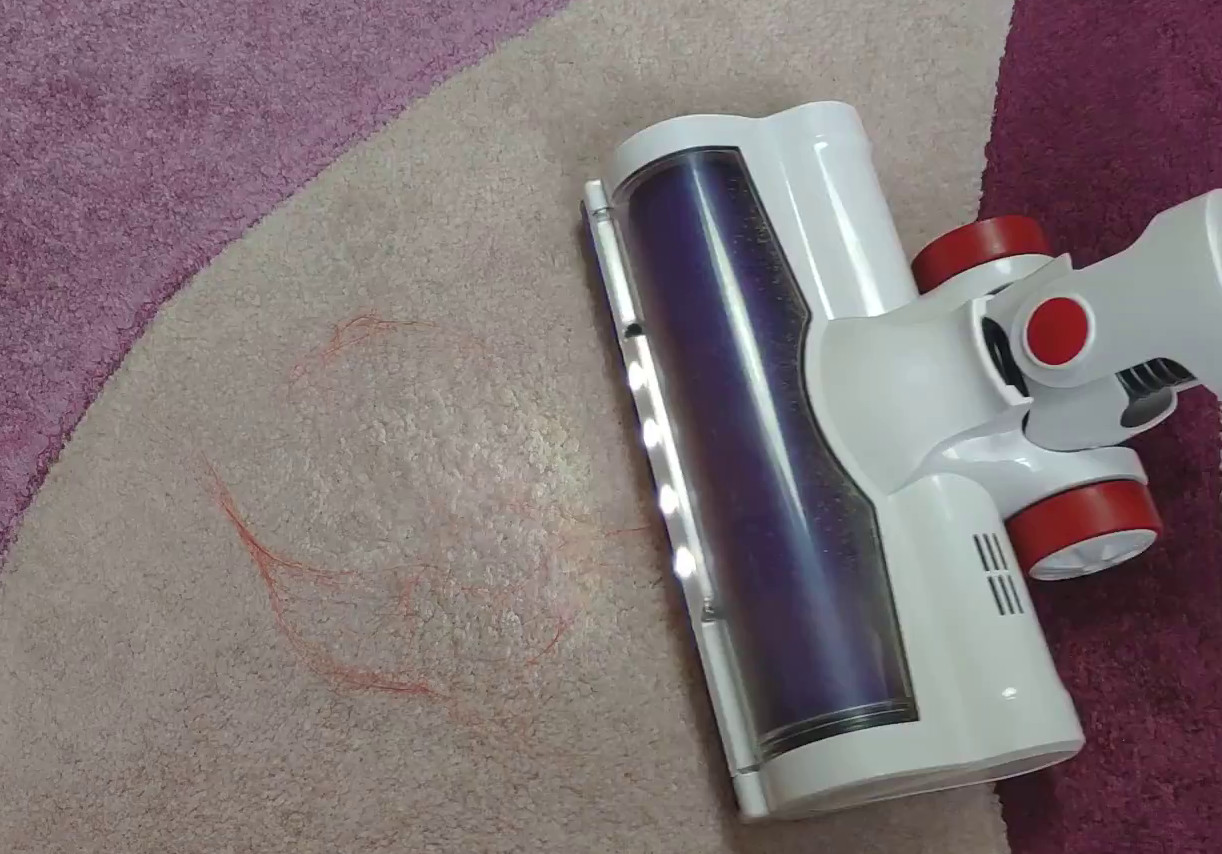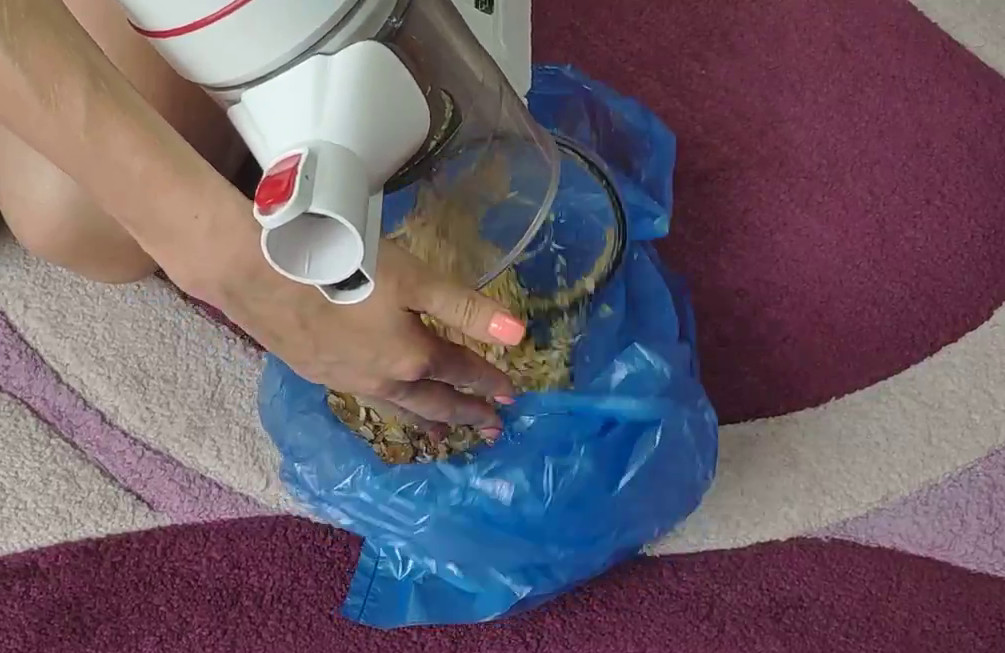 ---
Who is the Alfawise AR182BLDC for?
Those who are looking for a decent budget cleaner for quick cleanups. At a price of around $130, you get a decent machine that would suit your needs.
Additional device to the traditional vacuum. If you already have a powerful vacuum to clean thick carpets, the Alfawise AR182BLDC would be an ideal helper on those days when you need to clean the place quick. Best for daily use.
People who live in a small to average place. With 35 minutes of battery life, the vacuum is suited for average-sized houses. The manufacturer claims it is equivalent to 180 square meters household though.
Pet owners. With a big 800 ml dustbin, the vacuum is capable of holding more during the cleaning cycle. Emptying the bin after every cleaning is highly recommended. If you have one or more pets (and don't have thick carpets), consider getting the AR182BLDC.
Bare floors homes. Homes with bare flooring are perfect for this vacuum. The soft-roller head does a great job on hard surfaces. If you don't have any carpets, the Alfawise would be perfect in your case.
Homes with thin carpets. As we said before, the cleaner is not able to provide deep cleaning on thick carpets but is capable of vacuuming thin carpets.
---
My Experience With The Alfawise AR182BLDC & Cleaning Performance
Recently I spent some time cleaning my balcony. Since I live near to the road, dust shows up on a windowsill in no time no matter how carefully I try to get rid of it. This time is no exception.
I used the cordless vacuum cleaner Alfawise AR182BLDC and my favorite SWDK - D260 (I have no idea how I lived without these devices before).
To remove the dust from the surface around windows, I attached the soft dusting brush to the main machine of the Alfawise and started removing dust. The vacuum does a great job, by the way, I'm impressed by how good it handles dust. I didn't switch to max mode, there was no need. In fact, I only turn on max mode when vacuuming carpets.
Of course, if you want to get the better-looking surface, I would recommend doing wet cleaning over the surface since the vacuum supposes to vacuum only, right? Which I did too. When I'm done with it, I decided to move to the floor. On the balcony, I have tile which as you might already know, also covered with road dust. Normally I would switch from the manual mode to the tube + direct-drive head that I use for carpet, but this time I attached the head directly to the main machine.
It took about 2-3 minutes to vacuum the balcony floor, the dust was inside the vacuum dustbin. After the cleaner, I have taken the handheld mop to finish the job. Usually, I add some cleaning solution for a fresh scent (not too much tho, otherwise the mop leaves marks). The tile on the balcony is easy-to-clean, so the mop doesn't have any issues with that. Again, I spent around 2-3 minutes to wet mop the floor and let it dry.
The whole process took no more than 5-10 minutes. The best thing about each device, it's always ready-to-go. You don't have to charge it (I always charge mine immediately after they die), just take it and use it. Very convenient, isn't it?
I use the vacuum when I need to clean some high-traffic areas such as under my table, kitchen, etc. It takes a few seconds to turn it on, vacuum, and the job is done.
The mop is my probably most favorite thing. As much as I hated manually mopping, I love it now. If I need to mop, I know that it would take about 10-15 minutes top. As I said before, I add some detergent when using the SWDK.
The Alfawise AR182BLDC and SWDK - D260 become one of my favorite helpers when it comes to cleaning duties.
---
Conclusion
The Alfawise AR182BLDC is a decent budget device which you can buy for ~$130 that does what it suppose to do. It was not designed to deep clean carpets, but it performs great at vacuuming it, however, is not suitable for high-pile carpets. The cleaner lasts up to solid 15 minutes on max mode, have two heads in the box and extra tools for different cleaning needs.
It is an ideal device for everyone who is looking for a budget cleaner to vacuum every day, live in a small or average home or just want to buy an additional easy-to-use cordless vacuum cleaner to the traditional vacuum.
---