Smartwatches are getting more and more popular. Today you can get a good one for less than $100 that could make photos, be waterproof and has an ability to call. Today it is a fully-autonomy thing where you can surf the internet, listen to music, download apps and even make payments. Isn't it great? Let's talk about the best smartwatches which are worth paying attention to that is on sale for under 100 dollars and above.
Best Budget Smartwatches
Huami Amazfit PACE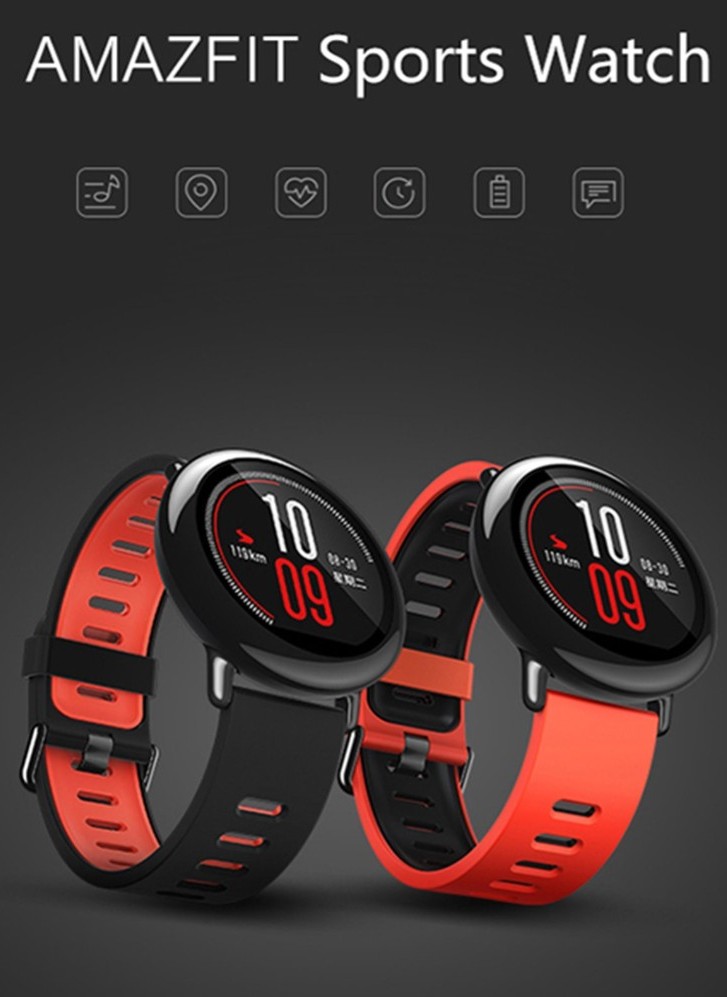 Huami Amazfit Pace Short Review
The dual-colored wristband itself is durable and sweat resistant. You can change a red and black original wristband to any 22 mm wristband you prefer simply by removing it. To set up the Huami Amazfit Pace directly download "Amazfit Watch" app on Google Play or Apple Store for free. There are 19 inbuilt watch faces of various designs that you can change whenever you want.
What is good
Supports Android and iOS devices
A heart rate monitoring system
Waterproof
Ability to make payments using AliPay system
Battery life that lasts up to 11 days in standby
Affordable price considering its features
The wristband can be changed
Nice sleek design & build quality
Things that could be improved
No sedentary reminder customization
No NFC support
Amazfit Pace features & specifications
| Amazfit Pace | Specifications |
| --- | --- |
| Display diagonal | 1.3 inch |
| Screen Glass | Corning Gorilla Glass 3 |
| Screen resolution | 320x300 |
| Thickness | 12 mm |
| Supports | Bluetooth 4.0, GPS, Glonass |
| OS system | Custom Proprietary OS based on Android |
| ROM | 4Gb |
| RAM | 512MB |
| Processor | 2GHz dual-core CPU |
| Battery capactity | 280 mAh |
| Charging time | 1.5 hours |
| Battery life | up to 5 days of regular usage |
| Water Resistance | IP67 |
| Weight | 53.7 g |
Features:
Multiple sports recorders: track running time, heart rate, pace, calories, speed, cadence, altitude, etc. Direct access to a weather forecast, stopwatch, compass, alarms
It supports app notification, calls, messages, emails
Build-in GPS tracks your routs, distance, and elevation without the need of using a smartphone
Gorilla Glass 3 screen that is very durable and won't scratch when you accidentally bang it against something
Removable wristband
Can track for activities: run, walk, run indoor and trail run
The smartwatch supports Alipay payments that allow you to make payments everywhere you want by scanning the device
Ability to listen to music in pair with Bluetooth earphones
IP67 waterproof allows the smartwatch to stay underwater for 1 meter and up to 30 min
Move reminder reminds you to move when you've been sitting still too long
Storage up to 500 songs
There is a Trainer Center which is a training course that gets you from beginner to marathon simply by planning run sessions for the next 12 weeks. Training options include Beginner, 5KM, 10KM, Half Marathon, Marathon. Unfortunately, this feature is only available on the smartwatch
PPG sensor tracks the heart rate changes in real-time
Where to buy & how much does Amazfit Pace costs
Amazfit Pace is available on GearBest for $119.99.
If you buy this on Amazon it will cost around $135 with FREE Two-Day shipping for prime members. It is a bargain in terms of value for money.
Please take note that prices may change
What makes Amazfit Pace one of the best budget smartwatches of 2018
Amazfit Pace has a unique design with a scratch-resistant screen. For about $150 the Amazfit Pace offers a surprising number of features such as built-in GPS, heart rate sensor, smartphone notification support and the battery that lasts longer than the most smartwatches do. It is water resistant and has a removable wristband. Does it make Amazfit Pace the best device considering its price? Tell us in the comments down below.
---
Fitbit Ionic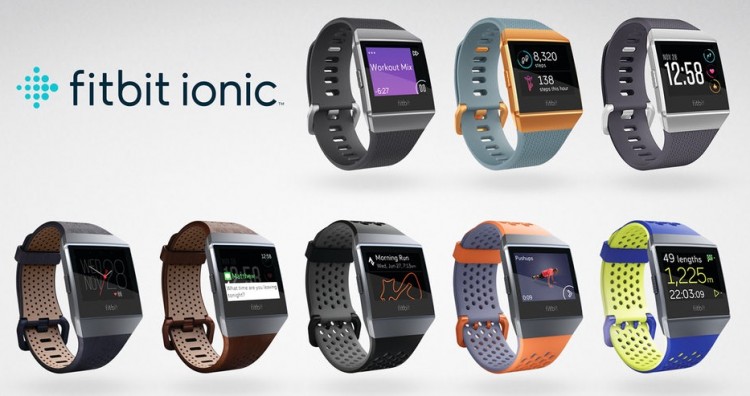 What is Fitbit Ionic smartwatch?
Like many other smartwatches, the Fitbit Ionic comes with a variety of unique faces. The wristband is removable. It comes in a different variety of styles: breathable two-tones band sport: (coral & blue-gray; black & charcoal or cobalt &lime), classic, leather: (cognac, midnight blue).
What is good
Bright display
Nice flat design
Long battery life
Comprehensive fitness features
Build-in GPS
Swim tracking
SmartTrack feature
Fitbit Coach
Supports NFC
Durable screen - corning gorilla glass 3 is tough and damage resistant
Things that could be improved
Cannot reply to notifications
Limited selection of third-party apps
Fitbit Ionic Features & Specifications
| Fitbit Ionic | Specifications |
| --- | --- |
| Display | 1.42-inch |
| Width | 3.8cm |
| Thickness | 1.2cm |
| Screen resolution | 348 x 250 |
| Screen protection | scratch proof gorilla glass |
| Operating system | Fitbit OS |
| Storage | 4GB |
| ROM | 16GB |
| Frame material | 6000 series aerospace-grade aluminum |
| Water resistance | up to to 50 meters |
| Wireless connections | Bluetooth 4.0 / GPS Navigation / GLONASS |
| Built-in technology | NFC chip |
| Weight | 45g |
| Battery life | up to 4+ days |
| Charge time | 2 hours |
Features:
Fitbit app uses Visa/MasterCard to make payments anywhere that takes NFC transactions
Support Pandora Playlist
Advanced SpO2 sensor for improved heart-rate tracking
8 different sensors that track heart rate, sleep stages, resting heart rate, cardio fitness level, etc
Wireless Bluetooth earphones allow listening to music
Run Detect feature, which means the Ionic is clever enough to know when you're taking a break, and automatically stops and starts tracking a run, swim or cycle by sensing the status of your movement
Water resistant design (up to 50 meters)
Removable band
The new workout app called Fitbit Coach that guides you through workouts on your wrist. After each set, the smartwatch buzzes to let you know that you can stop and move on to the next exercise
Up to 5 days battery life
Workout results that can be seen on a smartphone once the smartwatch sync with the app
Built-in GPS
Fitbit Ionic shows you notifications from your smartphone including text messages, iMessages, calendar appointments, phone calls, and some app-specific notifications
Sleep mode tells when you were in REM, deep sleep or awake, and what level of quality sleep you had, offers suggestions on how to improve it
Store up to 300+ songs, plus download playlists from Pandora
What is SmartTrack?
SmartTrack automatically recognizes an exercise whether you're jogging, swimming or whatever and records it for you in the Fitbit app. When you're running the SmartTrack activates GPS (thanks to a new Run Detect feature) to track pace, distance, elevation and split times. The coolest thing is - when you stop moving the tracking pauses as well.
Price & Where To Buy Fitbit Ionic
The smartwatch right now is on Amazon where you can buy it for just under $230 and it comes with the Amazon Choice label as a high-rate and well-priced product. Enjoy two day Free Shipping if you sign up for Amazon Prime.
Is Fitbit Ionic one of the best on the market?
Fitbit Ionic is a device with its operating system and its platform for apps. Also, the company unveiled its own contactless payment system, so you don't need to take out a credit card from your wallet. It is a fitness coach located on your wrist that shows your heart rate and motivates you to reach your goals. Ionic can compete with such a beast as Apple Watch with ease having longer battery life and similar features which make the smartwatch worth every penny of its price.
---
Samsung Galaxy Watch 42mm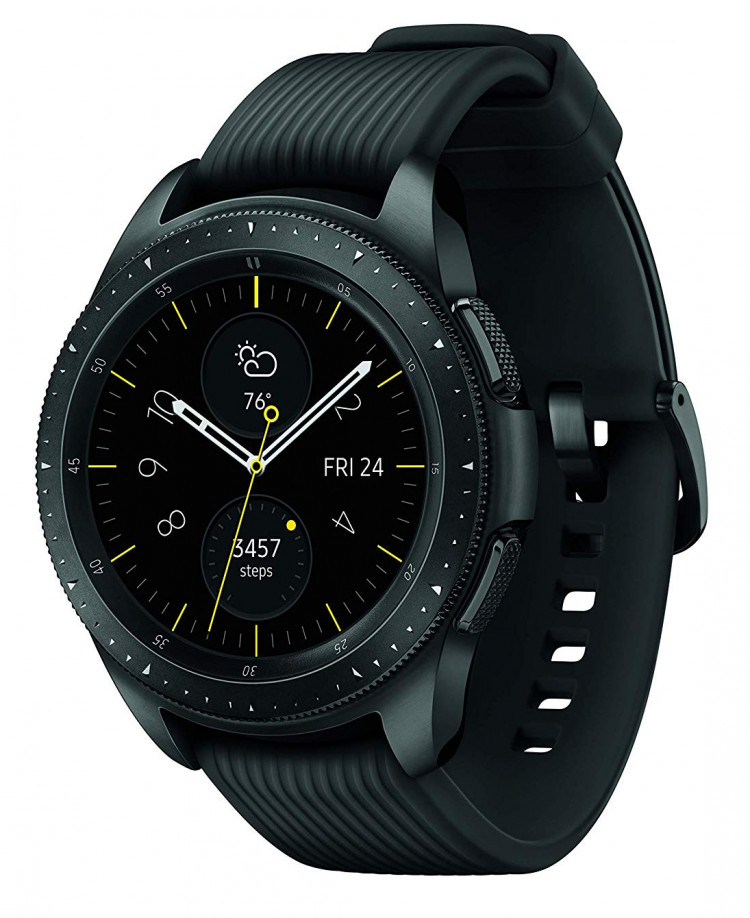 The Samsung Galaxy Watch 42mm is a high-quality smartwatch. It supports NFC to make payments, water resistant, has a long-lasting battery. The device is probably one of the best at the given price tag. Black and pink color options are available to buy.
What is good
Looks nice
High-Quality super AMOLED display
Supports NFC payments
Corning Gorilla Glass DX+ protection
Long-lasting battery life
IP68 water resistant
Things that could be improved
Samsung Galaxy Watch specifications & features
| Samsung Galaxy Watch 42mm | Specifications |
| --- | --- |
| Display | 1.2-inch Super AMOLED |
| Screen resolution | 360x360 |
| Processor | Samsung Exynos 9110 1.15GHz dual-core |
| RAM | 750 MB |
| ROM | 4 GB |
| Battery capacity | 270 mAh |
| Battery life | up to 3 days |
| Wireless connections | Bluetooth 4.2 / Wi-Fi / GPS |
| NFC support | yes |
| Weight | 49g |
| Water resistant | IP68 |
Features:
Lasts up to 3 days without recharging
Super AMOLED screen is vivid
Wireless Bluetooth earphone supported so you can listen to music without using the smartphone
Preinstalled apps: health, which comprises a heart-rate monitor and a pedometer, music, which can play back music stored on the watch itself, not a paired phone, weather, sound Recorder, barometer and browser
Supports NFC
4 GB to store files such as music, photos, etc
Spotify sync
GPS navigation
You can make and take calls with an integrated speaker and voice mic, respond to texts, and access scores, headlines, and playlists
Price & Purchase Details
You can get the Samsung Galaxy Watch on Amazon for $288.
Please take note that prices may change
---
Huami Amazfit Verge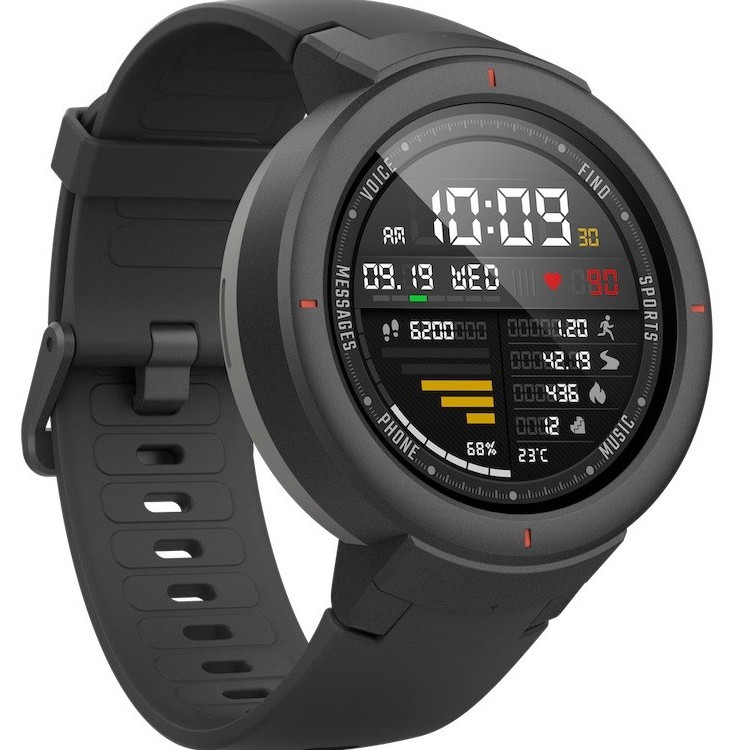 The Huami Amazfit Verge is an advanced version of the Xiaomi Amazfit Pace and Stratos. It has all the same featured the Amazfit Pace does, and a drinking reminder in addiction. 11 sports modes will help you to keep tracking all your health data when exercising. It has a long-lasting battery that can work up to 5 days.
What is good
Minimalist design
Many features help to track your health plus it has a drinking reminder
Corning Gorilla Glass 3 glass protection
Accurate heart rate
Long-lasting battery
IP68 Water resistant
GPS/Wi-Fi/NFC support
Bright AMOLED display
Compatible with Amazon Alexa
Things that could be improved
No notification interaction
Amazfit Verge features & specifications
| Huami Amazfit Verge | Specifications |
| --- | --- |
| Display | 1.3-inch AMOLED |
| Amazon Alexa support | yes |
| Screen resolution | 360x360 |
| Screen protection | Gorilla Glass 3 |
| RAM | 512 MB |
| ROM | 4 GB |
| OS | Custom Proprietary OS based on Android |
| CPU | dual core 1.2GHz processor |
| Battery capacity | 390 mAh |
| Charging time | 2.5 h |
| Battery life | up to 5 days |
| Water resistance | IP68 |
| Wireless connections | Bluetooth 4.0 / Wi-Fi / GPS Navigation / GSM / 3G |
| Weight | 45g |
Features:
Drinking reminder alerts when you need to drink
The AMOLED screen is vivid
Built-in pedometer reminds to do some walking when a user seat still for too long
The heart-rate monitor is a good visual reminder to sort out blood pressure
Speaker and microphone supported
It's more than a regular watch it comes with pedometer and heart rate monitor for measuring distance walked and heartbeats respectively. All those data are displayed on the smartwatch itself
The Amazfit Verge stores up to 200 songs you can listen to by using Bluetooth headphones
11 sports modes to track your health data
You can see your activity by a date on the watch and your smartphone
A pedometer allows to set up goals for your daily activity
Supports GPS to track positions
Battery lasts up to 5 days which is a very rare thing for such featured smartwatch
The Amazfit Verge is integrated with Amazon Alexa
Where to buy & Price
On GearBest you can get the Huami Amazfit Verge for around $180 and Amazon offers it for about $180.
Prices may change
---
Bottom Line
The Huami Amazfit Verge is one of the most featured smartwatch here having the same features as the previous models plus some additional ones. They look nice, lightweight, supports GPS, are water resistant and what is the most important - the Verge battery life can reach 5 days without getting recharged. You can control the smartwatch with your voice through integration with Amazon Alexa. With the price of $180, the Huami Amazfit Verge is a decent competitor to high-end smartwatches.
---